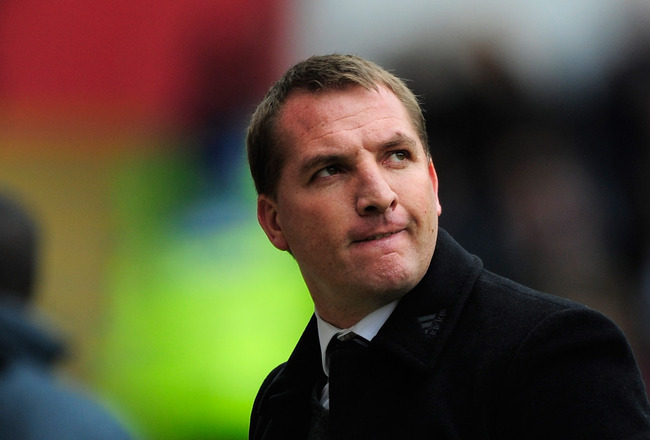 Brendan Rodgers looks set to become the next manager of Liverpool Football Club after a hefty compensation package was agreed between Liverpool and Swansea City on Thursday afternoon. Despite initially rebuffing the advances of the Reds' ownership group Fenway Sports, Rodgers has put pen-to-paper on a three-year deal to take charge at Anfield and take on the job of taking the five-time European Champions back to the top of the game.
Kop legend Kenny Dalglish was sacked just over a fortnight ago having only managed to guide the Reds to 8th in the Premier League table, despite winning the Carling Cup and putting up a strong showing in the FA Cup final. Relative success in cup competitions will never be seen as good enough for a club of Liverpool's stature and history and, despite the strong relationship that he still enjoys with the Liverpool fans, Dalglish's departure was not an unexpected one on Merseyside.
Choosing Rodgers as Dalglish's successor may seem like an underwhelming appointment to some but the Swansea City man could well prove to be a shrewd move by John W. Henry. Rodgers may only have a season of Premier League experience to his résumé but he studied his craft as a youth-team coach under one of the greatest football managers of the modern era: Jose Mourinho. Like the "Special One", one of Rodger's greatest aptitudes is his belief both in his own ability and that of his team. His confidence saw him bounce back from a disappointing tenure at Reading to win promotion from the Championship at the first ask with Swansea.
Rodgers' belief in his team ties in nicely with his fundamental approach to football: "possession". Rodgers demands that his teams get hold of the ball as quickly as possible and then keep it from the opposition, utilising a patient build-up style of play. Swansea were behind only Manchester City and Arsenal in the passing percentage charts over the 2011/12 season, but only 17% of their overall passes over the season were completed in the final third of the pitch, the lowest in the entire Premier League. As Rodgers himself says: "Our idea is to pass teams to a standstill so they can no longer come after you. Eventually you wear them down."
In an era where the long-ball system is king, Rodgers' approach is a breath of fresh air to watch but can often take a while to really get going. The patience that Rodgers' demands from his defenders and midfielders means that his teams can sometimes struggle to get balls into dangerous areas often enough to win games but overall, the football philosophy he instilled at Swansea justified itself through the 47 points the Swans attained over the 2011/12 season.
Rodgers also likes to make good use of the goalkeeper in his formation. Utilising his number one as a "sweeper keeper", Rodgers ensures that his 'keepers are skilled enough with the ball at their feet to be a part of the actual build-up. With the full-backs and centre-halves ahead of him, the "sweeper keeper" looks to begin the phase of possession and eventually work the ball to the deep-lying playmaker (a role played to perfection in Swansea's side by Leon Britton).
But can Rodgers' football philosophy, which worked so well at the Liberty Stadium, cut it at Anfield in front of a crowd determined to see their club back in the big time?
The reaction to Rodgers' appointment over internet forums and Twitter has perhaps been more positive than anticipated, certainly more so than the reaction to Roy Hodgson when he was appointed manager in July 2010. Rodgers' reputation as a manager who encourages his players to pass the ball along the floor will endear him to many Liverpool fans who grew tired of the direct tactics played under Hodgson and, to an extent, Dalglish.
Rodgers may need to dip into the transfer market to cover all the bases if his system is to work at Liverpool but there are also several players at the club already who could well fit in to such a formation. Pepe Reina has been used as a "sweeper keeper" at the Barcelona academy and at Liverpool under Rafa Benitez, making him a perfect candidate to build a possession game from. In terms of finding a playmaker to spread the ball around the midfield however, Liverpool would appear to lack a defensive midfielder to fit the bill. Alberto Aquilani spent last season on loan at AC Milan and would be a good candidate for such a role, but whether he would be willing to stay at Anfield having essentially spent two seasons in Italy is up for debate. Should Liverpool reach a deal with Milan or another club for Aquilani, then Rodgers will have to turn to the transfer market for a prized playmaker.
Dalglish struggled to find an ideal system for the players in his squad to truly flourish last season and there are certainly players in the Liverpool squad who would initially struggle with Rodgers' tactics. Players like Andy Carroll and Charlie Adam rely on a more direct game than Rodgers allows and as such both would have to adapt to a new style of play, particularly in the case of Carroll. The former Newcastle man would find the ball coming to his feet a lot more but his first touch has often left a lot to be desired since his move from St. James' Park. With that said, Carroll's form in the latter stages of the season (and in particular his goal against Chelsea in the FA Cup final) would suggest signs of a player finding his confidence and Rodgers' arrival may well prove the spark for Carroll to prove that he can be an effective target man on the ground as well as in the air.
It is far too early to say whether or not Brendan Rodgers will be a success at Liverpool. It is far too early to suggest either way whether he can take the Reds back into Europe's premier competition. But whilst many Liverpool fans will have wanted Jose Mourinho to take over at Anfield, FSG have arguably hired the next best thing: a manager shaped in the Mourinho mould. A manager who demands his side keep hold of the ball and play it along the floor whilst pressuring the opposition.
Signing Brendan Rodgers was a risky move by FSG. But it could be one that pays off handsomely.