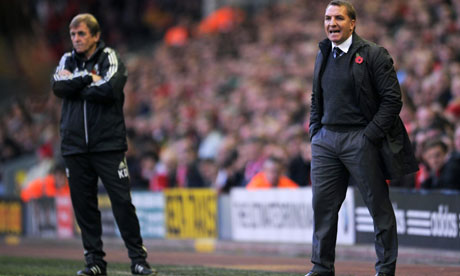 Liverpool confirmed today that Brendan Rodgers has agreed a deal to become the successor of Kenny Dalglish at Anfield. The Carnlough man is believed to have signed a three-year contract with the club.
Fenway Sports Group, led by Boston Red Sox owner John W. Henry, weren't happy with how Liverpool finished this season. Yes, they won the Carling Cup and reached the FA Cup final but their league form was appalling, finishing behind Everton in eight. The owners were also frustrated with how the club acted throughout the Suarez and Evra affair, which didn't look good on Liverpool's image.
When it was announced after a meeting in Boston that Kenny Dalglish was no longer in charge at Anfield, John W. Henry drew up a longlist of candidates and had planned to interview them all. Those candidates we believe included André Villas-Boas, Pep Guardiola, Dider Deschamps, Brendan Rodgers and Roberto Martínez.
A number of managers refused and showed their disinterest. Martinez was favourite for a short period but decided to pledge his future to Wigan after failing to agree terms with FSG.
Everybody knew then that whoever accepted the position as manager wouldn't have an easy job on their hands. For one, they wouldn't get away with what Dalglish did since replacing Roy Hodgson – a man who wasn't wanted by the players or fans.
**
The news has been met with an average reaction from Liverpool fans. Unsurprisingly, there are those that won't give Rodgers a chance and will do everything to make the owners look bad. Brendan is a young manager with fresh ideas, whereas Dalglish came in with traditional and outdated tactics which didn't work.
Why should we believe Rodgers' spell at Liverpool won't end up like Hodgson's? Will he be given an actual chance or is that only exclusive to Dalglish? This is a chance for Liverpool to step out of the past and try make something of the future.