The winners took it all. The losers, standing small. Sentiment courtesy of Abba: season-long entertainment courtesy of Schweinsteiger, Kroos, Özil, Farfán, Zidan, Bobadilla, Grafite, Pouplin & co.!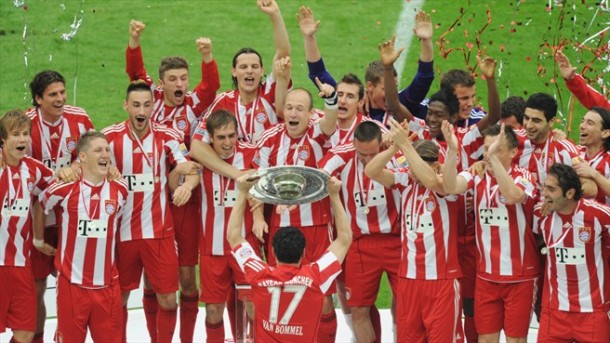 Bochum 0 – 3 Hannover
Where else could I start this Round-wrap? Simply put, both needed 3 points to stay in the division. They'd looked certain to retain their places in the top-tier: yet spectacularly-dire losing streaks around or after the three-quarter mark resulted in this final-day showdown. It's probable that a sombre atmosphere in and around Mirko Slomka's squad after the death of Robert Enke contributed to Hannover's near-demise. As for their sparring partners, a lack of creativity, heart, and careless mistakes were issues never adequately addressed. Embarrassingly for Bochum, this game was over before the interval.
In the 936 minutes of gametime he received, Manuel Schmiedebach came from nowhere to become one of the season's MVPs! It was his incisive assist-play that did for Schalke a few weeks back, and the 1988-born centre-midfielder didn't stop there: at rewirpowerSTADION, the starlet contributed to the river Leine side's second (Hanke, 23′), and third (Pinto, 45′) goals. The former was a result of his burst on to a Cherundolo through-ball throw – although the subsequent attempts to clear his dink-cross were abysmal. The latter was all his own craftsmanship – carrying at pace, Schmiedebach delayed delivery on an individual counter-attack for his Portuguese colleague to have a chance handed t'im on crockery.
As the inevitable came to pass, Joël Epalle wept on the bench. A victim of caretaker boss Dariusz Wosz's hastily thrust in new system, it's a shame for fans of a club once monikered Die Unabsteigbaren ('Unrelegatables') that such emotion wasn't transferred into half-decent performances – or points. The late rally was as timid as it was tardy. Bochum's fight had evaporated as soon as Christian Fuchs allowed a suddenly-alright (having milked dry the udders of a *foul*) Arnold Bruggink to cushion in his side's opener with just a single digit on the clock (9′).
Nürnberg 1 – 0 Köln
Although thought-deprived long-range missiles were chief among Der Altmeister's tactics, they had a plethora of chances that stemmed from varying situations. When Ottl wasn't curling corner-kicks to the permanently back-post Choupo-Moting to take down and strike, Maroh and Bunjaku were making timely darts to garner space and direct balls goalwards. On-loan Leverkusen man Marcel Risse creeped into the box for a few wasted attempts, but eventually the goal arrived from Ottl's boot. All the sat-nav technology in the world couldn't have chaperoned this free-kick more accurately to the net (88′).
The goal and game were irrelevant due to Hannover's victory – Nürnberg face FC Augsburg in the relegation play-off. Nevertheless, were Köln present? One overworked, elderly Colombian 'keeper aside, Die Geißböcke seemed intent on replicating Podolski's season-long anonymity in one 90-minute *performance*. Veering up and in from right-back, Mišo Brečko had the visitors' only true chance. Alas, mid-execution, he fell on his arse. England fans will be spared such comedy when the full-back's native Slovenia tackle Capello's clowns in Port Elizabeth on the 23rd June. Ashley Cole's presence ensures Brečko'll rarely depart the Three Lions' final-third.
Werder Bremen 1 – 1 HSV
With bronze medal to secure, next week's Cup finalists Bremen could ill-afford to jog through this clash against their (90 minutes away) neighbours. When right-back Clemens Fritz left Jonathan Pitroipa on his backside to square from the goalline, Hamburg's defence were caught ridiculously flat-footed. Former Chelsea marksman Claudio Pizarro nonchalantly replicated Gianfranco Zola's goal against Norwich City (58′). However, Fritz's flank was raided by Zé Roberto to earn caretaker Moniz a point in this North German derby. The playmaking Brazilian's pull-back was as clever as you'd expect. Equally conforming to type was a fed Dutch striker's trap and vacant-angle finding. Ruud van Nistelrooy rolled back the years (and numerous hospital bed sheets) to display the composure Alex Ferguson patiently waited years to snap up (82′).
Mönchengladbach 1 – 1 Leverkusen
How does one evaluate Jupp Heynckes' spell in charge? I'm tempted to call it shambolic. Yet, lest we forget this was a campaign in which they set a record for number of games unbeaten (24). While this indicates a sterling Bundesliga shift, Leverkusen failed to reap even a Champions League spot; hence the hyperbole. Who remembers the *famous* night they knocked out Blackburn Rovers at Ewood Park?! Nobody? Oh. Well anyway, there'll be many more Europa League adventures like that to savour now. Roul Brouwers, free-firing centre-back, unearthed/encapsulated the epicentre of Bayer's fall from grace. Arango curled in a free-kick to the ultimate danger zone between PK spot and 6-yard-line. The defender drifted, untethered, to turn the ball in (55′). Helmes's opener (34′) may have *earned* the visitors a point, but with Toni Kroos now returning to Bayern, it's something of a season to forget.
Wolfsburg 3 – 1 Eintracht Frankfurt
An entertaining affair that saw Edin Džeko – in his Bundesliga swansong? – bag the golden boot. His solitary strike was Bergkamp-esque. A back-to-goal take preceded the graceful spin around Jung; a pass-finish made light of Fährmann's angle shutdown (34′). The cherished footwear prize may render him Cinderella, but handsome princes in this triumph were Gentner and Misimović. The former's left-flank delivery was fantastic; the latter timed his darts to meet the deep balls brilliantly (21′). Riether was another beneficiary to Gentner's crosses (31′). Ochs's tasty whip-ins came too late, but Altintop did reduce the deficit via one (86′).
On the subject of Wolfsburg's firepower, one can't escape the supposed summer bolstering of it when the sporting director acquired Obafemi Martins – the profligate Nigerian has had a season to forget. Meanwhile, the dethroned champions' Bosnian duo – anxious to remain in the public concious pre-World Cup – did little to diminish their transfer values. Another factor in their scintillating performances here may emanate from them having watched FC Twente's overly-cynical melina/opposition draw gameplan… Will new manager Steve McClaren try and implement his 4-2-1-2-1 system at Wolfsburg? He'd need natural wingers, for starters.
Freiburg 3 – 1 Dortmund
It was last week that this highly-watchable Freiburg side guaranteed a second successive season in the Bundesliga. Nevertheless, that was no reason for them to take their foot off the gas as they destroyed their aesthetically less-pleasing guests. Iffy end-of-season form cost Dortmund a stab at Champions League football, and it's no coincidence the slump arrived upon talismanic Mohamed Zidan getting injured. Lucas Barrios hasn't forgotten how to score, and as ever, the Argentine-cum-Paraguayan began the net-rippling (47′). The striker was indebted to the hearty challenge enacted by Valdez to win a lost cause, and the disguised box-edge feed laid on for him by inside-out left-winger Kevin Großkreutz.
Although the movement was clever to meet three punts whipped into Dortmund's box, the defending was laughable. It's nigh-on certain that Mats Hummels and Neven Subotić will have their sometimes-blossoming partnership broken up when the transfer market opens. Speculation has undoubtedly impacted on the Serbian's showings in recent weeks – previously uncharacteristic errors have littered his game. For Cissé's opening strike, Subotić's unintelligently deep position on a square allowed the Senegalese hotshot to step away, adjust, and bury (70′). Felipe Santana then allowed the #9 similar freedom in injury time. Not wanting to miss out, it was an air-swipe by Mats Hummels that allowed Mo Idrissou – another likely departee – to level the tie (60′).
Hertha BSC 1 – 3 Bayern München
The encounter in which Bayern (officially) won the title. Full-strength XIs were watched in Berlin's Olympic Stadium by a capacity 75k crowd. A strange fan atmosphere matched the game itself: waves of assured but semi-reserved Bayern noise penetrating the subdued, uncertain snippets the hosts mustered. Bayern were comfortable passing along the halfway line, and as Hertha sat deep, the game was very dull.
The bulk of Munich's attacks were launched down the Contento/Ribéry channel: van Gaal's men perhaps keener to use the latter's Champions League final-missing legs. Funkel opted for an odd, albeit fluid system – full-backs as high as the forwards wherever possible, and Marc Stein having to cover Piszczek's launches. Contrastingly, Robben's infield-drifts meant that Cícero wasn't called upon to sit for Kobiashvili's bursts.
However, the two protagonists of the opening half were ball-winners – van Bommel and Lustenberger both offering fine examples of calm screening, mopping, and releasing. It was in such an area that Müller and Robben began a sumptuously potent and deft two-man counter though: the former began it and laid on the killer pass for Robben to carry and place (74′). This put the tie back in FC Hollywood's favour; Ivica Olić having opened the scoring when Badstuber found Robben amidst the hosts' own-half 4-1-5 (20′).
Hertha's downfall was facilitated by inability to convert chances: they've won a single home game all season, and that was back in Round 1! Their bad characteristics all made appearances on Saturday. For defensive mistakes, you had Stein's slip that allowed Ribéry to lay a chance on a plate for Olić, or Kobiashvili's lay-off for Contento's power-strike/Robben's unchallenged follow-up (87′); for lack of cutting-edge, you had Ramos drifting too deep on his back-to-goal holding and thus leaving Die Alte Dame striker-less.
As displayed by their leveller (60′), Berlin are capable of pretty builds for the Colombian marksman to slide-dispatch (Van Buyten being careless helps too). However, they all too often allow predictability and cumbersomeness to breach fluidity – Cícero plays sidewards crossfield sweeps; Raffael dallies for an age before accelerating on an exciting carry/through-pass; Ramos carries out to the chalk; Kačar looks to dink over for in-lappers.
Mainz 0 – 0 Schalke
Manuel Neuer exemplified why he will be Die Mannschaft's first-choice in South Africa. If this turns out to be the last time we witness him haring him off  his line for the Gelsenkirchen outfit, he left fans with a performance to fondly recall. Mainz bossed this nothing-game against a disinterested, guaranteed second-spot Magath XI: they'd have won it too had Ivanschitz not missed a dot-shot. The Austrian is a player certain to depart in the summer – he'll return to Panathinaikos. Likewise, Schalke are waving goodbye to Kevin Kurányi (and his hefty wage packet). The 18-goal striker's salary has increased in his next adventure; Dinamo Moscow, where he'll team up with another former Bundesliga frontman in Andriy Voronin.
Hoffenheim 1 – 1 Stuttgart
As the DFB-Pokal final contestants are guaranteed passport-usage in 2010/11, Stuttgart earned a Europa League berth via 7th spot. Not that Stuttgart – in Jens Lehmann's final ever appearance – seemed fussed about nailing it. Ralf Rangnick's side should have put Christian Gross's to the sword. The mercurial – and probably departing – Carlos Eduardo was in blistering form, and rattled the frame of the goal. Akin to Wolfsburg, Hoffe's Bosnian double-act of Vedad Ibišević and Sejad Salihović were focal. Their side would've won had the former made cleverer fox-box runs; or the latter put some power into his constant place-shots from the box's protractor. The visitors commenced scoring after Marica and Cacau displayed their unique same-wavelength operation and execution (19′). But poorly tracked by Hilbert, former Die Roten youth starlet Boris Vukčević threw himself at a CK to level the scores on 44′.
| | | | | |
| --- | --- | --- | --- | --- |
| 1 | FC Bayern | 34 | 70 | |
| 2 | Schalke 04 | 34 | 65 | |
| 3 | Werder | 34 | 61 | |
| 4 | Bayer 04 | 34 | 59 | |
| 5 | Dortmund | 34 | 57 | |
| 6 | Stuttgart | 34 | 55 | |
| 7 | HSV | 34 | 52 | |
| 8 | Wolfsburg | 34 | 50 | |
| 9 | Mainz 05 | 34 | 47 | |
| 10 | Eintracht | 34 | 46 | |
| 11 | Hoffenheim | 34 | 42 | |
| 12 | M'gladbach | 34 | 39 | |
| 13 | 1. FC Köln | 34 | 38 | |
| 14 | Freiburg | 34 | 35 | |
| 15 | Hannover | 34 | 33 | |
| 16 | Nürnberg | 34 | 31 | |
| 17 | Bochum | 34 | 28 | |
| 18 | Hertha BSC | 34 | 24 | |
I'll return at some point over the next few weeks for an Oscars-style 2009/10 awards gala, and a look back at the consecutive Saturday (15/05, & 22/05) cup-finals!