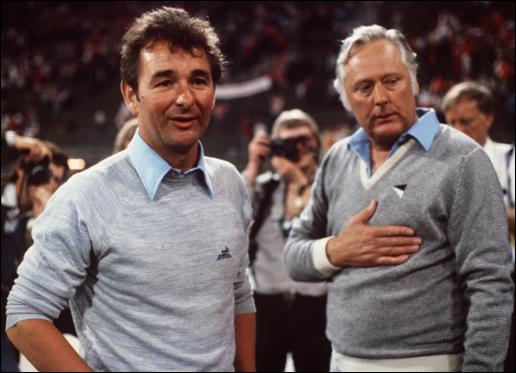 In theory, they could not have been any more different.
Clough: a suave and outspoken realist who loved the media's attention, who was the fastest to score 250 goals in English league football and who coached in such a simple way that his ball-playing philosophy, no nonsense man management and short individual coaching instructions took precedence over set-piece routines and, what he saw as, meaningless phrases like high lines and zonal marking. Taylor was a shy, optimistic and bumbling shadowman who disliked the limelight, who was not a particularly renowned goalkeeper with the likes of Coventry and Middlesbrough, and who was one of the most influential assistant managers in the history of football with his eye for talent, invisible ball match practices (that Arrigo Sacchi would later popularise) and near-infallible gut instinct.
Brian Clough first met Peter Taylor at a probables v possibles trial match for Second Division Middlesbrough in the summer of 1955. The 27 year old Taylor, who was born in Nottingham and was seven years older than Clough, had previously played for Coventry so was on the probables team while Clough, who was from Middlesbrough but with no professional experience by the age of 20, was on the possibles team. For the locally sourced Clough, though, it was not the most glamorous start to what would soon blossom into a international career: Middlesbrough's manager, Bob Dennison, was not wholly sure of the striker and but for the intervention for Taylor, who was an inevitable signing given Middlesbrough's lack of goalkeeping options and who was one of the best people for Dennison to ask the opinion of given that he was consistently playing within touching distance of Clough during the trial match, Clough would not have been signed by Dennison. It was the start of a football-obsessed friendship, where the two would spend hours upon hours discussing the merits of the game with the odd dose of their mutual deadpan humour, and a highly-successful association.
Despite what would soon become his trademark optimism, Taylor never believed he would play for England, which was in part down to the fact that the likes of Eddie Hopkinson, Colin McDonald, Alan Hodgkinson and Ron Springett were well ahead of him in the pecking order but also because of Middlesbrough's lowly position, but Clough, such was his confidence, realistically believed he could become an international striker. This was all the more remarkable, regardless of Clough's incredible potency (scoring 251 goals in 274 matches for Middlesbrough and Sunderland between 1955 and 1964), when one considers that Clough was up against household names like Derek Kevan, Gerry Hitchens, Roger Hunt, Jimmy Greaves and his unselfish and celebrated strike partner at 'Boro, Alan Peacock. However, winning just two caps as a 24 year old in 1959 was as good as it got for Clough, who was unfortunate to be operating while the conservative Walter Winterbottom was in charge of England, and Sunderland's Boxing Day fixture against Bury on 26 December, 1962 would prove to be a turning point in Clough's life.
The conditions were nothing short of dreadful: icy with a torrential downpour of rain and hailstones, which made the pitch, at best, unplayable. The game should have been called off, which was made all the more remarkable when the nearby Middlesbrough's match against Norwich was postponed, but Clough's fate was sealed. On 27', Len Ashurst hit a trademark through ball for Clough to beat the offside trap with. The pair had telepathically connected with this move numerous times in Clough's stay at Sunderland, but it was not to have the euphoric ending that it had usually promised. Onrushing, Chris Harker, Bury's goalkeeper, dived for the ball and his shoulder crashed into Clough's right knee. Innocuous, it seemed, given this type of collision happens constantly in football, but Clough could not stand up despite his best efforts. From this, Clough completely tore both his medial and cruciate ligaments in his right knee and had his whole leg in plaster for the next three months. The striker would spend the next eighteen months, following the plaster removal, in brutal rehabilitation but without his pace, Clough never made a serious comeback and was left in a state of limbo and incredible distress.
Taylor, meanwhile, became manager of Burton Albion at 34 years of age in 1962 and won the 1964 Southern League Cup. By 1965, Clough realised that while he would never have the ecstasy of a goalscoring feeling again, media work and management still offered him a footballing outlet. From this, the 30 year old Clough was offered the chance to take over at Fourth Division side Hartlepool United after a season in charge of Sunderland's youth team. Realising that he would become the youngest manager in Britain, that he would have to tour pubs and clubs to raise money (such were the financial circumstances, Clough even applied for a coach license to drive the team on away days) and that he would have to deal with Hartlepool's notorious chairman, Ernest Ord, Clough knew he could not go it alone and asked Taylor to join him. Such was Taylor's value in Clough's eyes, Clough personally drove to Burton and declared:
I've been offered the managership of Hartlepool and I don't fancy it, but if you'll come, I'll consider it.
Ord, though, was not happy with Clough for this as he knew he could not mould Clough (in hindsight, incredibly ironic given Clough's hatred of 'suits', but Clough had not yet completely blossomed into the incredibly publicly opinionated and self-revelling individual ) with Taylor around, so Taylor, humorously, doubled up as a makeshift physio. The duo performed admirably in incredibly tough financial circumstances that were not helped by Ord's interference and Taylor's inspired scouting was never so necessary. Two notable examples at Hartlepool included John McGovern, who debuted at just 16, and Les Green, a 24 year old goalkeeper Taylor managed at Burton. Both would go on to reappear for the duo in future years and played a key role in Hartlepool's promotion to Division Three in 1967. That, along with Clough's growing reputation within the media through television appearances, led to interest from Derby and having seen off Ord, who ludicrously sacked Clough and Taylor on 15 November, 1966, only for the senile chairman to be ousted by the boardroom in a coup that re-instated the duo and allowed them to lead Hartlepool to promotion, led to Clough believing that he was ready for the next step.
Derby, seemingly, were far from a massive step-up, having been rooted in the Second Division for over ten years and the fact that their chairman, Sam Longson, appointed Clough and Taylor on the back of a recommendation from a North-East journalist, Len Shackleton, reflected the chaotic environment the duo had entered. Clough, though, looked to thrive in this set-up, knowing he could manipulate the ambitious Longson in his favour, and did not fear the shadows of his predecessors, Tim Ward and Harry Storer. Like all of Clough and Taylor's jobs, though, it was going to take time to turn things completely around and initially, they saw it as, at least, a five-year project. So, mass rejuvenation took time to gel, with Clough and Taylor not rating many of the stagnant squad that greeted them upon arrival. From this, the likes of Green, Roy McFarland (would become Derby's first player for twenty years to play for England, against Malta on 3 February, 1971), Alan Hinton, McGovern and John O'Hare all arrived in 1967/1968 and only Kevin Hector, Alan Durban, Ron Webster and Colin Boulton were retained from the original squad. Remarkably, Clough also fired the club secretary, the groundsman, the chief scout and two tea ladies. Somewhat unsurprisingly, the immediate results of these dramatic changes was not immediate: Derby finishing 18th.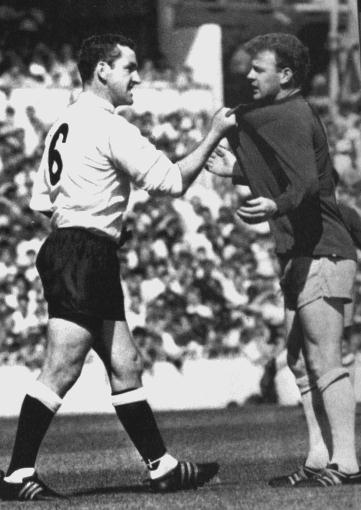 The signings of Dave Mackay and Willie Carlin took Derby to the next level in 1968/1969, though. Mackay was 34, finished as a full back and had agreed to become player-manager of Hearts. Clough's pulling power, though, with an exciting, yet incredibly ambitious and somewhat unrealistic, vision of Derby becoming First Division champions within two seasons fascinated Mackay. Clough and Taylor saw that while Mackay had clearly lost the marauding pace that made him one of the cornerstones of Bill Nicholson's double-winning side in 1960/1961, he had retained his other strong points: leadership, a brilliant reading of the game, well-timed tackles and classy passing. Therefore, they planned to use him as a libero. It proved inspirational: Mackay winning the Football Writers' Player of the Year award and playing a huge role in Derby rising seventeen places to win Division Two on the back of a phenomenal 22-match unbeaten run.  With Clough building a settled group, with 'originals' like Hector even performing brilliantly, the squad that won promotion was permitted the chance to lead Derby's title tilt (in the days where some promoted teams could, realistically, compete for the title).
Derby finished an admirable fourth, boosted by the club record £100,000 mid-season signing of Terry Hennessey from Nottingham Forest and the £60,000 coup of Archie Gemmill (Taylor had recommended him to Clough, who stayed the night at Gemmill's house in a bid to convince him not to join Everton), and qualified for the 1971 Fairs Cup. The pressure that Clough and Taylor, along with Longson and his expenditure, placed on eachother to deliver success was clearly evident, though: Taylor suffered a heart murmur before the game against Wolves on 9 January, 1971. It was one of the first turning points in their relationship, with Clough bringing in George Pycrof as a temporary replacement and only visiting Taylor once at the Derby Royal Infirmary – although this was owed, in part, to his phobia of hospitals from his knee injury in 1964. However, Derby's gung-ho attitude with finances and Clough's previous sacking of the club secretary eventually caught up with them when there was an unexplained gap of £3,000 in season ticket income and a payment of bonuses to Mackay outside the terms of his contract. From this, Derby were fined £10,000, disqualified from Europe for a year and brought it Stuart Webb, Preston North End's efficient secretary, to assist with the financial running of the club.
1971/1972 reflected the chaos that had gripped Derby behind the scenes, with the Rams finishing a disappointing 9th following a failure to put together a consistent run, and Taylor's scouting nous seemed to take a hit: vehemently refusing to sign the then 16 year old Steve Powell, the local hot prospect and soon to be club hero, which was only averted by Clough personally sanctioning the signing behind Taylor's back. Colin Todd was also signed, for £160,000 from Sunderland, and Derby produced a brilliant season in 1972/1973 to win their first ever top-level title. It was particularly sweet for Clough, having held off the threat of Don Revie and Leeds who he despised for their cynical brand of football and Revie's seemingly unprovoked distaste for Clough despite the pair growing up just minutes from eachother in Middlesbrough. Having won their final game against Liverpool 1-0, Taylor took the squad to Majorca while Clough and his family headed to Sicily as they awaited the results of Leeds and Liverpool's final matches the following week (owed to fixture congestion). Liverpool, who needed a win, drew 0-0 against Arsenal at Highbury and Leeds lost 2-1 at Molineux to a fired-up Wolves outfit.
However, what should have led to a period of domination was undone by inevitable boardroom strife. Firstly, Longson was not happy about Clough taking his family with him to a pre-season trip to the Netherlands and West Germany so Clough refused to go and let Taylor take charge. Then, Clough and Taylor signed David Nish for £225,000 from Leicester without consulting the board, which led to Jack Kirkland, a leading club director, placing an informal embargo on the pair spending six-figure sums again. Unsurprisingly, the 1973/1974 season was not a great success: Derby finishing 7th, Clough suffering a bout of depression when his mother, Sally, died and Derby being cheated by Juventus, who were later proved to have bribed the match officials, in a 3-1 semi-final aggregate defeat in the European Cup. That season, Clough did not hold back in his comments, having proving himself as one of the country's great managers, and led personal attacks on the establishment: Sir Matt Busby, Alan Hardaker, Sir Alf Ramsey, Don Revie and Len Shipman. However, questioning Italy's courage in World War Two and calling Juventus "cheating basterds" did not aid Clough's popularity within the boardroom and this, along with Clough's and Taylor's post-match drinking, was beginning to irk Longson.
Remarkably, Clough was once Longson's muse and the man he lavished gifts, including bottles of Scotch, club shares and salary increases upon, and this annoyed Taylor. Taylor never once received a salary increase and constantly had his role and importance questioned by Longson, but Taylor, too, was starting to tire of Clough and his arrogance. After all, Clough was the one constantly appearing on ITV (would go on to infamously call Jan Tomaszerwski a "clown" before the crucial World Cup qualifier against England at Wembley on 17 October, 1973; Tomaszerwski went on to produce a man-of-the-match display to earn Poland a 1-1 draw), writing for the Express and receiving the credit for Derby's incredible resurgence with numerous Manager of the Month awards. Following one last fall-out with Longson, who was furious to learn that the pair had made a tongue-in-cheek £400,000 offer for both Trevor Brooking and Bobby Moore in September, 1973, and board criticism over Clough's public distaste for Revie and Busby, Clough, Taylor and their whole backroom staff resigned on 15 October, 1973.
No one could have seen the next step coming. On 1 November, 1973, Clough and Taylor were appointed as manager and assistant of Third Division Brighton and Hove Albion. The fact that they returned to management so quickly was a surprise in itself, but with a lowly Third Division side seemed, at best, implausible. The chairman, Mike Bamber, though, gave the pair significantly higher wages than they had been on at Derby and the aim of the spell was simply to get more fans into the stadium. It worked: Brighton's average attendance tripled to 16,500 for Clough's first match against York at the Goldstone Stadium on 3 November. It naturally proved a strange period, with Clough displaying little interest (went to New York City to watch the Muhammed Ali and Joe Fraizer fight, instead of a match against Cambridge) and signing only a handful of players. Brighton finished 19th, winning just twelve of thirty-two games in 1973/1974, but incredibly, Clough's next move was all the more bizarre.
Revie became England manager at the end of the 1973/1974 season, having won his second title with Leeds, and despite, or maybe because, of his hatred of Revie's philosophy with Leeds, Clough applied and took over at Elland Road in July, 1974. While the move was incredibly surprising, it was clear that Clough saw it as the ultimate challenge and way to affirm his legacy: highlight how brutal Revie's methods and practises were, implement his own ball-playing philosophy and then replicate and outdo Revie's achievements with a similar group of players performing in a more admirable fashion. There was one key component missing, though, and that was Taylor. Deciding that he was ready for another crack at management at 46 years of age and with his family settled in Brighton, Taylor agreed a two-year contract to replace Clough as manager at Brighton. Clough thought little of it, but the pair would not speak to eachother for the six months following their parting at Brighton.
It was not to be a successful time for Clough and he failed to win over the dressing-room, notably the key figures of Billy Bremner and John Giles, with his impassioned pleas to win in a more dignified manager. Clough won just one match out of six games in his 44 days in charge, struggled under Revie's shadow, toiled without Taylor's influence (new signings John McGovern and John O'Hare seriously struggled) and was sacked, with a massive £98,000 pay-off, on 12 September, 1974. Clough's next move was crucial, with his nomadic career blighted and an outspoken reputation preceding him. He swallowed his pride and turned to Taylor and vowed to tone down his comments and television appearances (following the disastrous and needless live confrontation with Revie on Austin Mitchell's Calendar on the night of Clough's sacking from Leeds). Taylor, though, vowed to honour his contract with Brighton but did have an informal agreement with Clough that he would soon join him.
Clough took over at Division Two side Nottingham Forest on 13 January, 1975. Forest were in 13th place when Clough took over and went on to finish 8th in 1974/1975 and in 1975/1976, but with Taylor's arrival in the summer of 1976, Forest took off. Forest finished 3rd to win promotion to the First Division in 1976/1977 and made some ingenious signings: Larry Lloyd for just £60,000 from Coventry, Kenny Burns (a "one-time fighting, hard-drinking gambler who was a stone overweight" but went on to become the league's Player of the Year) for £145,000 from Birmingham, Peter Shilton for a brave £250,000 from Stoke, Gemmill for £20,000 and John Middleton from Derby, and Garry Birtles for £2,000 from Long Island. Amazingly, before the flurry of transfers, Clough had been the first to have been interviewed to replace Revie as manager of England in the summer of 1977 but the FA instead decided on the safe option of Ron Greenwood. Unperturbed, Clough and Forest won the 1977/1978 title, finishing seven points clear of second-placed Liverpool, and the League Cup in a 1-0 final replay against Liverpool. It was a remarkable achievement for Clough, putting him, at the time, in an exclusive pantheon alongside Herbert Chapman as the only manager to have won an English First Division title with two different clubs, and he won the Manager of the Year award for the only time in his career.
Clough then sought to take Forest to the next level, while still brilliantly utilising youth products like John Robertson and Tony Woodcock. Consistent expenditure was something Clough had not been afforded the chance to do at Derby, but at Forest, with lesser debt (before the ill-fated Executive Stand), the backing of Stuart Dryden and increased gate receipts, that was not the case and Clough signed Trevor Francis from Birmingham City for a British record fee of £1 million. Forest performed admirably in 1978/1979: retaining the League Cup after beating Southampton 3-2, going a record 42 games unbeaten between 26 November, 1977 and 9 December, 1978, finishing 2nd behind a stellar Liverpool side in the league and winning their first ever European Cup (beating Liverpool ((won previous two finals)), AEK Athens, Grasshopper, Köln on the way to the final). The final would see Francis partly-justify his fee, in his European Cup debut following a three-month competition delay over his signature, with a brilliant finish on 45' to defeat an injury-ravaged Malmö FF 1-0.
Forest went on to retain the competition in 1979/1980, joining an exclusive pantheon alongside Real Madrid, Benfica, Internazionale, Ajax, Bayern Munich and Liverpool, having beaten Öster, Argeş Piteşti, Dynamo Berlin, Ajax and Kevin Keegan's Hamburg on the way to a remarkable second European title. Even though Forest lost in the League Cup final to Wolves and finished 5th in the league, their continental achievement was nothing short of outstanding – despite Forest's seeming unprecedented expenditure (common misconception as key players like Viv Anderson, Martin O'Neill, Ian Bowyer, Gary Mills and John Robertson were either brought through Forest's youth system or arrived on nominal fees before Clough's appointment). It was as good as it got for Clough and Taylor, though, and would be the last major trophy win of their careers. Complacency began to grip Taylor, who would only go on one scouting trip per week rather than four in a firm belief that the squad could stay competitive for years yet, and the likes of Ian Rush and Kevin Keegan were among those who fell through the net as youngsters in Taylor's otherwise glorious portfolio. Taylor was an anachronism, though, and realised that:
It's as important in football as in the stock market to sell at the right time.
From this, Birtles was sold to Manchester United for an incredible, given that he arrived at Forest for just £2,000 in 1977, £1.25 million in 1980. Trevor Francis' inflated deal in 1978 had set transfer fees to new precedents but even still, just twelve years later, Sir Alex Ferguson would pay £1 million for Eric Cantona. It was Taylor's career masterstroke, with Birtles struggling under the weight of expectation for United and re-signing for Forest for just £300,000 in 1982. Taylor, though, began to lose his touch in the inflated market and the likes of Asa Hartford (£500,000 in 1979; failed to fit into Forest's high tempo playing style and was sold after just three games to Everton for £500,000), Stan Bowles (£250,000 in 1979; incredibly unprofessional and constantly clashed with Clough before being sold for £100,000 to Leyton Orient in 1980), Peter Ward (£400,000 in 1980; scored an average 7 goals in 33 matches between 1980 and 1983), Ian Wallace (£1.25 million in 1980; scored 36 goals in 134 games between 1980 and 1984) and Justin Fashanu (£1m in 1981; moved to Notts County for just £150,000 in 1982 after just 3 goals in 32 games for Forest, following a fall-out over his sexuality with the old-school Clough) proved disastrous signings. Forest declined: finishing 7th in 1980/1981, embarrassingly went out in the first round of the European Cup to CSKA Sofia, and finished 12th and went out to Wrexham in the 3rd round of the FA Cup in 1981/1982.
Sadly, Taylor's and Clough's friendship and association was firmly ended at the end of the 1981/1982 season with Taylor's unauthorised 'auto-biography', With Clough, which focused mainly on the figure of Clough and his upbringing, and even had Clough on the front cover of  the first edition. Taylor decided to, temporarily at least, retire from football at the age of 54 and believedthat Clough's distaste of the book smacked of double standards given his celebrity and media activities. Unfazed, Clough began a relentless assault on his one-time best friend and called him a "rattlesnake" and declared, following Taylor's suprising move to manage Second Division Derby, who would ironically knock Forest out of the 1983 FA Cup fifth round, six months later:
We pass each other on the A52 going to work on most days of the week, but if his car broke down and I saw him thumbing a lift, I wouldn't pick him up. I'd run him over.
Despite Clough's League Cup wins in 1989 and 1990, neither were quite the same again. Clough rapidly descended into alcoholicism, badly lacking his drinking partner who kept him at a somewhat consistent stable level, and made numerous uncharacteristically eccentric moves: re-signed a flagging and injury-ridden John Robertson in 1985; hit three supporters in a pitch invasion at QPR on 19 January, 1989; played the inexperienced Ian Woan and Chris Glover, and the injured Roy Keane, in the 1991 FA Cup final against Tottenham where a shaken Clough walked out holding Terry Venables' (both would soon be implicated in the 1993 bungs scandal) hand and refused to give his team a team-talk before the beginning of extra-time; and rapidly losing control of the dressing-room and footballing matters as Forest were relegated in Clough's final season in 1992/1993. Taylor performed admirably with Derby under dire financial circumstances, though: leading them to 16th and the FA Cup 5th round in 1982/1983, but retiring from football for good in April, 1984 with Derby bottom of the Second Division but avoiding bankruptcy thanks to making the FA Cup quarter-final.
Sadly, when Peter Taylor died on holiday in Majorca on 4 October, 1990 at the age of 62, Brian Clough had yet to make-up with him after a bitter war of words that lasted over eight years. It was no coincidence that Clough's rapid public deterioration and increased drinking occurred from this moment on and when informed by Taylor's family, Clough could not speak for hours, wept heavily and could not bring himself to sit near the front of Taylor's funeral. It was an incredibly poignant and remorseful end to a twenty-seven year partnership that saw Taylor help launch Clough's football career and Clough, deep down, seriously value Taylor's managerial and scouting input in his incredible success as a manager. Perhaps the scale of their seemingly unlikely friendship was best summed up by Clough's closing words when he received the Freedom of Nottingham in 1993:
My only regret is that my mate is not with me.