With the World Cup just over a week away, there are reputations on the line as some of the BackPageFootball regulars give their predictions.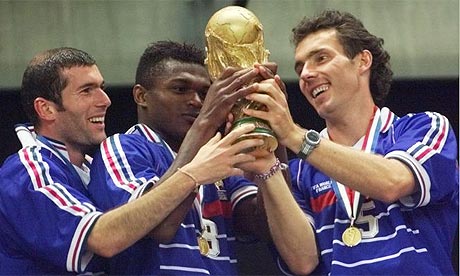 Who will win the World Cup?
Kevin Coleman: I'm going to go predictably here and pick Spain. They've had the same squad for a couple of years now, and are as tightly knit as any club team you'll find. With that amount of quality in the squad, if things go their way they'll win it.
Neil Sherwin: Spain and Brazil will be there or there abouts, though it would be foolish to discount the likes of Germany or Italy, even if they aren't as strong as previous tournaments. I'm going for Brazil as they are a much more solid unit than usual and have a very balanced side.
Gav Reilly: My head says Spain, but oddly my gut says England.
Ed Diggins: England, though deep down I can see them getting to the final or loosing on penalties in the semi.
David Bevan: Brazil. Spain is the obvious answer because their squad is formidable. However, I'm not as confident about their chances as I would have been without recent injuries to Fabregas, Iniesta, Xavi and Torres. If all four are fit and play the whole finals, then they will be the team to beat but their preparation seems to have been hampered by injuries and transfer speculation. Taking off my Backpage La Liga hat, I'm going for Brazil. They know how to do it.
Eamonn Power: Spain. Their squad is incredible and they've so far avoided any controversies in the build up. The Euro 2008 win was vital in getting a monkey off their backs and they have top players coming back from injury who are rested and hungry after respective disappointments at club level.
Christopher Mann: It's hard to look past Spain. The football they've played over the last 24 months has been astonishing and, both in terms of the team unit and the ability of the individual players, I don't think there will be a better team in South Africa. If there's one team that has the potential to beat them it's Dunga's compact and organised Brazil, but even the Selecao would have to significantly raise their game to defeat the Spanish.
Kevyn Doran: I'm going to be boring and go for Brazil. They have a tough group, albeit one I expect them to qualify from which will set them up nicely for the rest of the tournament. A potential first knockout round tie with Spain could await, and if they get through it, I fancy them to go all the way.
Matthew Wood: Spain for me. The success of the Euros means this team now has the tournament experience to match it's talented squad. What makes this Spain squad so scary is the fact that even though players like Torres and Fabregas are injury doubts, there is so much quality in reserve you'd still back them to win it.
Chris Nee: Brazil. The pressure's all on Spain, but I think Brazil have the pragmatism and the determination to go all the way. Luis Fabiano is the embodiment of the team and they can play wonderful football or destroy teams that stand up to them.
Who will win the Golden Ball for best player?
KC: If my prediction holds that Spain will go all the way, then the best player will be Xavi, who will no doubt be pulling the strings and showing the world what a quality player he is.
NS: I'd love if Xavi could repeat his individual success of the 2006 Euros by wining the best player award. Messi will shine, even if he is slightly hindered by Maradona.
GR: If he performs as he ought to, Lionel Messi ought to be a sure thing. However, I wouldn't be all that surprised if Argentina fail to fire – in that case, keep an eye out for Cesc Fabregas.
ED: Wayne Rooney as long as he stay injury free for the duration.
DB: Xavi, as long as he is fully fit. He is the best midfielder in the world and I am certain he will prove it yet again.
EP: Xavi. Finally beginning to get recognized for what his importance. Should be a major factor should Spain go the distance.
CM: If Spain perform as well as they are expected to do then Xavi will have had a lot to do with it. Obviously much depends on his fitness, but the Barcelona man is a midfield genius and, if his country do go on to win the World Cup, will surely have to be considered one of the best players of all time. Beyond that, both Luis Fabiano and Kaka will have a big say in how succesful Brazil's campaign is and, of course, Leo Messi will be looking to spearhead Argentina's challenge.
KD: Tough one. Going for Brazil to win the whole competition, I should really pick one of their players to be safe. The likes of Robinho, Kaka, Luis Fabiano all seem obvious choices, but I've already been boring in my first answer so I'll go for Lucio. He's off the back of a great season at club level, and will be on top of the world heading to South Africa. North Korea shouldn't pose a threat, and Portugal just don't score enough goals. Brazil might not concede many goals this Summer, and I fancy Lucio to be the main man for them.
MW: I think you have to look at someone who is entering the tournament with a degree of form. In that respect I expect Arjen Robben and Lionel Messi to shine but I think Xavi will nick it. He makes Barcelona tick and will do the same for his nation at the World Cup, his ball retention is second to none.
CN: I expect Spain to do very well and I think any number of their players could take home the Golden Ball. Maybe David Villa or Andres Iniesta could be in with a shout.
Who will be the top scorer?
KC: Fernando Torres, or his teammate David Villa. If they both stay fit for the whole competition, they should rake in the goals.
NS: Well I've stuck a few quid on Diego Forlan at 75/1 so I'll go for him. I think Uruguay have a nice draw and could definitely get out of the group if they get a result against France early on. He could be this tournament's Oleg Salenko.
GR: It'll be one of those tournaments where the highest scorer only gets four or five. My money's on Wayne Rooney to get it, purely by virtue of an easy hat trick against the likes of Algeria.
ED: Rooney (injury pending).
DB: David Villa – the best finisher since the original Ronaldo.
EP: David Villa. Continuing the process of sticking all my eggs firmly in the Spanish basket, Villa should feel energized having had his future sorted pre-tournament. Torres' injury concerns may see Villa relied on more frequently as Spain's main threat, especially in the early stages of the tournament when Nino is still making his way back to full fitness. Up against the likes of Switzerland, Honduras and Chile in the group stages, Villa could easily go to town.
CM: I know I'm in danger of sounding like a broken record, but Spain have a relatively straightforward group and, in his role leading the line, David Villa might well cash in and score an awful lot of goals early on in the competition. As Brazil's only out-and-out striker, Luis Fabiano will also be a strong contender for the golden boot, whilst Gonzalo Higuain and Wayne Rooney could be in with a shout too.
KD: So many forwards are in great form heading to South Africa. We're spoilt for choice and it's so hard to give a definite answer here. I fancy Uruguay to go at least two rounds into the knockout phase, and Forlan is obviously their main man, but let's not forget Luis Suarez too. Holland seemed to score for fun in qualifying, so Van Persie could be in with a shout. The same goes for Rooney, Torres, Villa, Suazo, Higuain, Messi….. So many choices. If I'm forced to pick, I'm going to choose Luis Fabiano, completing my trinity of Brazilian predictions. But this one is really up in the air, and it's anyone's guess who will finish top scorer.
MW: I'm going to be boring and say David Villa. Spain's group is such that you fancy them putting a few past the teams in front of them.
CN: I think Luis Fabiano will score lots and win this, but the difficult nature of Group G might make the difference there.
Who will be the surprise package of the tournament (country)?
KC: North Korea. Like their southern counterparts in 2002, I'm predicting this North Korean side to cause a bit of a shocker in the "group of death". I don't think they'll qualify, but if they finish their competition with a point or two from a group that includes Brazil, Ivory Coast and Portugal, that'll be a major surprise.
NS: The USA. England have looked ropey, particularly against Japan, and the Americans are a well drilled side led by the classy Landon Donovan and Clint Dempsey. They should get out of the group and a quarter final place could be on the cards.
GR: Don't be surprised if South Africa scrape through the group and possibly to a quarter final. Remember Ireland in 1990?
ED: Ghana or Ivory Coast.
DB: Chile. Growing numbers, myself included, seem to be aware of the Chileans and Marcelo Bielsa's attacking formation in particular. I also think a big part of international football is getting the most out of promising players who have failed to deliver at club level for whatever reason. Suddenly, the shackles are off in certain circumstances and they can simply show their ability without the day-to-day pressures of domestic football to worry about. Step forward Matias Fernandez.
EP: It's only a matter of time before an African nation makes a serious breakthrough in World Cup Competition and in their home continent, WC2010 may well be the year. Exactly which team will do it is hard to call. Ghana losing Mikael Essien was a major blow, Cameroon have a good shout in overcoming Denmark and Japan to come second to the Dutch but I think the main african threat will come from Sven Goran Eriksson's Ivory Coast who I fancy to come out of a tough group ahead of Portugal and then pose a very tricky prospect for any side afterwards.
CM: Chile look strong. They qualified under the radar with all the attention focused on Maradona and Argentina, but Marco Bielsa has got his side playing both attractive brand of football and players like Alexis Sanchez and Humberto Suazo are more than capable of shining at the very highest level. I'm expecting them to comfortably progress from Group H.
KD: Chile. Marcelo Bielsa doesn't hold back with his tactics, and Chile will be a very attractive team to watch. I've put some money on them myself to finish ahead of Spain in Group H. Even if they only manage a draw with the Spaniards, I fancy Chile to outscore them against Switzerland and Honduras.
MW: I think Chile could surprise a few people, they finished second in South American qualifying behind Brazil. Humberto Suazo is a lethal goal scorer and he could come alive in South Africa. I definitely think they'll get out of their group, only trouble is they're likely to play either Brazil, Portugal or Ivory Coast in the next stage.
CN: I think the last four will be made up of the usual suspects but don't be surprised to see Slovakia get out of their group, or Chile go further than expected.
Who will be the surprise package of the tournament (player)?
KC: Angel Di Maria has shown recently that he has the potential to be one of the best players around, I think it'll happen for him and Argentina this summer.
NS: Shane Smetlz. The New Zealand hitman has been the top scorer in the A-League for the past two seasons and scored the winner against Serbia at the weekend. If the All Whites are to cause any upsets then expect him to be at the heart of them.
GR: Miloš Krasić – he'll "do an Arshavin" as part of a strong Serbian campaign.
ED: Nani.
DB: Nicklas Bendtner. Second place in Group E looks wide open to me. A big physical targetman who traditionally performs well for his country, Bendtner might be the key to Denmark progressing and there is always one striker outside of the elite who bags a crucial goal or two in the knockout stages. Of course, he might still be in cow's-arse-with-banjo mode and make me look a complete lemon. No pressure, Nick (don't be rubbish).
EP: The hardest question of all to answer! Could be anyone, who knows what hot shots North Korea are hiding amongst their ranks? If I'm pushed, I'm going to go with Juan Sebastian Veron, not sure why, but I feel that he could have a big role to play in any success that Argentina have. As a 35 year old only re-called to the squad a couple of months ago I suppose that counts as a surprise.
CM: I think Germany's Mesut Ozil could impress this summer. Despite only being 21, the attacking midfielder is a very mature player and has been in great form for Werder Bremen this season. With Michael Ballack not traveling to South Africa through injury, Ozil should be given greater responsibility in South Africa and could become a pivotal figure for his side.
KD: Gary Medel (Chile). I'm so impressed with this guy. He's one of the hottest talents in South American football at the moment. He's technically a right back, but equally adept in a defensive midfield role, and gets his fair share of goals. Think Gennaro Gattuso, but with a fiery South American mentality. I'm looking forward to seeing him play, and wouldn't be surprised to see Europe's big clubs take notice.
MW: Glen Johnson will hopefully show people he's more than able defensively. It's a tag that's been around Johnson's neck throughout his career but I've witnessed him play extremely steadily defensively for Liverpool this season. By no means is he perfect, but much better than he's given credit for. His attacking threat should also provide England with another outlet.
CN: Jong Tae-Se of North Korea. And I'm only half joking, though they'll go out at the group stage. Okay, I'm mostly joking – but I have seen him score a decent goal or two.
The second part of 'BPF Predicts: The World Cup' will be with you tomorrow so keep an eye out!