Benfica have never been the most patient of clubs when it comes to their managers, and Simon Curtis takes us through the merry go round that has become all too familiar at the Estádio da Luz.
If you have an itch, and Sport Lisboa e Benfica has been known to have one, a big loathesome one, every year or two, you have to scratch it. The Stadium of Light is like a cat's basket full of nits at the moment. Having gone through almost every trainer realistically available to Portuguese top flight football (and one or two, it must be said, from outside the box), the powerbrokers at the Estadio da Luz last year landed on someone else's saviour, Jorge Jesus, and quickly whisked him away from the flourishing experiment he had been conducting up in the arctic wastes of Braga for a longer period than those employed in the capital are used to. Sure enough, the trick worked. In his first season in the big smoke, Jesus performed the miracle of the twelve players and how to use your loaf. It was a water to wine moment down by the muddy margins of the Tagus, if ever there was one.
Suddenly, sloppy lethargic signings looked neat and incisive, interested even. The thousands of empty seats began to fill up at Luz and the media began to dust off their hyperbolic stanzas. Even the great statue of Marques de Pombal was reinforced in preparation for the traditional mass invasion of the biggest roundabout in central Lisbon, the traditional site for car horn tooting anf flag waving into the early hours after one of the local teams has brought back a treasured trophy. There has been little activity there in recent years, bar the omnipresent go-for-broke taxi drivers.
The title was delivered to the "Encarnados" for the first time in 6 years by the long-haired Jesus. Trapatoni's triumph in 2004 was preceded by a drought dating back to 1992 and the days of the great dinosaur Toni. At last the capital could bask in the sunlight, sure that Porto had for once been left licking their wounds in the shadows. Nobody could have foreseen how swiftly the star of Jesus would fall, however. After 13 games this season, he already carries the air of the condemned man that no last supper will save. Benfica lie, almost prone, eight points adrift of Porto in second spot. On the face of it, this is not a calamatous position, there is still hope that an upturn can save the season for the red devils, but consider this: we are talking about a club with legendary impatience when it comes to managing to resist fiddling with the trigger of the gun marked "Manager".
In a land where 2nd place is nowhere and 3rd is like being thrown into the wilderness, an eight point deficit at this point is a gulf that Moses would do well to bridge. Add to that some of the lacklustre, supine and heartless performances and Jorge Jesus is facing the music turned up high. If the Champions League was meant to offer the club salvation, there was a nasty wake-up call waiting there too, culminating in Benfica being two minutes from missing out on the dubious booby prize of dropping into the Europa League. The irony that far to the north a goal scored by Lyon's ex-Porto striker Lisandro Lopez against Hapoel helped save Benfica's bacon, shuffling Hapoel into 4th place and elevating Benfica into 3rd, was both blunt and cutting. That they had managed this on the back of a lifeless performance against Schalke, losing hopelessly and listlessly, whilst Lyon and an ex-rival pulled them from the steaming wreck of their Champions League campaign, only served to sharpen the media and supporter barbs the day after.
From the legendary Toni to the legendary Manuel José, Benfica's managers have been confronted by administrators with always itchy trigger fingers. At Luz shooting for the stars often becomes shooting at the trainer and shooting at your foot is a presumed precursor to all of this wild and misdirected gunfire.
As many still maintain, this is the same man who lead the club to an astonishingly pert opening period last year, won them the title and brought light back to Luz. He didn't turn sour overnight. He is the same man with the same players. Patience, it must be said is a virtue not held highly in these parts. Take a look at this impressive list of frightened incumbents, who quickly found the red carpet of welcome moving under their feet: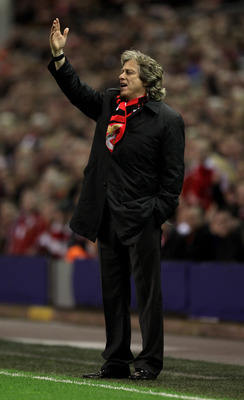 Tomislav Ivić 1992 1992
Toni 1992 1994 (1 League Title, 1 Cup)
Artur Jorge 1994 1995
Mário Wilson 1995 1996 (1 Cup)
Paulo Autuori 1996 1997
Manuel Jesus 1997 1997
Mário Wilson 1997 1997
Graeme Souness 1997 1999
Jupp Heynckes 1999 2000
José Mourinho 2000 2000
Toni 2000 2002
Jesualdo Ferreira 2002 2002
José Antonio Camacho 2002 2004 (1 Portuguese Cup)
Giovanni Trapattoni 2004 2005 (1 League Title)
Ronald Koeman 2005 2006 (1 Supercup)
Fernando Santos 2006 2007
José Antonio Camacho 2007 2008
Fernando Chalana 2008 2008
Quique Flores 2008 2009 (1 League Cup)
Jorge Jesus 2009 — (1 League Title, 1 League Cup)
It doesn't need a decorated historian to point out a critical ring-pattern in this withered old oak. Impatience will eventually kill the great institution that is Benfica, unless president Liuis Filipe Vieira holds to his promise of keeping his ammo dry for once.