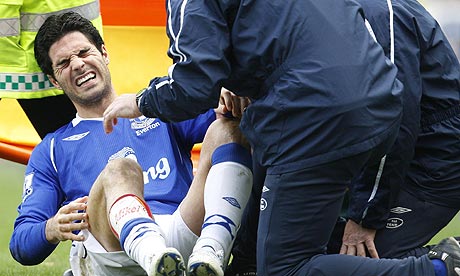 On 4 July 2010, I joined the likes of Michael Owen, Mikel Arteta, James McFadden and Joe Cole in one of the most unwanted groups in football as I suffered a complete tear of my Anterior Cruciate Ligament (ACL).
I was playing for my club side in a league game when I twisted awkwardly in a challenge and immediately felt a sharp pain in my right knee. Stretchered off, I knew something wasn't right and the next day I went to see my local physio. I was diagnosed with having a small tear in my Medial Collateral Ligament (MCL) which is on the inside of the knee, and was told it would take six weeks or so and I'd be fine.
That time passed and I went to see the physio again. Given the all clear to resume training, I lasted less than five minutes before my knee buckled beneath me. Clearly something more serious was going on so I sought a second opinion but again I was told it was just MCL damage and I needed to do a further six to eight weeks of rehab work. Initially that rehab went well and the knee was getting better but finally three weeks ago it plateaued and I decided I would seek a referral to a surgeon off my own bat.
I was sent to see Dr. Ben Hewitt, a consultant and surgeon who has worked with the Western Force Super 14 rugby team, and he sent me for an MRI straight away. Within a few days I had the results and they confirmed my worst fears – I had completely ruptured my anterior cruciate ligament. Dr. Hewitt booked me in for surgey immediately, and I underwent the procedure yesterday morning.
What is the ACL?
The anterior cruciate ligament (ACL) is one of the most important of four strong ligaments connecting the bones of the knee joint. The function of the ACL is to provide stability to the knee and minimize stress across the knee joint. It restrains excessive forward movement of the lower leg bone (the tibia) in relation to the thigh bone (the femur). It limits rotational movements of the knee, and in total provides almost 90% of the stability to the knee joint.
It is possible to function day to day without an ACL, which is what I have unknowingly been doing for the past four months. Walking and running in straight lines were no problem, though there was some day to day pain and trying to take stairs was a nightmare.
With good rehabilitation, 90% to 95% of individuals who undergo reconstructive surgery can expect to return to full sports participation within six to nine months.
How is it fixed?
In January 2009, Chelsea's Dr. Bryan English gave the following excellent description of the procedure for grafting a new ligament from the hamstring:
"With the anterior it is much better to try to do surgery although there are a couple of high profile players who haven't had surgery and are still playing, but normally you would go straight on and have the surgery," he said.
"Quick rotational sports such as football tend to give the guaranteed go ahead to get the surgery done."
The standard surgical procedure is to take tendon tissue (tendons are the structures connecting the ends of muscles to bone) and having drilled holes in the thigh and shin bones, pass the tendon graft through the holes and attach it to replace the ruptured cruciate. Tendon is taken from the patient (hamstring tendon or part of one at the front of the knee) or in a smaller number of case, from a donor.
"They have perfected the surgical techniques, and the rehabilitation has improved. A good operation can become a disaster if you don't rehabilitate it right, and a very average operation can appear very good if you have treated it well," said English.
"The ligament has probably healed by about six weeks but we have to make sure the envelope of muscle around the limb is tip-top to protect the knee from dislocating again."
Following the surgery, the patient must begin vital rehabilitation immediately to ensure muscle protection. It is a long and frustrating road that requires patience and willpower.
"It is a long process. You want to protect initially from too much movement and being over-zealous," said English.
"There is no period of rest, work begins straight away, but it is very low grade, maybe just squeezing the leg to activate the muscles. A quicker rehabilitation afterwards can happen if you bite the bullet after surgery and put up with a bit of discomfort."
What next?
I had my operation less than 48 hours ago so my leg is heavily bandaged and currently in a splint. The splint can come off tomorrow with crutches to be used as support and rehabilitation exercises will start immediately. Thankfully I suffered no cartilage damage or injuries to my other ligaments when I twisted the knee so the procedure was quite straight forward, only taking 45 minutes to complete.
In ten days time I will have a consult with my surgeon to hopefully be off crutches and start walking freely again. My hamstring is quite tender and will continue to have a strained feel to it until the fibres knit together to replace the piece removed to create the graft.
Driving is off the agenda for the first month or so and it will be about three months before I can jog in a straight line. In the mean time there will be plenty of leg strengthening work.
After five months I should be able to move up to 'Figure 8' running, before resuming full training in August 2011. At 25, I am at a good age to make a full recovery provided I stick to the programme outlined for me.
It will be a long and frustrating road back but I'm determined to play again. The purpose of this blog is for me to have something to look back on in a few years and also provide some reading for anyone who goes through the same thing in the future.
I'll be posting updates every few weeks (more often initially) so If you have any tips or words of wisdom, please leave them in the Comments section below!