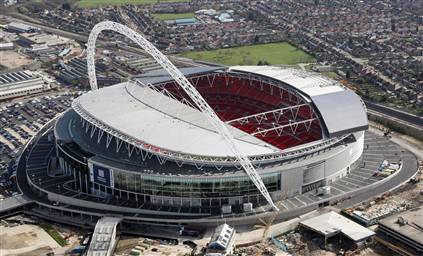 Going into tonight's Champions League Final, UEFA's showpiece event, there is a feeling of destiny to the occasion for both clubs involved. This is, after all, the ground where both Manchester United and Barcelona sealed their first ever European Cup wins, some 24 years apart from one another, so naturally the occasion will feel very special for all involved. Both clubs are now seeking to win their fourth European Cup.
Whoever wins will follow Milan, Real Madrid and Liverpool into the history books by winning the trophy twice in the same city. There are a number of striking similarities to the circumstances which surrounded those nights in 1968 and 1992 respectively. Both clubs will have legitimate cause to feel like this is their year. The current squads of both teams have already assured themselves of their own chapter in the club's history books, but Wembley holds a special place in their history, and a win on Saturday would add a unique symmetry to the story.
For Barcelona, this was the site of the greatest triumph of Johann Cruyff's much lauded "Dream Team" which included Spanish players such as current coach Josep "Pep" Guardiola, Andoni Zubizarreta and Jose Mari Bakero; as well as the glamorous foreign players Hristo Stoichkov, Michael Laudrup and Ronald Koeman. They defeated Sampdoria by a single Koeman goal in 1992 to seal the clubs first European Cup. This team famously won four La Liga titles in that period time, a feat that the current team can match if they claim top honours next season. The debate as to which team is better, between the current group and the Dream Team, have been heating up in the past couple of years with the success of Barcelona's current side. Opinions are divided, but a victory on Saturday would see Guardiola's team win its second European Cup in three years and the club's third in six.
For United, Wembley was where the famous "Busby Babes" team won the club's first European Cup against Benfica in 1968. Led by the legendary Sir Matt Busby ten years on from the infamous Munich Air Disaster, United finally achieved the level of success they had been touted to achieve prior to that awful night in February 1958. It was a momentous achievement and the end of a long quest for a lot of their players. This was a team that boasted such talents as Sir Bobby Charlton, George Best, Nobby Stiles and Brian Kidd (not forgetting, of course, Denis Law who, whilst an integral part of the United set up in that era, was injured for the final). To say they are big footsteps to follow is an understatement.
The similarities surrounding the build up are striking too. Barca were strong favourites in 1992, just like they will be on Saturday night. They were, as they are now, seen as a great team that play beautiful football. Similarly, in 1968, Manchester United went into the final as underdogs against a Benfica team, who like Lionel Messi now, had the era's most feared player in Eusebio. One wonders will Sir Alex Ferguson adopt the same approach to Lionel Messi, that Busby did with Eusebio when he assigned Nobby Stiles with the task of man marking him. Even the managers have striking similarities to their counterparts of 92 and 68. Guardiola, like Cruyff, a great and successful player in his day, and an astute manager with a philosophy of football that he strongly believes in (born of course from Cruyff's philosophy). And Ferguson, like Busby, is a working class Scotsman, with a strong work ethic that he projects onto his team, who puts faith in youth, and is very much the psychologist of the game.
In 68, Manchester was dominant, City winning the league and United winning the European Cup. Now United own the league and City the FA Cup. One thing the teams of 68 and 92 had that won't burden the current sides is the pressure to bring home the clubs elusive first European Cup. For Barca's Dream Team, they also reached two finals in three years, though one thinks they will be keen to avoid repeating history too much, as they were destroyed 4-0 by A.C Milan in the 1994 final.
Of course, when the whistle blows tonight to start the match, none of these historical comparisons or senses of destiny will matter, it's purely about which side is the better team on the night. Whatever the outcome in tonight's showpiece, one thing is for certain, a new generation of Wembley legends will emerge in one of the club;s history books. And whoever is victorious will certainly be following in the footsteps of giants.