There seems to be no seperating Barcelona and Real Madrid at the moment as both sides continued their 100% start to the season, the title contenders are not wasting any time and the title race is firmly on as Real look to show their major summer spending spree can be backed up with success.
Saturday saw Barca travel to Malaga, a horrible pitch really disrupted Barca as they could not get a grip on the game at all and their usual free flowing football was stopped by a physical battle with Malaga. It was Malaga who wanted to get forward early on as they tried to attack Barca with aggression, they didn't manage to threaten with any venom as Barca weathered the storm and tried to get playmaker Xavi pulling the strings.
Malaga were starting to show their weaknesses as the first half grew, gaps appeared and Zlatan Ibrahimovic beat the offside trap only to see his effort well saved. Lionel Messi was looking dangerous and just seconds after Ibrahimovic should have scored this time he did, he chested down a lovely through ball by Messi and fired the ball home sending Barca 1-0 up at the break and continuing his excellent start to the season.
The second half started the same as the first half, Barca were showing their battling qualities which often get overlooked by their sublime attacking play, they really do know how to win the ball back and they battled just as much as Malaga did. Barca were really starting to dominate the game, substitute Gerrard Pique wasn't on the field long before he got on the end of Xavi's free kick to tap the ball past Gustavo Manua, the keeper should have done a lot better in all honesty.
The football was flowing as Messi and Pedro were skipping past their opposition, Pedro managed to find Pique who seemed to forget which box he was in as he blazed the ball over the bar. By now Malaga were getting reckless in both their football and their temper as a few rash challenges were made, one in which former Newcastle flop Albert Luque received a harsh straight red with a tackle on Dani Alves, a couple of rolls on the floor by Alves seemed to sway the referee's decision.
Barca dominated the second half, some of their football was top class as Xavi, Messi and Alves tested Malaga late on, Malaga managed to prevent a rout but in all honesty  5-0 wouldn't haven been harsh at all.
Earlier on Real Madrid welcomed newcomers Tenerife to the Bernabeu as they looked to continue their impressive start to the season. It was a dull first half as Tenerife battled hard and really went at Real who at times looked very shaky. Cristiano Ronaldo was looking dangerous as he looked to continue his impressive start to the season, his blocked shot fell to Mr Madrid, Raul, who's effort was saved by Sergio Aragoneses. Not a lot to get excited about in the first half.
Kaka and Guti were introduced in the second half to spark Los Blancos into life, it seemed to worke as Karim Benzema got on the end of a Xabi Alonso cross to give Real a perfect start to the second half, 1-0 to Real.
That goal seemed to spark Tenerife into life too, within the next 10 minutes both teams had their chances, Tenerife going close twice only to be denied by Iker Casillas and a brilliant solo run by Ronaldo was kept out by Aragoneses. Goals looked likely and it was Real who delivered, Benzema using his power to muscle his way past the defence and curling a shot round Aragoneses to put Real 2-0 up. Real then went close again with Ronaldo and Benzema  but Tenerife didn't give up and should have at least got a goal, Casillas brilliantly keeping them out with a fine double save.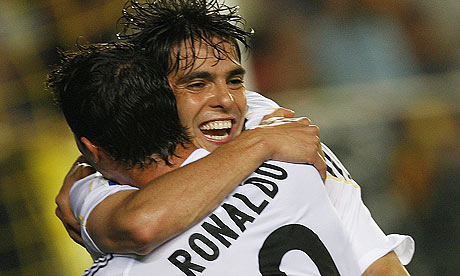 As the game drew to a close Tenerife tired and Real punished them further as Kaka picked up Raul's blocked shot and thumped the ball in the back of the net from outside the area to seal the win. A battling Tenerife gunned down in the end by a good second half display by Real.
Elsewhere Valencia looked set to pile more misery on Atletico Madrid after their disastrous start to the season as Pablo and Villa struck within two minutes of each other in the first half to cancel out an early Kun Aguero strike for the visitors. Valencia couldn't hold on as Maxi Rodriguez snatched a valuable point with a last gasp equaliser in a very close encounter. Sevilla continued their good start to the season too as they hammered Athletic Bilbao 4-0 away with Renato, Negredo, Kanoute and Navas on target.
Other Results:
Mallorca 3 – 0 Valladolid
Estadio Son Moix (12,809)
Almeria 2 – 2 Racing Santander
Estadio Mediterraneo (15,000)
Osasuna 1 – 0Sporting Gijon
Estadio Reyno de Navarra (15,000)
Espanyol 0 – 0 Xerez
Estadio Olimpico de Montjuic (33,000)
Real Zaragoza 3 – 0Getafe
Estadio La Romareda (24,000)
Deportivo La Coruña 1 – 0 Villarreal
Estadio Riazor (20,000)