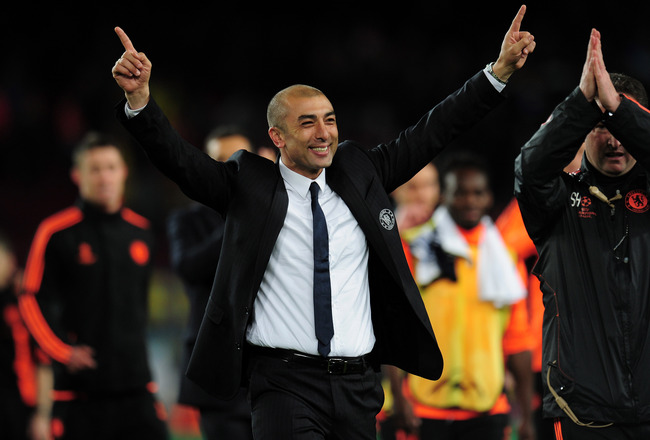 Following on from his look at the changes Roberto Di Matteo has made in leading Chelsea to a Champions League final, Ciaran Kelly looks at the wider impact a Champions League win would have on the club and its history.
In 2006, Peter Kenyon, Chelsea's brash Chief Executive from 2004-2009, spoke of Chelsea's plans of becoming the world's biggest and most well-supported club by 2014. The two ways of achieving this, he cited, were breaking the global markets of the United States and Asia – where Chelsea, impressively, have enjoyed immense commercial success in both regions amid numerous summer tours in the Roman Abramovich era – and winning at least two Champions League titles.
So, while the 2008 Champions League final will forever be associated with John Terry's near-fateful slip, there was, perhaps, an even more harrowing image on the night of 18 May, 2008: Kenyon leading the weary, bruised and rain-soaked Chelsea squad up to the nosebleeds of the Luzhniki Stadium to collect their runners-up medals. Of course, finishing as runners-up was not something worth celebrating – even if Kenyon wore his medal on the team bus hours later – but, in contrast, who led United's charge? One of the British Isles' greatest ever footballers, a player who won every club honour with Manchester United and a World Cup with England, and a man who has been an ever-present in Manchester United's renaissance since becoming a director of the club in 1984: Sir Bobby Charlton.
The connotations of Kenyon's time at Chelsea could not have been more different: Kenyon once worked for United and was controversially poached by Chelsea in the summer of 2004; he disrespected the popular Claudio Ranieri by meeting with Sven-Goran Eriksson so readily and so publicly in March, 2004; Kenyon played a massive role in the likes of Arjen Robben, Michael Essien and John Obi Mikel pulling out of gentleman's agreements with United in 2005, 2006 and 2007 respectively; and, most regrettably, Kenyon was heavily involved in the tapping-up Ashley Cole in June, 2005. Admittedly, Kenyon was instrumental in Chelsea's commercial success and in bringing José Mourinho to the club in the summer of 2005, but his place as a Moscow figurehead did little to ease Chelsea's inferiority complex.
Sure, Chelsea have won three titles, four FA Cups and two League Cups – with the above-mentioned trophies making up 60% of Chelsea's top-level (does not include Community Shield wins in 1955, 2000, 2005 and 2009, and Full Members Cup wins in 1986 and 1990) domestic silverware in their 107-year history – since Roman Abramovich arrived in the summer of 2003, but they have been taunted throughout this time with two relentless terrace refrains: 'where were you when you were s***?" and – to the tune of Chelsea's cherished chant, Carefree Wherever We May Be – 'f*** off Chelsea FC, you ain't got no history!' This relates not only to the fact that Chelsea have never won a major European competition, but more that they – seemingly – failed to adopt a tangible, and successful, identity pre-Abramovich.
Of course – regardless of the past decade being the club's most successful sustained period of success in their history – the idea of Chelsea not having a culture pre-2003 is quite ridiculous. Chelsea would have been among the favourites, alongside Real Madrid, Milan, Stade de Reims and Honvéd, for the inaugural European Cup in 1955/1956, having won the English league thanks to the modern – one of the first 'tracksuit' managers, who also revolutionised the club's training methods and even scrapped their Pensioners nickname and crest – and brilliant leadership of Ted Drake. Drake assembled a hard-working team, owed to his shrewd scouting of the lower leagues, and the likes of Peter Sillett, Stan Wicks, Derek Saunders, Eric Parsons and Roy Bentley proved inspirational pieces of business. However, the FA advised Chelsea not to participate due to initial, and ultimately futile, fears of calendar congestion.
Then, Chelsea's first European trophy win, over Real Madrid (featuring the likes of Pirri, Amancio Amaro and Francisco Gento) in the Cup Winners' Cup in 1971 – like Tottenham's in 1963 and West Ham's in 1965 – came before Liverpool's frequently elegised dominance in Europe from 1977. Much of this brilliant mid-'60s and early '70s crop was owed to the most prolific production of youth players in Chelsea's history in the '60s, including the likes of Peter Bonetti (1960-75 and 1975-79), Allan Harris (1960-64 and 1966-67), John Hollins (1963-75 and 1983-84), Ron 'Chopper' Harris (1961-80), Terry Venables (1960-66), John Boyle (1964-73), Peter Houseman (1963-75), Bobby Tambling (1959-70) and, of course, Peter Osgood (1964-74 and 1978-79). To think that this group yielded just three trophies – the League Cup (1965), the FA Cup (1970) and the Cup Winners' Cup (1971) – and never finished in the top two of the First Division may seem astonishing, but with their swagger, style (even the formidable Harris used brilliantine) guile and brilliant dribblers, Chelsea – as the King's Road boys with high-profile fans like Raquel Welch and Steve McQueen – were the antithesis to Don Revie's cynical, but brilliantly effective, Leeds United dynasty from 1969-74.
Then, though, came the turning point in Chelsea's history: ambitious plans to turn Stamford Bridge into one of Europe's top stadiums in 1972. The building company, Darbourne and Darke of Richmond, had been contacted over renovating and expanding the site to house 80,000 spectators and implement an array of mod-cons like seat heating and electronic scoreboards. The cost of the whole operation was estimated at an astonishing £6.25 million – with appreciation, 10% year by year, in building costs leading to the original £6.25m being nearly doubled by completion eight years later in 1980.  While Chelsea did not yet commit to the whole project, work began on the East Stand in June, 1972. It proved foolish due to delays, loss of gate receipts and relegation in 1975 and 1979 (never adequately replaced and moved on from the King's Road boys), and the club's debts totalled £4 million by 1977.
Chelsea had been too frivolous, ironically carefree and over-ambitious, and the threat of liquidation was constant. Desperate measures kicked in, including separating Stamford Bridge Properties Ltd from Chelsea Football and Athletic Club (CFAC) and in 1982, C.F.A.C was sold to Ken Bates for just a £1. The club did not technically own the stadium, but it was not as simple as Bates taking liability for Chelsea's debts and David Mears – the stadium's then lease holder – rejected Bates' £450,000 offer for Stamford Bridge Properties Ltd. Instead, it was sold to Marler Estates for redevelopment, in return for one million shares for of Marler Estates – a much more appealing offer to the flaky Mears, but even he could not forecast the property collapse of the late '80s.
The fourteen-acre Stamford Bridge site was now open to potential supermarkets, offices and housing, and its value would rise to £50 million if redeveloped. Such was the predicament that Bates et al were placed in, Marler had offered £3 million to Crystal Palace to share Selhurst Park in May, 1985. Although this was rejected, the seven-year lease that Bates had rented in 1982 expired in 1989 and Chelsea were left in limbo: losing money in trying to stay, but with no feasible alternative. Along with the mess in the courts, hooliganism was gripping the terraces. Given Chelsea fan's image as the 'King's Road suits', the Chelsea Headhunters may seem surprising but it was an epidemic that gripped Chelsea home and away from 1969-1989.  Of course, hooliganism has troubled nearly every English club, from West Ham and Millwall to Manchester United and Birmingham City, but it overshadowed some of Chelsea's biggest occasions of that period, including the 1965 League Cup final victory against Leicester, the 1967 FA Cup final defeat to Tottenham and the 1971 Cup Winners' Cup quarter-final victory away to Club Brugge.
This seems all the more remarkable when one considers many of Chelsea's fans today and before this period with Ted Drake, Chelsea's manager between 1952 and 1961, once trying to publicly rally the fans to be more aggressive and intimidating. A lack of on the field success between 1975 and 1984 added weight to the hooligan cause and family attendances were rapidly dwindling. However, two moments between 1982 and 1985 helped to drive out the problem: a campaign run by the club before the FA Cup quarter-final against Tottenham in March, 1982, when a fan of each club shook hands on the pitch and the club programme was filled with anti-hooliganism messages; and the desperate instillation of electric fences on 27 February, 1985. Also, the government, under Margaret Thatcher, began a much stricter policy on hooliganism as the decade ended and the tragedies of Heysel (29 May, 1985) and Hillsborough (15 April, 1989) changed English football terracing and dynamics (all-seaters, multi-racials, women and children) forever.
Marler decided to sell at a profit to John Duggan, who owned Craven Cottage, and Cabra Estates. With the economic downturn, the battle-worn Bates continued to dally without any realistic hopes, plans or alternatives. However, when the Premier League was set up and First Division clubs resigned from the Football League in 1992, Bates set up Chelsea Football Club rather than continuing with the previous Chelsea Football and Athletic Club. This, ingeniously, led to Duggan 'winning' a liquidation claim against, essentially, an empty club with no contracts. From this, Chelsea Football and Athletic Club went into administration and years of uncertainty and holding out literally paid dividends for Bates. To prevent any future disaster, Bates set up the Chelsea Pitch Owners (CPO) – who owned the rights to the pitch, stadium naming and turnstiles.
The Royal Bank of Scotland gave Bates a twenty-year lease of the freehold and in 1993, the construction of the North Stand (soon to be renamed the Matthew Harding stand) commenced to replace the archaic terrace. The Shed End stand was completed in 1997 and the West Stand was expanded to 13,500 seats by 2001. A complex called the Chelsea Village was also set up, instead of an expansion of 6,000 seats, with hotels and apartments. This has been looked on as regrettable by Bates' successor, Bruce Buck, but considering what Bates achieved in saving Chelsea and the stadium – and in spite of his unsavoury nature and lack of respect for Chelsea's tradition with the Chelsea Village and inhumane electric fence – it could have been so much worse.
Had Bates not arrived and had the presence of mind to separate the club from their debts, Chelsea would have gone out of business, would not have been able to go on to attract the likes of Ed de Goey, Frank Lebouef, Marcel Desailly, Albert Ferrer, Ruud Gullit, Roberto Di Matteo, Didier Deschamps, Gustavo Poyet, Gianluca Vialli, Pierluigi Casiraghi (club record £5.4 million signing, who suffered a fatal cruciate ligament injury after just fourteen matches) and Gianfranco Zola to the club, and would not have gone on to qualify for the 1999/2000 Champions League. Naturally, it whetted the appetites of Chelsea's fans, with Chelsea producing stunning performances against the odds against Galatasaray (a Zola masterclass earning him an unprecedented standing ovation from the whole crowd in a 0-5 win at the usually hostile Ali Sami Yen Stadium on 19 October, 1999), Milan (drew 1-1 at the San Siro, thanks to a brilliant Dennis Wise strike on 77', on 26 October, 1999) and Barcelona (won 3-1 in the quarter-final first-leg on 5 April, 2000).
It was not just Chelsea fans that were engaged by the excitement and brilliance of the Champions League, and among the spectators for the 2002/2003 quarter-final second-leg between Manchester United and Real Madrid at Old Trafford on 23 April, 2003 was one Roman Abramovich. In a game that featured some of the then world's best – from Rio Ferdinand, Roy Keane, David Beckham, Ryan Giggs and Ruud van Nistelrooy to Iker Casillas, Roberto Carlos, Fernando Hierro, Claude Makélelé, Luís Figo, Zinedine Zidane and Ronaldo – Abramovich was transfixed by one moment that encapsulated the beauty of top-level football: Ronaldo's standing ovation on 70'. Following a perfect, minus a header, hat-trick – with a cool right footed finish on 12', a left-footed sidefoot on 43' and a powerful right-footed twenty-yard strike on 59' – Ronaldo was substituted, under the floodlights, for Fernando Morientes and the majority of the 66,708 in attendance at Old Trafford not only applauded Ronaldo as he trotted off, but stood while doing so, too.
In fairness to Abramovich, he was well aware of the club's recent heritage when, in his first move as club owner, he aimed to keep the 38 year old Gianfranco Zola at the club. Zola had previously agreed a dream swansong in his native Sardinia with Cagliari, but Abramovich offered Cagliari £1.3 million (Zola's wages) and dangled a significant wage increase – up to £60,000 – for Zola to back out of his agreement. Of course, Zola did not go back on his word and, perhaps, this stung Abramovich in hindsight of his actions with the likes of Steve Clarke (José Mourinho threatened to resign when Abramovich planned to replace Clarke with Avram Grant as the Portuguese's assistant manager in the summer of 2008) and Ray Wilkins (bizarrely not handed a new contract in October, 2010) years later. Instead, the Russian has been near-hell-bent on creating his own dynasty with the development of world-class training and youth facilities at Cobham, multi-million pound sponsorship deals with Adidas and Samsung and the acquisition of Europe's biggest superstars over the years – including the likes of Arjen Robben, Didier Drogba, Michael Ballack, Andriy Shevchenko, Ashley Cole, Fernando Torres and managers such as José Mourinho and Carlo Ancelotti. Therefore, it has been no surprise that Abramovich's attention has recently, and seriously, turned towards plans to develop the 60,000 capacity 'Samsung Arena' at Battersea Nine Elms in SW8.
With these advances, though, has come the eroding of Chelsea's identity (regardless of the restoration of the popular 1950-1983 crest) as previously mentioned, epitomised in the Russian's desire to solidify his legacy in a new stadium while the old-school CPO do not want to deviate away from Chelsea's eternal (not just because Peter Osgood's ashes are buried under the penalty spot at the Shed End) home in SW6. This, too, has been evident in many Chelsea fans' frustrations with how the Academy has not produced a first XI graduate since John Terry in 2000, which has led to fanciful (given the pressure for trophies), but realistic (their undoubted talent and application), clamour for the likes of Ryan Bertrand (homeplace of Southwark is just sixteen minutes (10.5km) away from SW6) and Josh McEachran (birthplace of Oxford is just over an hour away (93km) from Stamford Bridge).
With Abramovich's arrival, too, came an astonishing turnover of eight managers and, somewhat intriguingly, this array of managers has been reflected in Chelsea's unrivalled and incredibly varied European heartbreak over the past eight seasons. Claudio Ranieri, who Ken Bates appointed in 2001, condemned his footballing epitaph to that of 'the Tinkerman' in making impulsive and unbalanced substitutions against ten-man Monaco at the Stade Louis II on 20 April, 2004. Chelsea had been 1-1 'up' and in firm control by half-time, but Ranieri then brought on Juan Sebastián Verón, Jimmy Floyd Hasselbaink and Robert Huth for Jesper Gronkjaer, Mario Melchiot and Scott Parker on 46', 62' and 69.'
José Mourinho, who was, even then, already one the game's top masters at the art of substitution and holding leads – and embodied the brashness and modern values that Kenyon and Abramovich so badly seeked after the dothery Ranieri –  seemed the perfect man to deliver the Champions League. After all, in the 2004 final against Monaco, Mourinho appeared to make an unnecessary – given that Porto were 1-0 up – substitution as he took 39′ goalscorer Carlos Alberto off for Dmitri Alenichev on 60′. It proved inspirational, with Monaco going prematurely gung-ho, and Alenichev set up Deco on 71', and on 75', Derlei then crossed for Alenichev to strike a brilliant volley. Remarkably, though, despite winning two league titles in just three seasons with Chelsea, Mourinho never even made the Champions League final. The 'ghost goal' against Liverpool in the semi-final second-leg on 3 May, 2005 and a penalty shoot-out defeat (Mourinho, somewhat wrongly, believes that penalty shootouts cannot be practiced in training and are a lottery) to Liverpool on 1 May, 2007 proved the closest the Portuguese came.
Under Avram Grant, Chelsea came the nearest to date: finally defeating Liverpool along the way (in a 4-3  aggregate semi-final win), but coming unstuck in Moscow to a cruel penalty shoot-out defeat to Manchester United on 22 May, 2008 – and that is without even mentioning Didier Drogba's once-unforgivable sending-off, following a petulant slap on Nemanja Vidic, on 116′. Of course, with Guus Hiddink, there was Andrés Iniesta's astonihing 91' volley – amid four legitimate penalty appeals against Tom Henning Øvrebø – on 6 May, 2009 and Carlo Ancelotti, a former two-time winner with Milan, came unstuck in flaccid displays against Internazionale in the second-round in 2010 and Manchester United in the quarter-finals in 2011. Then came André Villas-Boas, who had an unimpressive debut season in the Champions League: winning three home games, drawing two away matches (to Genk and Valencia) and losing two away games (Bayer Leverkusen and Napoli).
The Napoli match at the San Paolo on 21 February, 2012 suggested that the Abramovich era was in a dangerous flux: Ashley Cole, Frank Lampard and even Michael Essien (has, admittedly, lost his dynamism but, originally, had not been considered as part of the old guard by Villas-Boas) were unnecessarily and surprisingly benched by the Portuguese in Chelsea's biggest game of the season up to that point. A passionless 3-1 defeat followed, effectively signalling the end of the Villas-Boas project after just eight months, and even with Ashley Cole's magnificent last-minute block in the dying minutes, a Chelsea recovery within just two weeks against a brilliant counter-attacking outfit seemed nothing short of impossible.
Roberto Di Matteo has stepped up, but despite the similarities with their lack of top-level managerial experience, he has done much more than Grant in leading Chelsea to a Champions League final. In 2007/2008, Grant led Chelsea to narrow knock-out victories over Olympiacos, Fenerbahçe and Liverpool, and his success – despite his, somewhat, deluded mantra of playing "good football – was centered on Mourinho's blueprint of Essien as an unorthodox right-back, the ageing Makélelé as the midfield pivot and Joe Cole as an, ultimately, unnatural and converted right winger. In contrast, Di Matteo has centered Chelsea's play on being an unprecedented (in their history, as Mourinho's was at his most defensive and counter-attacking best at Internazionale) and unashamedly counter-attacking outfit with remarkable defensive organisation. As a result, Chelsea have brilliantly dismantled Napoli, Benfica and Barcelona along the way.
From this, the Italian has proven his tactical acumen: bravely, and smartly, shifting to a 4-3-3 against Barcelona and playing to Chelsea's strengths with a stifling, narrow gameplan that, generally, stopped Barcelona getting in between the lines (balls over the top proved the most effective, instead) and utilising a brilliant hybrid of John Obi Mikel (control, interception and close retention on his day), Lampard (three-dimensional passing from deep-lying areas) and Raul Meireles (harrying). In doing so, unlike Villas-Boas who persevered with an eventually stagnant Plan A – centered on the splitting of centre-backs and the dependence on Juan Mata from in a somewhat unnatural left-wing position – Di Matteo has backed up his likable demeanour and Chelsea previous to become a mightily respected figure in the dressing-room, as Terry commented after the 2-1 FA Cup final win over Liverpool on 6 May:
He's been incredible…(the managerial succession) is a decision that the board are obviously going to make.

And hopefully with this win, and if we are going to go on and achieve greatness in this football club (in Munich in two weeks), we can make it very easy for the board.

He's been exceptional.
While Terry's words sand reputation may not seem as infallible as they once were, the vastly-improved John Obi Mikel echoed his sentiments:
Robbie knows how to manage this team. He is very similar to the way (Guus) Hiddink and (Jose) Mourinho did the job. He came in and noticed where the problem is, and put it right. If you are not going to be involved he puts his arm around you and tells you he believes in you and that, in the next game, you are going to be involved.

I think his man-management has been fantastic. All the players, even the big players, like what he is doing and, hopefully, the club will make the right decision.
Still, trying to pick a clear winner in this year's final seems difficult: will Bayern – even if corporate attendees win out, each club gets a fairly even allocation and Philipp Lahm refers to it on as a "small advantage" – be inspired or pressured (style wise and mentally like Roma in 1984) by home advantage? Chelsea will, undoubtedly, be able to soak up pressure again to produce a potentially vintage high-tempo, counter-attacking performance but will Didier Drogba, and his sometimes paradoxical (holds an unprecedented record of an incredible seven goals in English cup finals but was sent-off in the 2008 Champions League final, performed flaccidly and petulantly in the 2004 UEFA Cup final and missed penalties in African Cup of Nations final shoot-outs against Egypt in 2006 and Zambia in 2012) mentality in finals, be able to impose himself like many physical forwards, such as Robert Lewandowski, have against Bayern, and, particularly, Jérôme Boateng, in the Bundesliga this season?
Also, what role will Chelsea's suspensions play, with David Luiz's erratic nature (when partnered with Gary Cahill against Napoli on 21 February, the pair suffered with a lack of communication terribly), José Bosingwa's inconsistency and Essien's lack of match practice (showed renewed vigour against Blackburn on 13 May, but Fernando Torres may yet start on the right flank in a 4-2-3-1). Regardless of their harrowing – but dead rubber – 4-1 defeat to Liverpool on 8 May, Chelsea seem to have decent depth compared to Bayern, with Toni Kross likely to have to drop deep (has not impressed to the same effect in regista role for Germany) to allow Thomas Müller – and his occasional lack of presence – into the first XI in a very proactive midfield, and Diego Contento/Rafinha and Daniel van Buyten seriously lacking match practice.
For Roberto Di Matteo, Eddie Newton and Chelsea, this is the biggest moment in their respective histories. If Chelsea win, Di Matteo is certain to get the Chelsea job having proven his credentials (in cup competitions, at least) and Chelsea will, finally, join an elite pantheon alongside the likes of Real Madrid, Milan, Liverpool, Bayern Munich, Barcelona, Ajax, Manchester United and Internazionale as Champions League winners. Also, a victory on 19 May will, more than likely, signal the natural end of the Chelsea careers of the likes of Paulo Ferreira, Michael Essien, Florent Malouda, Salomon Kalou and Didier Drogba. All have given immense (Malouda was pivotal to Chelsea's 2009/2010 Double with a career best of fifteen goals and fifteen assists in fifty-one matches) service to the club in the past five to seven seasons and it would be the perfect climax – with Peter Kenyon no doubt promising them that they would have won at least one Champions League title by the time they left.
Otherwise, uncertainty will again surround Chelsea (can the old guard be preserved and perform at the highest level for one more season, and who should manage Chelsea in 2012/2013), the club will join the likes of Valencia (2000 and 2001) and Nimes (1956 and 1959) as 'eternal' European Cup runners-ups, and Chelsea supporters will continue to have their proud – but, ultimately, unfulfilled – history and destiny lampooned.