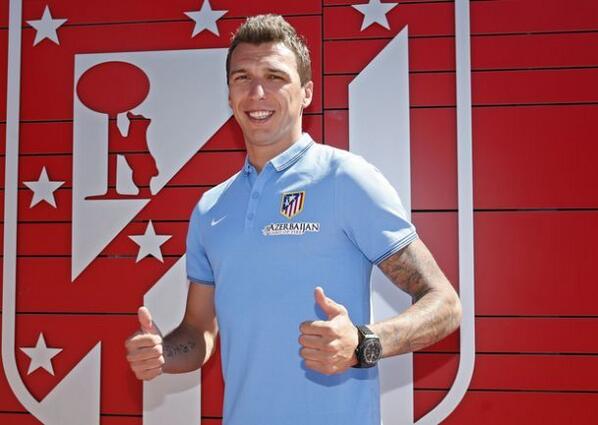 Of all the top clubs around Europe, not many can boast a centre-forward roll-call quite like Atletico Madrid's of recent years. From Christian Vieri and Jimmy Floyd Hasselbaink's profligacy to Sergio Aguero announcing himself as a force to be reckoned with, Atletico fans have witnessed an extraordinarily productive spell in front of the goal at the Vicente Calderon.
Diego Costa, the main source of goals behind their historic title-winning campaign this year, has been sold to Chelsea this summer after finding the net 36 times in all competitions. However, in Mario Mandzukic Atletico have found a striker more than capable of filling the hole left by the Spaniard.
Despite finishing the last two seasons as Bayern Munich's top scorer, the sense that Mandzukic didn't quite do it for the Bavarians remained, with the Croatian international playing his final 12 months with the spectre of Robert Lewandowski's inevitable arrival from Borussia Dortmund hanging over him. For Mandzukic, the last year at Bayern has been tough. Constantly compared to Dortmund's star man gave the sense that he was unappreciated, merely providing the goals adequately before the more marquee Lewandowski arrived to woo the Allianz Arena.
That was not the case. Mandzukic merely didn't fit into Pep Guardiola's vision for Bayern. He wanted Lewandowski for his speed and agility. He valued Mandzukic's contribution to their Bundesliga triumph highly but remained convinced that his services would be utilised more effectively elsewhere. It was difficult for the 28-year-old to stomach considering his consistency in finding the net but now Mandzukic has a golden opportunity to build at a club that is thriving in the embers of a meteoric rise to European near-supremacy.
That is not to say that Mandzukic will be free of the inevitable comparisons to his predecessors at Atletico, however, he has the chance to become the club's new hero. To endear himself to the dedicated following of Simeone's team in the same way Costa did with his warrior-like mentality (and his goals), or like Fernando Torres did with his youthful brilliance; he captained the side aged 19. With the departures of Costa, Adrian and David Villa paving the way for Mandzukic's debut season, Atletico's new signing can fuel their title defence with his intelligence, work-rate and, most importantly, clinical finishing.
Diego Simeone will look to build his attacking game-plan around the Croatian, supplemented by the creative forces of Koke and Arda Turan. Adaptability to a new league, new culture and a new style of football will be the main obstacle in the formative stages of his Atletico career but the impressive commitment to his craft suggests that it won't be long before Mandzukic strikes fear into the hearts of La Liga defenders all across Spain.
It is clear why Diego Simeone identified Mandzukic as the ideal replacement for Costa; he is hard-working, he presses the opposition and tracks back well. He is exactly what Simeone wants his players to be; a thoroughbred team player. His arrival may however signal a slight alteration in the way Atletico attack. Whereas Costa was strong with the ball at his feet, confidently taking defenders on and spearheading counter-attacks, Mandzukic has more of a poacher instinct about him.
He still possesses the abilities to hold the ball up and create chances for others, like Costa, but is more effective in the air and attacking the space behind defenders. Mandzukic won 43% of his aerial duels last season, a favourable comparison to Costa's 21% which illustrates the Croatian's prowess in the air. It perhaps means that Simeone will instruct his wingers to cross the ball early, as well as having a better chance of building attacks through the direct route of long balls.
Mandzukic's exclusion from the Bayern squad for their cup final in May suggests that his departure was not as amicable as it could have been but at Atletico, he has found a the ideal club to showcase his qualities as a frontman, a club that is riding the crest of a wave and has been a happy hunting ground for goal predators like himself.
If Mandzukic chases the Pichici this season, Diego Costa will soon be forgotten and Atletico will have themselves yet another talented striker to pin their hopes on for trophies.