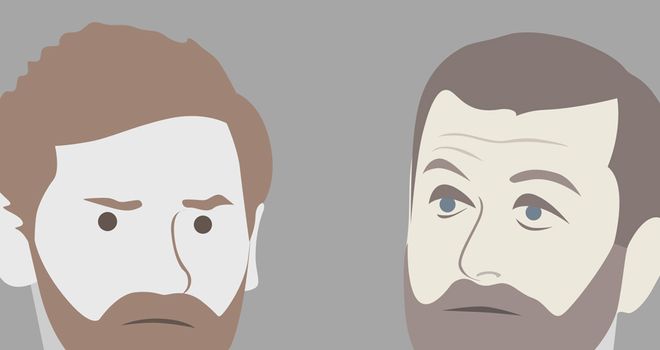 Ciaran Kelly had high hopes for Chelsea in his season preview, but 2011/2012 has been far from the unqualified success that André Villas-Boas enjoyed at Porto in 2010/2011. From this, Ciaran analyses what has been a rollercoaster first eight months in English football for the Portuguese.
In 1532, King Henry VIII employed the Basle-exiled 35 year old Hans Holbein as the man to depict his new image: the vibrant, cultured and brave (amid Henry's ground-breaking thirst to divorce the ageing Catherine of Aragon, the one-time widow of Henry's dead brother, Arthur) leader of England. Holbein became Henry's favourite portrait artist and such is his legacy, it is his 1537 Whitehall Mural, which depicts Henry in a god-like fashion with every inch of his burly 6ft 2in frame captured and the King's growing gluttony evident with his gold chain, feathered beret and ruby-coloured robes, that is now often the immediate connotation when contemplating the infamous monarch.
Not since José Mourinho have Chelsea had a differing, tangible and consistent identity and Roman Abramovich clearly saw André-Villas Boas, rather than the somewhat safe (regardless of Hiddink's attractive football, upon the time of Villas-Boas' appointment, it seemed incredibly unlikely that the Portuguese would set his team out like Hiddink did against Barcelona in the semi-finals of the 2009 Champions League) option of Guus Hiddink as the man to deliver that. Having seen Villas-Boas' hybrid of scintillating yet winning football with Porto in 2010/2011, with Porto scoring an astonishing 136 goals (2.5 per match) and losing just two games in 54 competitive matches in winning a Treble, Abramovich had every reason to believe Villas-Boas could deliver the proactive, high tempo and free-scoring football that the Russian has so badly craved since witnessing Manchester United's 4-3 Champions League quarter-final second-leg victory over Real Madrid on 23 April, 2003. Villas-Boas, admittedly owed to the fact he was only at Porto for one season, had also the greatest win percentage in Porto's history: a whooping 84.48%.
In appointing the then 33 year old, after paying Porto his £13.3 million release clause, Abramovich continued to leave his mark on Chelsea's legacy – which is partly why he is so desperate to move away from Stamford Bridge. After all, the Portuguese became Chelsea's youngest ever manager since their inception in 1905, when the 28 year old John Robertson was appointed as player-manager. Far from a publicity stunt, with Villas-Boas on 'just' £4 million per year after tax, though, Villas-Boas' methods and success seemed transferrable. The metronome of fantasista, João Moutinho, or a similar figure could be purchased in the transfer market. Chelsea seemingly had the pace in Ashley Cole, José Bosingwa and David Luiz to play Villas-Boas' one-time devastating high line. The dynamism of Ramires could mirror that of Fernando, who was Porto's pivot but also a brilliantly effective attacking outlet. Fernando Torres had the pedigree and poaching instincts to match Falcao if Villas-Boas could use his acclaimed, at Porto, man management ability. And, after a brilliant pre-season, Daniel Sturridge had the inverted inside forward instincts, be it his devastating pace with the ball, long shots or ability to cut inside, to channel Hulk.
Also, with his ballwork-focused training sessions, Villas-Boas seemed to have the perfect methods for the Chelsea players, regardless of Michael Essien's injury on the third day of pre-season, who thrived under Mourinho's similar methods but hated Claudio Ranieri's running-dominated sessions and Luiz Felipe Scolari's incredibly laidback attitude towards training. The key, though, would be Villas-Boas' courage and whether he could win over the dressing room – having proven himself inspirational in Porto overturning a 1-0 deficit at half-time, going on to win 5-1, against Villareal at the Estádio do Dragão in the Europa League semi-final on 28 April without making drastic substitutions. This inspiration was again evident in Beto's, Porto's back-up goalkeeper, words, in hindsight of the pre-match teamtalk, after the 1-0 win over Braga in the Europa League final:
It was so moving it brought tears to my eyes. Every player left that room sure we would beat Braga.
Still, though, Mourinho warned that Villas-Boas "was not ready this season" and Villas-Boas' impact, despite some occaionally heartening displays, has not quite been the immediate revelation (win percentage of 47.4% is the lowest of the Abramovich era) that some expected – although he was well aware of the decaying Chelsea squad when he took over. After all, some of the ages of the squad in the summer of 2011 included: Alex (30), Ashley Cole (30), John Terry (30), Yossi Benayoun (30), Florent Malouda (31), Paulo Ferreira (32), Nicolas Anelka (32), Frank Lampard (33), Didier Drogba (33) and Henrique Hilário (36). The above-mentioned, who are over-29, made up ten of the twenty-three players Villas-Boas utilised at some point before the January transfer window – with an overall eleven of the twenty-three remnants of the Mourinho era.
The scale of this transition is reflected in the fact that Manchester United had seven players over 29, Tottenham had six and Manchester City and Arsenal had just three before the close of the September window. Alas, the rollercoaster first eight months of Villas-Boas' reign at Chelsea can be looked at through transfers, a comparison with Carlo Ancelotti, the contrasting case studies of Fernando Torres and Daniel Sturridge, the high line, Villas-Boas' self-induced controversy and the conflicting support for the Portuguese within the club.
Transfers
While he took time to evaluate his squad and did not seriously dip into the transfer market until Chelsea returned from their tour of Asia in at the end of July, Villas-Boas did not hold back in the first two transfer windows of his reign. It has probably been his strongest facet, with Villas-Boas' time as Mourinho's "eyes and ears" certainly giving him an edge when it came to judging players' strengths and weaknesses as a one-time opposition scout for some six years. Also, following the panic signing of the then 27 year old Torres in January, 2011, it is clear that Chelsea are making a conscious effort, with Financial Fair Play on the horizon, to buy players that will evolve as their Chelsea careers blossom.
From this, the 23 year old Juan Mata, at £23.5 million, has been Chelsea's best, as far as instant assimilation goes, piece of business since Ashley Cole in 2006. With his nine  goals and ten assists in 30 games, Mata has been Chelsea's key creative outlet and is blessed with the natural skill, courage and creativity that has not been evident since the days of club legend, Gianfranco Zola. It seems inevitable, even if he has done admirably cutting in from the left-hand side, that Mata will be used as a number ten, as he has been occasionally this season, in Villas-Boas' future 4-2-3-1 that will not utilise the soon to be 34 year old Lampard as a starter. 20 year old Oriol Romeu, at just £4.2 million, has been one of the discoveries of the season and it was no coincidence that when Romeu was introduced to the first XI, Chelsea's splitting of centre-backs, a la Barcelona, worked effectively. Villas-Boas, though, still does not remain wholly convinced and he seems unable to decide between the metronome instincts of Romeu, the lack of presence yet tidy distribution of John Obi Mikel and the lack of screening but all-round proposition of Raul Meireles.
Therefore, Romeu's confidence has suffered, as was seen in his nervy substitute appearance against United on 5 February, but as long as he is committed to the club, he will become a major part of Chelsea's rejuvenation and will resist Barcelona's potential overtures in luring him back to the Camp Nou as a squad player. The failure to land a fantasista, such as Luka Modrić or Moutinho, proved crucial, though, as was particularly evident in the games against Arsenal (3-5 on 29 October), Liverpool (1-2 on 20 November), Fulham (1-1 on 26 December) and Aston Villa (1-3 on 31 January) where Chelsea pushed for a late winner, failed to break the opposition down, could not give Torres a tangible goalscoring chance and were fatally hit on the break. From this, Chelsea have become too reliant on Ramires' pace to drive through teams and the signing of Raul Meireles has not really provided what Villas-Boas needed. While occasionally putting in some admirable performances, such as against Bayer Leverkusen on 13 September, Manchester United on 18 September and Manchester City on 12 December, the Portuguese has rarely had a consistent ninety minutes.
Obviously, Meireles was never noted as a tackler but his role in the team has been difficult to define, with an often poor distribution of passing or a failure to break into the opposition's box, alongside the likes of Ramires, Lampard and Michael Essien. Clearly, Romelu Lukaku, at eighteen years of age and behind Drogba and Torres, was not going to have a breakthrough season (has made three starts in Carling Cup and seven substitute appearances in other competitions) immediately but his enthusiasm, strength and acceleration suggest a very bright future for the £15 million signing. 19 year old Thibaut Courtois already looks like he could make a serious claim for a first XI spot in 2013/2014 (his loan at Atlético Madrid will be extended for another season), not least because of Petr Čech's recent inconsistency, and having already established himself as Belgium's youngest ever international goalkeeper, the future looks bright for the talented shot-stopper who has kept 14 clean sheets in 27 appearances for Atlético.
Gary Cahill seems the perfect partner for John Terry, given that Terry thrives alongside a coverer and has developed a solid partnership with him for England, but he has yet to have had a bedding in period – having been thrown in the deep-end against Manchester United on 5 February (should, perhaps, have been sent-off for a last-man challenge on Danny Welbeck on 10') and Napoli on 21 February (clear stage fright in the San Paolo and serious lack of communication between him and David Luiz). 20 year old Ulises Dávila, a decent performer at the 2011 Under-20 World Cup, has been sent on loan to Vitesse but has made just two appearances and may follow the long line of Chelsea youth players that never make a first-team appearance for Chelsea before departing.
Striker Patrick Bamford was signed for £1.5 million (a huge fee, given that there were just six months left on the 18 year old's contract) from Nottingham Forest and after scoring five and setting up three goals in a 9-1 win over Wigan in the FA Youth Cup on 19 January, along with netting four goals over Southampton the following week, Bamford was snapped up by Chelsea. Bamford has scored three goals in his first two games for Chelsea, in a friendly against Gillingham and a reserves match against Fulham, and if he can keep up this form and remain injury-free, the poacher could yet break into the first-team squad for the Carling Cup circuit next season.
The 20 year old Kevin De Bruyne will arrive from Genk in the summer and recorded six goals and seventeen assists in 35 matches in 2010/2011. As a natural left winger, he will be a welcomed addition and will eventually, following a 2012/2013 loan spell to another Premier League club, allow Mata the opportunity to permanently move into the number ten role. Still, though, a slightly worrying precedent has been established with the signing of De Bruyne and the attempted January signing of the overpriced and cup-tied Willian: hierarchical interference and sanctioning. Villas-Boas, though, seems resigned to this and to be fair, Abramovich's thirst for younger players, rather than peak-aged big names, can only benefit Chelsea long-term:
He is a player the club have scouted for some time and I am a manager who respects club policy. A club have to look to the future whether it's with this manager or another. Kevin's a good bet for the future. I will do everything in my power for him to reach maximum potential.
Comparison with the 'stale' final season of his predecessor, Carlo Ancelotti
Although it is naturally tempting to compare Villas-Boas' reign with Mourinho's (had unlimited capital) or Hiddink's (only three months, regardless of his undoubted success), this is slightly unfair as many of Chelsea's players were peak-aged under them and the differing dynamics of the likes of David Luiz, Cahill, Romeu, Ramires, Meireles, Mata, Torres and Lukaku had not yet arrived. Therefore, following a £28 million outlay on the sacking of Carlo Ancelotti and the appointment of Villas-Boas, Ancelotti's 2010/2011 campaign is a worthy comparison. While Ancelotti's achievements as a player and manager are unquestioned, there were haunting warning signs of his inevitable fate in patches of his reign at Chelsea: a lack of discipline, weak management and debatable timing of transfers.
The idea of John Terry giving personal tours of the training ground or Ashley Cole having an air rifle in the training ground dressing room, and then get off with effectively a slap on the wrist, would have been unimaginable in Mourinho's and Hiddink's regimes. Therefore, to control a dressing room of superstars with incredibly dominant personalities, a long-term hard-line stance was a necessity but Ancelotti's relaxed approach eventually caught up with him. Villas-Boas has ticked the box in this instance (warm-downs at 11am sharp, £1,000 fine for every late minute, huddles before training, non-club personnel only allowed in through appointment and 45 minutes of opposition analysis after lunch), with off the field controversy (Terry's on the field racism row will be addressed later) for once not being a distraction for Chelsea and the likes of Alex and Anelka suffered for their outspokenness or lack of commitment.
Still, though, against Manchester City, Manchester United, Tottenham, Arsenal and Liverpool, Chelsea have claimed just five points in the Premier League this season, with Ancelotti earning thirteen last season in the same fixtures, and they still have to go to Anfield, the Emirates and the Etihad. In fairness to Villas-Boas, though, some of Chelsea's defeats this season have had a strange sense of being unlucky performances, with the Manchester United (Chelsea had 20 shots, in comparison to United's 12), QPR and, to a lesser extent, Arsenal and Aston Villa (had so many chances, but were naively hit on the break) losses particularly standing out. However, the defeats to Bayer Leverkusen, Liverpool and Everton were worryingly below-average, with passionless performances, and little, seemingly, has been learned with regard to tactics and team selection from them.
Another disappointment of the Villas-Boas regime, albeit somewhat expected given the immense pressure he is under, is his lack of utilisation of younger and hungrier players – epitomised in his removal of the reserves' locker room from Cobham. Yes, the Carling Cup was used for youngsters in the first-team squad, a la Ancelotti, but the case of Josh McEachran was particularly worrying. Of course, Jack Wilshere is fourteen months older than McEachran and had to prove himself on loan at Bolton in the 2009/2010 season before Arsène Wenger implemented the youngster into the first-team, but Villas-Boas used McEachran even less (just one substitute appeareance outside of the Carling Cup in comparison to the sixteen he made beyond the Carling Cup in 2010/2011) than Ancelotti.
Also, like Ancelotti, Villas-Boas continued to banish McEachran to the ineffectual regista role, rather than the floating fantasista, and following a return to match fitness, one would hope McEachran makes an impact under the influential Brendan Rodgers at Swansea. Ryan Bertrand, too, has also suffered, even with Ashley Cole's obvious fatigue and poor form, and he has made just two appearances outside of the Carling Cup. One saving grace for Villas-Boas, though, has been his utilisation of the 22 year old Daniel Sturridge, which will be addressed later, but one would hope that next season, Bertrand, McEachran and even Nathaniel Chalobah will be handed the chance to prove themselves in fifteen to twenty matches.
Fernando Torres
With regard to Torres' form and confidence problems, since his £50 million arrival from Liverpool in January 2011, the example of Falcao is worth noting. In the summer of 2010, Falcao failed to find the net in any of Porto's pre-season games and Villas-Boas' 4-3-3 was lambasted for not creating enough opportunities, link-up play and crosses. Rather than changing to 4-4-2 to give Falcao more direct support and to accommodate Cristian Rodriguez on the wing, with Hulk up front, Villas-Boas stuck with 4-3-3 and once Moutinho settled, more opportunities were set up and Hulk and Silvestre Varela fed Falcao, who went on to score 39 goals in 42 games last season. Chelsea simply do not have this crucial complete trident: Mata is effectively out of position on the left, there are no pre-assist build up playmakers in the central of midfield and it is rare that Sturridge goes against his own striking instincts and crosses the ball (his brilliant set up of Meireles against City on 12 December was a rare occurrence).
Chelsea's attack, particularly without the direct outlet of Drogba, has been left blunt and since 12 December, they have scored just thirteen goals in ten Premier League games and have conceded fourteen. Yes, Torres may have lost some of his unrivalled finishing instincts, half a yard of pace due to Liverpool's and Spain's desperate rushing of his recoveries in recent years and is clearly suffering from the yips that will require a sports psychologist or the adoption of a pre-match visualisation technique a la Michael Phelps and Tiger Woods, but he has not been helped by his surroundings. The Spaniard complained of Chelsea "being too slow" and the fact that Chelsea have become semi-one dimensional in recent months is owed to their instinct to hit a direct ball to the lone striker, whether it is the beastly Drogba or the below-average header of the ball, Torres (was horribly evident against Liverpool in the Carling Cup on 29 November, when Torres continually bounced off Sebastián Coates).
Then, of course, Torres has not been afforded the arm around the shoulder support from the distant and stoic Villas-Boas and such is the state of his confidence, the Spaniard described the moment when Chelsea fans chanted "Torres! Torres!" while he was on the bench against Wolves as one of the most poignant moments of his life. Also, Chelsea have rarely provided the quick vertical football Torres thrived under so much at Liverpool and from this, he has had to self-innovate in a number ten-like fashion (nine assists this season) where he has drifted into the channels or come deep. This has haunting echoes of Andriy Shevchenko's final two seasons at Chelsea and without Chelsea playing the through balls or over the top chips that Torres has scored all five of his Chelsea goals under, he will not come remotely close to justifying his British-record fee.
Daniel Sturridge
While he may be selfish, in taking too many potshots and not tracking back, Sturridge has been nothing short of a revelation in 2011/2012. Yes, he brilliantly impressed on loan at Bolton, with eight goals in just twelve appearances, but Sturridge was one of the few Chelsea players, realistically, under immense pressure to prove themselves to Villas-Boas. With the Portuguese's claim of no pre-conceptions or invincibles, Sturridge had to lay down a marker on at least a '12th man' role as an impact substitute before Villas-Boas inevitably turned to the transfer market at the end of July. However, few at Chelsea could have predicted Sturridge having such a stellar and mature pre-season: excelling in the unfamiliar position of right wing and sacrificing his preferred central slot, showing remarkable link-up play with senior teammates he had rarely started matches with before, possessing incredible hunger and fitness (no sign of a hangover from his excursions at Bolton and for England's Under-21s) and scoring a brilliant solo effort against Kitchee and a brace against Rangers. It led to a favourable comparison with Hulk from Villas-Boas and Chelsea's chairman, Bruce Buck, later added that had Sturridge not impressed on pre-season, he would have inevitably gone on loan again.
Even though Sturridge missed the first three games of the season due to a red card he received with Bolton against Manchester City on the final day of the 2010/2011 campaign, it was soon evident that Villas-Boas valued the Englishman's talents and newfound suitability as an inside forward in a 4-3-3 formation. From this, Sturridge immediately started once available, away to Sunderland on 10 September, and scored a magnificent back-heeled goal that oozed self-confidence in its brilliant top spin past Simon Mignolet. Sturridge then netted a brace and assisted a Frank Lampard goal in his return to Bolton at the Reebok, showing admirable maturity and respect in not celebrating either goal – two traits that may not have been so evident only a few months previously. Sturridge has since gone on to score against Everton (15 October and 26 October), Liverpool (20 November), Wolves (26 November), Newcastle (3 December), Wigan (17 December) and Birmingham (18 February). The 22 year old's brilliant form led to a well-deserved England debut against Sweden on 15 November and it looks increasingly likely that he could yet push for a first XI berth for the 2012 European Championships.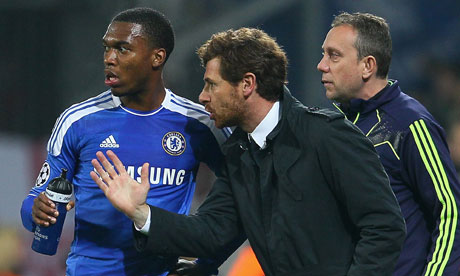 Such has been Sturridge's performances in the past eleven months, many are wondering why Villas-Boas does not redeploy the 22 year old in his natural position of central striker. After all, Sturridge has already showed the devastating off the ball movement, brilliant first touch, mature composure and poacher instincts expected of a top-class number nine. Nonetheless, Sturridge still has attributes to improve on: his heading, his consistent one-on-one finishing and his tendency to cut inside too often. However, such criticisms are an incredible disservice and his importance to Chelsea, a team who have lacked genuine pace and delivery since Arjen Robben, cannot be underestimated. With the peak-aged Drogba (33) and Torres (28) soon nearing the end of their respective careers at the highest level, few would bet against Sturridge becoming Chelsea's future number nine – thanks in no small part to Villas-Boas.
The High Line
Ironically, what should have been one of the most exciting aspects of Villas-Boas' tactical revolution has become its most controversial: the high line. Personnel and the differing dynamics and quality of the Premier League have made it incredibly difficult for Villas-Boas to successfully utitilise this crucial element of his philosophy. After all, Luiz is a poor tackler, Terry has an obvious lack of pace and is forward-thinking (needs a covering defender), and there was a failure of Alex to impress early in season (brutally exposed by Shane Long in the narrow 2-1 win over West Brom on 20 August) despite leading clean sheet charges against Stoke (14 August) and Blackburn (5 November). It has also exposed Čech's flagging one-on-one ability, with the Arsenal game on 29 October epitomising this and the faults of the high line. Chelsea never adjusted to the pace of Arsenal: Gervinho got in behind for the first following Lampard's petulant arguing with the referee, Branislav Ivanović and Terry switched off and Bosingwa was badly out of position for the second and for the fifth, following Florent Malouda's desperate backpass, the 'far-forward' Terry slipped his positioning to allow Robin van Persie to burst through.
Also, against Newcastle on 3 December, Luiz, under immense pressure as the last man following a Chelsea attack, should have been sent-off after hauling down Demba Ba on 4′. It was clear that the team did not function as a cohesive unit, down to a lack of pace in certain areas and a lack of nous and consistent concentration in others, so the 6 December match against Valencia would prove ground-breaking. With Chelsea needing to beat Valencia to at least gain second-place, Lampard was benched to allow for a more dynamic midfield on the break. Also, Villas-Boas implemented a "medium block", whereby Chelsea allowed Valencia to dominate possession (59%) yet Chelsea had more shots (13 to 10) and broke quicker. It proved brilliantly effective: Chelsea winning 3-0, thanks to inspired performances from Mata and Drogba.
It was not quite the cynical use of the counter-attack that Mourinho has near-innovated, but was certainly a marked contrast from the proactive football Villas-Boas had practised in the previous five months. It again paid dividends against Manchester City, just five nights later, but since then, Chelsea have been caught in a half-way house: defending deeper (yet have failed to keep a clean sheet in nineteen of twenty-four Premier League games), while still having the dangerous epidemic of dalliance inside their own box, but lacking the innovative edge they initially had in the first-half of Villas-Boas' reign so far this season – which has not been helped by his general poor use and timing of substitutes (Salomon Kalou and Malouda against Valencia on 28 September, the naive gung-ho use of Malouda, Lukaku and Meireles within fourteen minutes against Arsenal on 29 October, bringing on Romeu and the re-deployment of Mata to the left against Manchester United after being 3-1 up on 5 February, Malouda for Mata against Everton on 11 February and taking off Mata, instead of the ineffectual Meireles, with ten minutes to go against Birmingham on 18 February).
Self-Induced Controversy
There is no doubt that Villas-Boas has set out to build a siege mentality with Chelsea, which, without the results Mourinho backed it up with, has been somewhat double-edged. Referees and officials have been targeted, as was evident against United on 18 September when United had two debatable onside goals in a 3-1 win:
I am very, very unhappy with a poor performance from the referees, which in the end had a decisive role in the result, and I don't take it very, very lightly. You expect the linesman to do his job. I already went further ahead with the situation by speaking to the correct people. We all feel very, very down when the referee had such an impact on the result.
Then, following Terry's controversial fall-out with Anton Ferdinand, Villas-Boas leapt to the defence of his captain, saying "England should be proud of their captain, like I am of Cristiano Ronaldo," and criticised Chris Foy for being "card happy" and "very poor" in sending-off Bosingwa (32′) and Drogba (40′) against QPR on 23 October. From this, Villas-Boas was fined £12,000 for improper conduct and Chelsea were fined £20,000 for failing to control their players. The media have particularly felt Villas-Boas' wrath, though, which was evident in a spiky Villas-Boas' answer to a press question over Ramires' somewhat soft penalty award against Norwich on 27 August:
Yes, that's right, all our players seem to go down. Others don't go down. It's good to be aware of this difference of opinion.
Augmenting Chelsea's siege mentality, Villas-Boas' paranoia has resulted in personal fightbacks against pundits, including Alan Hansen and Gary Neville. The Portuguese hit back at Hansen for criticising Villas-Boas as "naive", for saying Luiz "wouldn't know what a good position is if it was staring him in the face" and for Bosingwa making "Luiz look like a world-beater at times." However, Villas-Boas' soliloquy, instigated by Neville's criticism of Luiz and Chelsea's dressing-room morale, was particularly vehement and telling:
You cannot approach a top Brazil central defender saying he's commanded by a kid with a PlayStation. That's ridiculous. What does he know about the Chelsea dressing room? What does Gary Neville know about our dressing room? How can you imagine what is going on in the Chelsea dressing room? How can you know? Have you been here? Do you know where Cobham is? You don't even know how to get here.
Reflecting his intensity, with Villas-Boas' nickname simply being AVB rather than something revealing and the Portuguese not relaxing on a club trip to Majorca in January, Villas-Boas is clearly sensitive. He will defend his players to the death, even if some of them might not do the same for him, and without even addressing the bizarre leaked order for the players to acknowledge him in goal celebrations, Villas-Boas made his feelings towards the media known after the 3-0 win over Valencia on 6 December:
I hope they [Manchester City] qualify for the Champions League knockout stage but the attitude to them is if they qualify they qualify, if they don't they don't – we don't get that margin. We've been continually chased by different kinds of people, but today we've given everyone, those critics, a slap in the face.
Conflicting Support Within the Club
On September 23, just days after Bruce Buck spoke of Villas-Boas "being the right guy for in the job for ten or fifteen years", Villas-Boas made a telling statement about his project:
We are putting the attacking path ahead of results but we are trying to reach both targets together. That path is more difficult. We didn't quite see the fluency of the team in August, but we are getting better now. It is an approach that benefits English football and its culture of the game. I believe the way you win is as important as winning. Of course there are risks but we are here to take risks in life, no?
This, if reports are to believed, strikes a chord with Abramovich and it seems Villas-Boas may well be the first manager to have the undying support of the Russian against the player power (Drogba's commanding words during the half-time break against Birmingham on 18 February spilled outside the dressing-room, where the ESPN cameras were, which gave the wrong impression that the Ivorian orchestrated the team-talk) that has commanded the Chelsea dressing-room for so long. Abramovich's focus is no longer fixated on his £3.2 billion litigation battle with Boris Berezovsky, with the high court hearing ending on 19 January, and he has visited Cobham on a near-daily basis in February. The media have interpreted this as a haunting sign, particularly with Villas-Boas controversially making the players train the day after the 12 February defeat to Everton (a game where the travelling Chelsea fans chanted 'You Don't Know What You're Doing'), but it seems Abramovich backed this brave summons and inquest. From this, Ivanović has summed up the Clough-like [pre-Mourinho v post-Mourinho echoes Don Revie's moulded group v Clough's handful of signings], at Leeds United, toxic tension that has gripped the dressing room:
Everybody has to believe still and try to do the right things. 'This is more about Chelsea. That  is more important than the relationship between managers and players.




The manager who decides who plays is doing his job. We have to do our job. Everyone has to try to make this position better because we have a lot of things wrong.

But this is  Chelsea. We have to solve these things. For me, this is the hardest moment in my four years here [echoing Drogba's earlier sentiments]. We didn't win a lot of games and the confidence is not in the best way. But it is only by working hard and trying to do things well, keep going and be positive.

I can say he [Villas-Boas] will stay.
With the players still being in open contact with Mourinho, Villas-Boas' tactics (reports suggest that some of the players ignored his instructions against Napoli on 21 February) and the very obvious friction between dressing-room favourites, Lampard and Cole, and the Portuguese (lack of eye contact from Lampard, when coming on for Mata, with Villas-Boas against Birmingham on 18 February was telling), it is safe to say that Villas-Boas has been undermined. However, with Villas-Boas slowly rebuilding his squad, with a continuing Iberian influx likely, it would be no surprise if the Portuguese's courage will see him outlast a notable and powerful selection of his current crop. From this, aided by Guus Hiddink's move to Anzhi Makhachkala which was surely approved by close friend, Abramovich, and the unappealing Rafael Benítez being the only viable short-term option, Villas-Boas could lay the foundations for a hungrier 2012/2013 squad. This undying thirst to continue Chelsea's unprecedented transition has been summed up in a telling and prophetic recent statement by the defiant, yet clearly vulnerable, Villas-Boas:
They [the players] don't have to back my project. It's the owner who backs my project. Some of them don't back the project? That is normal. I think the owner has full trust in me and will continue to progress with the ideas that we have. The funniest thing in football is the vote of confidence. It means it is the end. Maybe I don't want one!