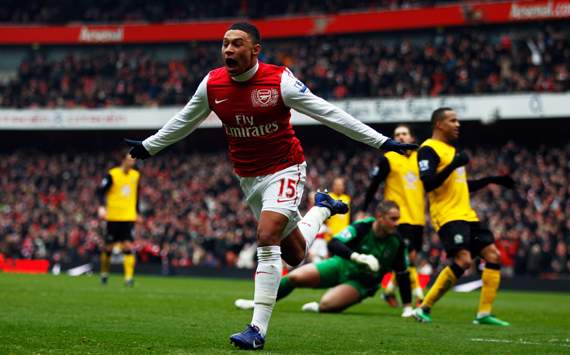 Arsenal have moved back into Champions League contention after a stunning seven-goal haul against a very poor Blackburn Roverssquad at the Emirates.
Robin van Persie claimed a hat-trick, young starlet Alex Oxlade-Chamberlain bagged a brace with Mikel Arteta and Thierry Henry scoring one each as a rampant Gunners took full advantage over a 10-man Blackburn Rovers team.
The game, played at 13:00 to help Arsenal fans with traffic congestion as the Victoria Tube Line was closed, started off frantically with Robin van Persie scoring after just 90 seconds. Blackburn equalized through a barnstorming free kick from Morten Gamst Pederson, his 10th free kick since August 2005, but after Gael Givet was sent away, there was only ever going to be one winner.
Here we look at seven things we learned from the mauling…
Robin van Persie is simply brilliant
While Robin van Persie may have looked like he had one in the oven as he carried the match-winning ball up his jersey after the game, the only pregnant thing about the Dutch striker are the pauses between his goals.
With this hat trick, he only became the fourth Arsenal player to score 20-plus goals in a single Premier League season.
He may have only scored in 14 of 24 Premier League games so far, but Van Persie has scored a stunning 22 goals and contributed a healthy eight assists.
To put that in Fantasy Football terms, he has given an amazing 180 points to your team, if you had him…
His form over the last 13 months has simply been phenomenal and it is no surprise to see many now rating the Arsenal striker as the third-best player in Europe behind Lionel Messi and Cristiano Ronaldo.
Will he sign that new shiny contract though?
2012, the year of the Ox?
Alex Oxlade-Chamberlain, the 18-year-old kid from Portsmouth, is already an Arsenal favourite.
The youngster, signed in August for a staggering £12 million, has perhaps been forced into first-team action rather more quickly than many at Arsenal had planned. However, in his 12 appearances so far, he has shown such an incredible level of maturity and good decision-making that the team almost miss him when he is not playing.
Gunners fans reacted angrily when Arsene Wenger took the youth off early against Manchester United after yet another good performance. He is fast becoming one of the only shining lights of this stop-start season for Arsenal.
So far he has played just 12 games, but he has scored four goals, including his double today.
Definitely one for the future, but we've all heard that before about almost every kid ever to make the breakthrough at Arsenal.
Will the Ox be any different?
Paul Robinson does not like playing against Arsenal
If you could look past Robin van Persie's and Theo Walcott's healthy showing of man love as they celebrated the Dutchman's hat-rick of goals and the Englishman's hat-rick of assists you could see Paul Robinson on his knees pleading with his defence.
This is a position that has become second nature to Robinson when playing against Arsenal.
If there is any goalkeeper and any team who are the perfect fodder for Arsenal to play against, it is Robinson and Blackburn.
The stats back it up…
Paul Robinson has conceded an amazing 53 goals against Arsenal whilst playing in the Premier League. More than any other keeper.
The 7-1 mauling was the 11th time that Robinson has conceded more than three goals in a single match against the Gunners.
Most withering of all, despite scoring seven goals, Arsenal only had eight shots on goal.
Despite a 7-1 Win, the Gunners haven't turned the corner just yet…
There are so many positives for Arsenal fans to take out of this game that it is almost too easy to get carried away.
When all is said and done, the Gunners won 7-1 against one of the worst Premier League teams of all time.
The positives are good and should be taken for what they are—a very good day at the office.
However, at 1-0 and at 1-1, Arsenal's midfield and defence looked quite shaky and while they may never have actually been on the ropes, the nervous tension in the air could have been cut with a knife.
This current incarnation of Arsene Wenger's philosophy are very much a work in progress but they are severely imbalanced at the back and need strengthening across midfield if they are to move back into being considered title contenders.
For the moment, they are where they should be—on the cusp of a Europa League position, but as push comes to shove, Chelsea, Spurs and Liverpool may just have too much for this team to handle.
When will Gunners' fans protest again?
As attendances continue to fall, certain supporter groups at Arsenal had decided to show their outrage with the management by staging a black bag protest at the Emirates today.
The protest was to highlight two issues: 1) falling attendances caused by poor team displays; 2) to try and pressurise the board into spending more money to strengthen the team.
Last year the Gunners made profits of over £50 million but a distinct failure to invest intelligently has seen the team drop from the Champions League, projecting them to potentially miss out on Europe altogether.
Missing out on Europe would also come with missing out on the massive finances and riches the Champions League offers, a potential £30 million plus.
The protest never really got the chance to happen today as Robin van Persie fired the Gunners ahead after just over one minute and then Arsenal went on the rampage and scored another six.
One thing is for sure, though: The protests may have been muted today, but they have not gone away.
More than ever, Steve Kean looks doomed
You can make excuses that Blackburn were unlucky, that they hit the post, missed sitters, scored goals that weren't offside, conceded goals that were offside and so on and so on, but a seven-goal mauling rips right through the heart of any excuse.
Quite frankly, there is nowhere left to hide for Steve Kean.
The biggest criticism of Steve Kean this season is not just Blackburn's lowly position in the English Premier League; it is the very fact that Rovers have not managed to keep one clean sheet all season.
Now, Kean faces the potential of the rest of the season without his captain and best defender, Christopher Samba, but this week he also OK'd the cancellation of Ryan Nelsen's contact.
The 34-year-old defender was immediately swapped his relegation battle with Rovers for a title chase with Tottenham Hotspur.
While Nelsen's best days may be behind him, there is little doubt that the New Zealander was the most influential voice at Ewood Park. It is worth noting that the last time Blackburn kept consecutive clean sheets, Nelsen was captaining the team.
Losing one player of such influence is bad enough. Losing two is nothing less than sinful.
For a perfect example, all Steve Kean had to do was look across at Arsene Wenger as the Gunners boss lost both Samir Nasri and Cesc Fabregas this summer full in the knowledge that neither player will ever fully be replaced.
Arsenal: Seven games to define a season
The Gunners next seven fixtures read as…
Sat 11 Feb – Sunderland v Arsenal (EPL)
Wed 15 Feb – AC Milan v Arsenal (UCL)
Sat 18 Feb – Sund/Midd v Arsenal (FAC)
Sun 26 Feb – Arsenal v Tottenham (EPL)
Sat 3 Mar – Liverpool v Arsenal (EPL)
Tues 6 Mar – Arsenal v AC Milan (UCL)
Mon 12 Mar – Arsenal v Newcastle (EPL)
There are no two ways around it; Arsenal's next seven fixtures are about as tough as they could get, yet there is always optimism.
Sunderland are the form team in the EPL and have taken more points (7-2-2 record) than every other team since Martin O'Neill took over in December. AC Milan are perennial Champions League contenders while Spurs, Liverpool and Newcastle are all battling it out with the Gunners for the European spaces.
Looking ahead, it is very conceivable that Arsenal could easily pass Milan to the quarterfinals of the UCL, but taking full points from the four EPL games during this period will be an almost impossible task, especially given current form.
The best I can predict is a possible five to eight points from the 12 points available, which may not be enough come the end of the season with progress in the Champions League and the FA Cup, unless Middlesbrough beat Sunderland this Wednesday.
When all is said and done, the 7-1 win was very much needed, but it might only paper over the cracks before the real nitty-gritty starts next week.