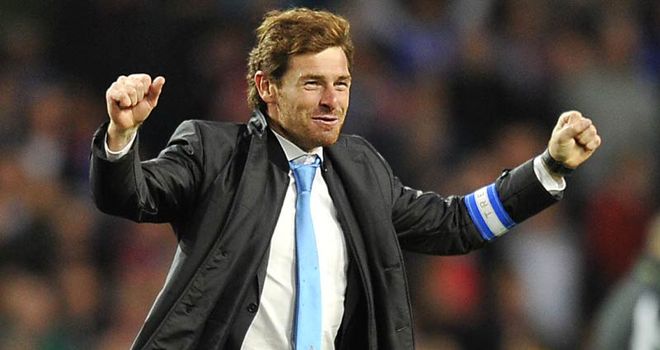 On June 2, 2004, José Mourinho became the self-proclaimed 'Special One' when he took over at Chelsea.
While André Villas-Boas has been dubbed the 'Mini Special One', aside from his coiffed hair, Armani suit and incredible attention to detail, there are no similarities in their personalities or overall tactics. However, the tasks remain the same as for the fourth summer in Roman Abramovich's eight-year reign as Chelsea owner, a new manager has been given the goal of at least bringing the Premier League title back to Stamford Bridge.
Added to this is the 'bonus' of winning Abramovich's obsession, the Champions League, which has proved elusive at Chelsea for previous winners of the trophy like Mourinho, Guus Hiddink and Carlo Ancelotti. Despite Villas-Boas having the best win percentage (84.48%) in Porto's managerial history, advocating scintillating football and costing Abramovich £13.2 million to bring to Chelsea, failure to win a major trophy while also overseeing a delicate transition of a mature squad will undoubtedly lead to Abramovich sacking a sixth manager.
While Carlo Ancelotti's achievements as a player and manager are unquestioned, there were haunting warning signs of his inevitable fate in patches of his reign at Chelsea: a lack of discipline, weak management and debatable timing of transfers. The idea of John Terry giving personal tours of the training ground or Ashley Cole having an air rifle in the training ground dressing room, and then get off with effectively a slap on the wrist, would have been unimaginable in Mourinho's and Hiddink's regimes. Therefore, to control a dressing room of superstars with incredibly dominant personalities, a long-term hard-line stance was a necessity but Ancelotti's relaxed approach eventually caught up with him.
Chelsea, on the pitch, were uncharacteristically lapse. After all, John Terry commented in 2010 that:
Carlo was surprised when he saw how much we want to train every day. Maybe that's something he has learnt from us.
Having come from Milan, with its infamous Milan Lab and acclaimed coaching set-up, this comment was intriguing. Chelsea's squad are of a rare breed in world football – they favour intense training. Managers at Chelsea have often found it hard to find this balance with Luiz Felipe Scolari proving too relaxed, while Mourinho was infamous for doing ball work from the first day of pre-season.
While Ancelotti's Double in 2009/2010 will go down as a huge achievement in Chelsea's history, the Blues threw away 17 points from winning positions in the Premier League that season. This may not seem like much but in comparison to Mourinho's lowest title win of 91 points at Chelsea in 2005/2006, Chelsea dropped just 4 points from winning positions. Considering much of that squad remained, albeit 4 years older, this was striking. While it might be easy to say this was down to players' age and therefore, their falling fitness, in Hiddink's 13 Premier League games as manager in 2008/2009, Chelsea did not drop any points from winning positions.
Despite dropping so many points from victorious positions in 09/10, Chelsea won the league and the obvious reasons behind this were their ability to beat their rivals, while also winning games comfortably against teams below them. After all, 22 points from a possible 30 were collected against Arsenal, Manchester United, Tottenham Hotspur, Manchester City and Liverpool in 09/10. In contrast to this, in 2010/2011, only 13 points were picked up from 30 against these same rivals. Coupled with this was Chelsea's failure, from September 2010, to dominate teams like they had done in 09/10. Defeats to Sunderland (beat 7-2 in 09/10) and Wolverhampton Wanderers (defeated 2-0 in 09/10), and draws with Aston Villa (beat 7-1 in 09/10), Fulham (defeated 2-0 in 09/10) and Stoke City (beat 2-1 in 09/10) proved costly in Chelsea's pursuit of the title.
The dignity that Ancelotti displayed in his two years as Chelsea boss went a long way to finally remedying the Blues' tainted image from the brash Mourinho years. Unlike Claudio Ranieri, Ancelotti backed up this likability with relative success but his failure to assert his authority in the boardroom proved costly. Having worked under similar circumstances under Silvio Berlusconi, this, as much as Ancelotti winning two Champions Leagues and a Serie A title was why Abramovich plumped for the Italian in the summer of 2009. The main note of weakness Ancelotti displayed was, rather than Fernando Torres' arrival, Ray Wilkins' sacking.
It is important to note that Chelsea, having been previously stung from paying off Mourinho's and Scolari's members of staff, would not let Ancelotti bring his Milan assistants Filippo Galli and Mauro Tassotti to Stamford Bridge in 2009. Although coach Bruno Demichelis did arrive, Wilkins' knowledge of Chelsea, the Premier League and his ability to speak Italian were crucial to Ancelotti's success. Obviously, Ancelotti grew in knowledge and language but Abramovich's decision not to renew Wilkins' contract, particularly seeing how popular the Englishman was and the furore that was created when the Russian tried to directly replace Steve Clarke with Avram Grant in 2007, was striking. Mourinho fought for Clarke to remain and while the 'Special One' did inevitably depart months later, he left the club with his reputation and courage as admired as ever. The same could not be said of Ancelotti.
Wilkins' replacement, Michael Emenalo, clearly did not offer the same input and aid to Ancelotti. An unspectacular player, Emenalo joined along with Grant, his former manager at Maccabi Tel Aviv, in 2007. The fact he was initially appointed as Chelsea's opposition scout was surprising considering Emenalo's football experience, after retiring as a player in 2000, was managing the girls under 12 team at Tuscon Soccer Academy in Arizona. Tellingly, from Emenalo's first game as assistant against Sunderland on November 14 right up to the final game of the season, Ancelotti only interacted and sat with Paul Clement. Interestingly, up to Wilkins' sacking, Chelsea had collected 28 points from 36 in 12 Premier League games. In the 12 games after, 16 points from 36 were amassed. While it was obvious that Frank Lampard's lengthy lay-off was a huge blow, Wilkins's sacking clearly shook the dressing-room, had an influence on Chelsea's rapid slide and from this, Ancelotti's eventual departure.
The January window of 2011 was unprecedented for mid-season spending in the Premier League with a record £225 million spent. Considering the January window is traditionally known for loan signings and low fees, the arrivals of Darren Bent to Aston Villa, Edin Dzeko to Manchester City, Luis Suarez and Andy Carroll to Liverpool, and David Luiz and Fernando Torres to Chelsea ridiculed pre-season adjustment and tactical implementation. Obviously, Villa were lacking goals while Liverpool required a replacement for Torres but the timing and positions of Chelsea's signings were particularly intriguing.
David Luiz, while at times magnificent, was thrown straight into the team, due to Alex's injury, alongside John Terry. Despite the brilliant outlet Luiz offers from the back, starting phased attacks, and his goalscoring exploits (against Manchester United and Manchester City), his tender 24 year age, for a starting centre-back, has shown. Examples of this include him giving away a needless penalty in the 90th minute against Fulham, his professional foul on Wayne Rooney on March 1st against Manchester United and his missed interception against United on May 8th – which led to Javier Hernandez scoring. There is no doubt that next season, Luiz, like Ricardo Carvalho after a few months in 2004/2005, will grow into the dynamics of the Premier League after his initial experience. However, a pre-season and a full season from August 2010 would certainly have benefited Luiz, and Chelsea, to curb his volatile elements.
There is no doubt that Torres was a vanity signing for Abramovich but the idea that Ancelotti did not want a proven Premier League goalscorer and world-class striker was ludicrous. Former assistant Wilkins revealed months after the buy, when pundits evoked memories of Abramovich sanctioning the signing of Andriy Shevchenko, that Ancelotti had wanted to bring Torres to the club in the summer of 2010. With Abramovich initially wanting to use more Academy prospects, this request was turned down. However, with Chelsea in serious danger of missing out on the top four, and with Abramovich deciding against the mid-season managerial change he has often opted for, the signing of Torres was sanctioned. There is no doubt that Ancelotti would have preferred to have signed Torres in the summer of 2010 but with Didier Drogba and Nicolas Anelka having huge scoring droughts, it was seen as an instant remedy in January 2011, rather than trusting young talents like Daniel Sturridge.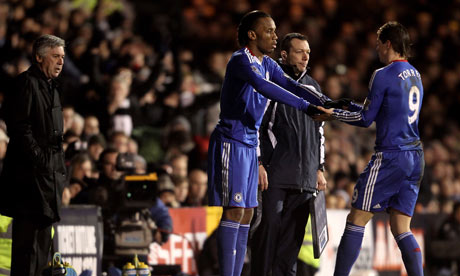 It brought about Ancelotti's first tactical dilemma since he switched from his trusted 4-4-2 diamond to 'Mourinho's 4-3-3' in January 2010. However, it was not just a formation switch as Chelsea also had to change playing style and dynamic to get the best out of their new number nine. Changing playing style mid-season is incredibly difficult, especially considering Chelsea were still hopeful of pushing Manchester United in the league and having an assault on the Champions League. New partnerships, if successful, are often forged in pre-season and when placing two forwards who had disrupted starts to the season (Drogba with malaria and Torres with a thigh muscle injury) together, it was never going to work. This was the pressure that faced Ancelotti as no team in history has ever shelled out a record fee for a player to immediately sit on the bench. This told in Chelsea's crucial Champions League second-leg game against Manchester United on 12 April, when Ancelotti plumped for the goalless Torres rather than Drogba in a 4-3-3. The pressures of having to change Chelsea's formation, balance and style cost Ancelotti dearly – despite Drogba's renaissance.
Chelsea face the first real crossroads of the Abramovich era. While the Chelsea Pensioners nickname has particularly stuck with the Blues in recent seasons, there is no doubting that Terry (30), Cole (30), Florent Malouda (31), Anelka (32), Frank Lampard (33) and Drogba (33) are now into their last seasons of being able to maintain good form and consistency, and play in more than 45 games per season. This, along with marshalling proven winners, egos and internationals, are the obvious challenges that faces the young Villas-Boas who remarkably, is only months older than Drogba and Lampard. The generally experienced age of the squad will certainly result in Chelsea signing players under the age of 25 but Villas-Boas will also have to construct a tactic that achieves balance, attractive football and results.
Villas-Boas will need little time to adjust as manager at Chelsea and managing in the Premier League. After all, Villas Boas was, as Jose Mourinho put it in 2004, "his eyes and ears." With fluent English, Villas-Boas compiled incredibly detailed tactical dossiers which are now expected at Premier League clubs but at the time, were revolutionary. FA Cup games against lower league teams were treated just as attentively as games against title rivals. Everything from phased attacks and pattern play to player movements and set-plays were analysed. Coupled with this attention to detail is Villas-Boas' intense training. Porto midfielder Fernando once commented that Villas-Boas' methods were "very dynamic" and "fast-paced" so this is likely to go down well with the Chelsea squad.
Villas-Boas cites Pep Guardiola, Mourinho and Sir Bobby Robson as his three managerial inspirations and all three of these managerial greats are reflected in his tactics. The style of Villas Boas' 4-3-3 is a hybrid of Guardiola's possession football, Mourinho's defensive organisation and pressing, and Robson's use of three out and out attackers up front (Villas-Boas' use of Hulk, Radamel Falcao and Silvestre Varela was reminiscent of Robson's use of Domingos, António Folha and Edmilson in 1994/1995). Considering Chelsea have thrived in variations of the 4-3-3 from Mourinho's to Ancelotti's reigns, Villas-Boas will certainly continue with his use of the formation.
There are no serious short-term question marks about Chelsea's goalkeeper and defence, which are one of the best in world football. While John Terry's pace has been questioned, Luiz's energy and growth in maturity to the rigours of the Premier League will certainly benefit Chelsea's captain. Branislav Ivanovic's conversion to right-back since 2009 has been remarkable and while his pace has also been questioned, his commitment, tackling and positioning have been near flawless, and he was the league's most potent threat from right-back with 4 goals and 3 assists. Ashley Cole, while having a season to forget and nearing his 31st birthday, still remains one of the top left-backs in the world. Although Chelsea conceded 33 goals last season, which was the most they had conceded since Ranieri's final season in charge in 2003/2004, that was still the joint-lowest (along with Manchester City) so Villas-Boas' immediate concern will be reviving a free-flowing side that scored a record 103 goals in the Premier League in 2009/2010, compared to a paltry sixty-nine in 2010/2011.
Chelsea Chief Executive Ron Gourlay has said that there are likely to be three signings and it seems a creative central midfielder, a right-winger and a young striker are necessities. Chelsea certainly lack a creative presence. It would seem Villas-Boas will opt for a triangle of Michael Essien, Lampard and an other. The other, Chelsea hope, will be Luka Modrić. Having expressed a desire to leave Tottenham, albeit on good terms rather than through a transfer request, Modrić is Chelsea's number one target this summer. The main reason why Chelsea are interested in the Croatian seems to be that he could fill the number ten role, in order to directly link-up with Torres. However, with Chelsea likely to play with a front three and with Modrić yet to become a wholly effective number ten, in terms of assists and goals, it is likely he would play where he has for Tottenham this season – in central midfield. He managed 4 goals and 3 assists for Spurs last season and this reflects the fact he operates mainly in the middle third of the pitch. This would be perfect for Villas-Boas as Modric's eye for a pass would greatly benefit marauding wingers and full-backs on the flank, and would give the centre of midfield a perfect mix in tandem with Essien's energy and Lampard's goals.
The other position that there would seem to be a first XI opening for Chelsea would be on the right-wing. It is likely that Anelka and possibly Salomon Kalou will depart so it is a clear area of weakness. Ramires, naturally a central midfielder, did a decent shift on the flank when Chelsea switched to 4-4-2 after Torres' arrival but it left Chelsea lacking any natural width on the right. Although the Blues have been heavily linked with Falcao since Villas-Boas' appointment, Hulk would seem to be more suited to Chelsea's requirements as he can play on either flank. Hulk is one of the most complete wingers in world football: possessing incredible strength, speed and a powerful shot, and there is no doubt that his explosiveness and determination, a la Tevez, would succeed in the Premier League. However, having just signed a new six-year deal with a €100 million release clause, he seems an unlikely target.
Having seemingly missed out on Alexis Sánchez, Neymar, also adept at playing on either flank or through the middle, could be an option for Chelsea as an inside forward. One of the hottest properties in world football, Neymar has averaged a goal every two games for Santos and has impressed with Brazil too. His reported £40 million fee, amid interest from Real Madrid, would carry a huge risk considering his form has been at times patchy for Santos and he has a questionable temperament, but there is no doubt that he has incredible potential.
With Drogba staying at Chelsea, according to Gourlay, and the team likely to be built around Fernando Torres, Chelsea's striking department could be overcrowded. Falcao, a typical number nine and poacher, never operated on the flanks for Porto so to spend a reported £26 million on a 25 year old and then bench him, would seem odd. This is of course assuming that Villas-Boas sticks to his signature 4-3-3 but he may yet plan to play Falcao on the right. The likes of Anelka and Samuel Eto'o have shown that pacy strikers can indeed operate on the right flank with little experience of playing there. However, Falcao excelled through the middle with Porto and had a fantastic record: scoring 41 goals in 50 games, with 17 of these coming in Europe. With Chelsea also in discussions with Anderlecht over Romelu Lukaku, a raw hold-up striker with brilliant potential to succeed Drogba, there will be huge competition for places with four talented strikers. That leaves serious question marks over the futures of Anelka and Sturridge with the latter, despite greatly impressing on loan at Bolton, likely to go out on loan again.
Villas-Boas has already made his mark on Chelsea's history by becoming their youngest manager since their inception in 1905, when 28 year old player-manager John Robertson managed the Blues for a season, and most expensive manager of all-time. Having paid so much and put so much faith in him, one would hope Abramovich would go against history and give one of the world's best young managers the time and means to fulfill his ambitions. Otherwise, in twelve months time, Chelsea could be announcing the appointment of yet another manager – their sixth in eight seasons.