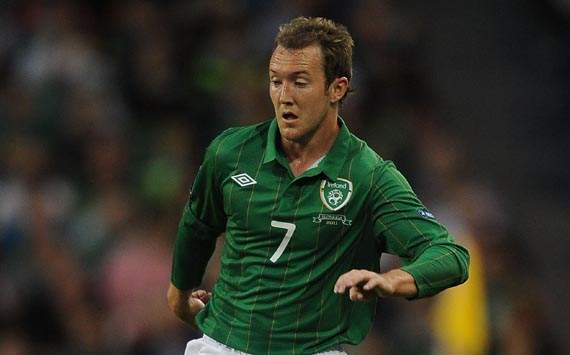 Fifty nine minutes into Wednesday's friendly between England and Ireland I found myself mopping up the remnants of my cup of tea and throwing the last of my dinner in the bin.  My other half was not happy but she has grown used to my 'football tantrums'.
I can be a frustrating person to attend and play sport with. I am competitive, but despite having Keane in my surname I lack the talent to match my competitiveness. I want to win my weekly 5-as side games and likewise my Thursday night squash games. 'Captain Turrets' is a nickname often bandied about.
I am not in a position to criticise any player that has managed to develop into a professional player that represents his country.
But football does that to people.
Most football fans have a player that really annoys them whether it's the social media obsessed Joey Barton, the long haired in your face Robbie Savage or the saliva sharing El Hadji Diouf footballers can divide as much as they unite.
You see them, you read about them and you listen to them and you feel an urge, a form of anger that is usually reserved for reality television shows building.
You feel embarrassed when they do something brilliant maybe you have been wrong all these years and they are as good as others make them out to be. Then they do that 'thing' that makes you remember why they annoy you.
Aiden McGeady is my footballing annoyance. I can't ever recall the 'winger' even making a successful cross. I have no doubt they exist, I only have to YouTube him to see them but I still don't believe them. I think someone have taken an attempted cross from McGeady and mashed it together with a finished product from an Antonia Valencia, a Frank Ribery, an Arjen Robben or a Juan Mata.
Since he made his debut for Ireland 2004 McGeady has divided Ireland opinion and despite being in his prime now, the 27 year old is no longer a guaranteed starter in the green shirt.
I've ignored the fact that despite being an attacker it took him seven years to score his first goal (I haven't ignored this really) and in 57 appearances he has scored just two goals.
So what happened on 59 minutes? Well, McGeady got the ball and driving forward fired in a ball that was neither cross nor shot.
As you would expect it went wide. A frustrated Jon Walters just shook his head, so did every Irish fan watching.
Despite coming to expect poor decision making, dancing feet followed by crosses that fail to beat the first man and wayward shooting I still waved my hand in anger, knocking over the cup of tea my attempts to try and catch it flinging my dinner onto the floor.
The cup almost made it to the TV instead it trickled to a stop in front of the cabinet.
The television got lucky on this occasion it has been less fortunate in the past, with McGeady the catalyst.
As things stand I currently need to replace four new plates and two cup from football related incidents and just like McGeady and Ireland they don't have to be a perfect match.