As the the Premier League season reaches its climax, David Dickson wonders if maybe it wasn't as great as has been made out in the media.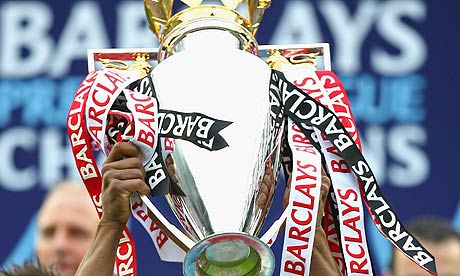 The 2009/10 Premier League season has been set upon by sports journalists as one of the 'greatest ever', with its unpredictable and rollercoaster-like nature seeming a major positive in the eyes of most football supporters. After a weekend where Chelsea would have liked their favourite hunting ground to swallow them up in a 2-1 away defeat to Tottenham, and Arsenal seemed to lose all focus and ability in ten dreadful minutes against Wigan, the disappearance of any English presence in the Champions League semi-finals for the first time since 2002/03 makes more sense by the weekend. Whilst this season may be the 'greatest' in terms of entertainment for the armchair fan, could it produce the worst Premier League Champions since the league's inception?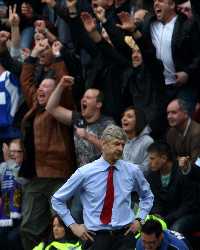 Of course, at the moment, we don't know who will lift the title in May. After said capitulation to Wigan, Arsenal seem to have reduced the competition to a two-horse race between Manchester United and Chelsea. However, for the sake of argument, let us analyse all three of the teams that have topped the table for long periods of the season in an attempt to understand just how this season's showing has been so unpredictable, and at times, the football from our top sides has been so dreadful.
The favourites, by the skin of their teeth, are Chelsea. The positive points of Chelsea's play and squad are there for all to see. Didier Drogba sits just below the PFA's Player of the Year-elect in terms of goals, Florent Malouda has come on leaps and bounds and a few more leaps, whilst Frank Lampard has been consistent in honouring Chelsea's faith in him in the face of offers from around Europe for the aging playmaker. Chelsea have also played on relatively unfazed without key players in Jose Bosingwa and Michael Essien, whilst also dealing with an African-exodus in early January. In the final of the FA Cup, and sitting at the top of the league with three games remaining in Carlo Ancellotti's debut season, what could possibly be wrong at Stamford Bridge?
The problems at Chelsea lies twofold. Firstly, there are former key players (most of whom are aging) who simply do not perform at the high level they have done in the past for either Chelsea or previous clubs. Michael Ballack lacks any form of pace or the ability to track back in place of the missing Essien. Gone is Deco's magical distribution seen earlier in his career, and similarly misplaced is the ability of Joe Cole to take on a full back without resorting to a wild shot at the first sign of contact. Ricardo Carvalho, despite performing when he plays, seems unable to play more than one game at a time in a consistent lack of fitness. If Chelsea are to challenge for the title in 2011, changes must surely be afoot for Carlo Ancellotti's side.
Secondly, the problem lies with Ancellotti himself. As conjectured by @zonal_marking and many regulars at Stamford Bridge, the debutant manager seems entirely befuddled by which system actually works for Chelsea. On one hand, he has a top-scoring striker in Didier Drogba who many would believe simply has to lead the line. However, as any Joe Statistician would tell you, Chelsea play far better with a single striker flanked by Florent Malouda and one of Joe Cole or Solomon Kalou, and that single striker is a seemingly misfiring Nicolas Anelka. Fuelled by this anomaly, Ancellotti's worst decisions of the season have come from panicking at the first hint of defeat, and falling into the trap of playing Anelka with Drogba in a wide, and essentially useless, position. We have seen this in poor results at White Hart Lane, Ewood Park, in both legs against Manchester City and in frequent other scraped victories at Stamford Bridge. If Chelsea finish as champions, one must feel that sheer brute force in drilling home victories will be the reason, as opposed to any form of tactical nous from Carlo Ancellotti.
Chelsea lifting the
trophy would also surely fuel Manchester United to wonder where on earth they went wrong. After losing Cristiano Ronaldo, United have seen Antonio Valencia show signs of growing into his wide role, whilst Wayne Rooney has taken the rare step of scoring more goals than he has made television advertisements. A revolving door at centre-back has still seen United concede only 25 goals, seven less than leaders Chelsea, whilst the Premier League's oldest goalkeeper Edwin Van Der Sar has proved he still has at least another season left in him.
Therefore, finding problems with Sir Alex's set-up becomes a game of 'avoid the obvious', in a desperate attempt not to put all of United's failings down to the fact they cannot seem to score goals without Wayne Rooney on the pitch. To put it kindly, Dimitar Berbatov has not found his feet in two years at Old Trafford, and to put it less kindly, seems to have not found his boots, his head, or any of his team-mates to pass to in the last two years either. The absence of Ronaldo has extinguished the spark of the past three years at Old Trafford, and that spark has been replaced by three defeats by the 'big four' from six, a humbling away fixture at Fulham unlike any defeat seen in Ferguson's tenure, and 'Own Goals' sitting proudly at second place in the United scoring charts. A one-two combo similar to the likes of Ibrahimovic/Messi, Milito/Eto'o and even Ribery/Robben simply does not exist at United anymore, and as their great white hope hobbled around the Old Trafford surface at home to Bayern Munich in their crushing quarter-final European defeat, the worrying gulf between Europe's top sides and Manchester United became ever more apparent.
Another victim of the current gulf between Europe and the Premier League crop are third-placed Arsenal. A humbling defeat at the hands of Barcelona (read: Lionel Messi) did not do justice to the talent that the Gunners currently possess within their ranks. Cesc Fabregas has scored and set up more goals in the Premier League than any other midfielder this season, and in a national sense is unlucky to have grown up in an era with Xavi and Iniesta standing above him in the Spanish pecking order. Nicklas Bendtner has tried to follow the Adebayor route at Arsenal in moving from a figure of fun to a respected goalscorer, whilst Theo Walcott continues to prove himself as a player that can take on all-comers if his head is in the right place. Thomas Vermaelen, along with Richard Johnson and Michael Dawson, will also rightfully take his place as one of the defenders in many pundits' team of the season.
It is, however, no coincidence that Arsenal's display against Wigan at the DW Stadium provides the perfect window into what is wrong at the Emirates, and the reason that Arsenal will not be winning the title this season despite showing such potential. Firstly, to win the league in 2010, the unfortunate fact is that a team needs to spend. Arsenal have a system of youth development in place that is second to none in England, and have a fine establishment in North London to pay for, but the mistakes made at Wigan can be pinpointed to individual positions in which Arsenal have not invested, and it has cost them. Manual Alumunia and Lucasz Fabianski have combined to make more mistakes that have been costly to Arsenal that perhaps any single goalkeeper in the league, and the Jens Lehmann-shaped hole in between the sticks is there for all to see.
Depth in other positions is severely lacking also. The combination of Silvestre and Campbell (despite Campbell's performances being far better than expected) in the absence of their top two centre backs is trumped by Chelsea, United, Tottenham and even Liverpool due to its inadequacy. Andrei Arshavin's use as a striker in the absence of Robin Van Persie sapped one of Arsenal's most volatile playmakers of any flair and confidence due to his use in a position he is vastly inexperienced in, and despite the growth of Alex Song, the Vieira/Gilberto/Flamini position has still yet to be filled in the holding midfield role. Arsenal, like Chelsea, will surely be forced to spend more than in any of the last three summers to challenge for the title next season.
The major inadequacies shown by the three challengers above (and the many more minor ones which remain unmentioned) have combined to allow the top-three-topplers such as Fulham, Tottenham, Aston Villa, Manchester City and Wigan a chance to cash-in and increase the 'rollercoaster' nature of this year's Premier League. But whilst winning a championship will still induce the same pride and elation from the supporters of Chelsea or Manchester United, it is completely irrational to believe that the class of 2010 will be remembered as any sort of dream team amongst the club's supporters, due to the gaping holes described by the evidence above. Gone are the Arsenal invincibles , the United treble-winners and the Special One's record-breakers, and without major changes in summer for all three sides, we will continue to applaud a picture of mediocrity lift the trophy in May 2011.