There are just 39 days before the event of the year, the World Cup, kicks-off in South Africa. Continuing on our series listing the top fifty players to keep an eye out for, we finally reach the final half as names get bigger, better and more familiar.
Issue one, #50-#38 >>>
Issue two, #37-#26 >>>
25 Jesus Navas Spain
A classic winger with excellent speed and dribbling ability, Sevilla's Jesus Navas has overcome chronic anxiety problems to make himself available for the Spanish national team this summer. Although a starting place in Vicente Del Bosque's side is highly unlikely, Navas, who has nine goals and ten assists to his name this season, is in line to play a vital role as an impact substitute in South Africa. With players of Navas' calibre coming off the bench, it's no surprise that Spain are the overwhelming favourites to lift the World Cup on July 11th.
24 Wesley Sneijder Netherlands
Inter Milan's midfield dynamo has been a fundamental part of Jose Mourinho's bid for Scudetto and Champions League glory. After being disposed of from the latest Los Galacticos revolution at Real Madrid, the Dutchman will be lining out in his old stomping ground in May for the European Cup final. A hard working, vibrant midfield player who can score as well as create, Sneijder is a very important player in the Netherlands team.
23 Steven Pienaar South Africa
Pienaar is no doubt one of Everton's and South Africa's most talented players, and will be out to do his home nation proud when they host the World Cup this summer. Tricky, and a fantastic player with the ball at his feet, Pienaar is also capable of firing in a shot from anywhere, and is lethal in dead ball situations. There's talk of him moving elsewhere this summer, and he has the perfect platform to show why clubs around Europe should be interested in him.
22 Steven Gerrard England
After a very disappointing season which saw Gerrard go another year without a medal, and another year without finally getting his hands on the Premier League title, Steven will be keen to go all the way with England. A hugely determined, inspirational player, don't be surprised to see Gerrard pull the England side by himself in late stages of games such is his ability. A motivated player, there will only be one thing on his mind and that's winning the trophy.
21 Franck Ribery France
Despite ending the season enveloped in scandal and innuendo, Franck Ribery is still one of France's key players and his form will be vital if Raymond Domenech's squad are to prove the doubters wrong in South Africa. A tricky, intelligent wide midfielder, Ribery has struggled to find his best form this season but has shown signs of returning to the top of his game of late, just in time to go to the World Cup.
20 Marek Hamsik Slovakia
Slovakian and Napoli attacker Marek Hamšík has exploded onto the scene this year in the Serie A as one of the best attacking midfielders around. A big summer with unlikely qualifiers Slovakia could set Hamsik up with a move away, possibly to a big European Cup. Marek is a vibrant, creative attacking midfield player who can score a goal or two, especially from long range. He will Slovakia's most dazzling and talented players this summer.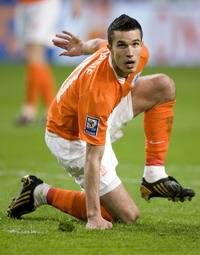 19 Robin van Persie Netherlands
Arsenal striker Robin van Persie missed most of the season with an ankle injury sustained while on Dutch duty, and his absence was clear for all to see. But now that he's back and raring to go, the front man who is arguably one of the best left footed players in the world will be up for a big summer with his nation. A tricky, vibrant forward who can score from almost anywhere on the pitch, RVP is a player you don't take your eyes off of. He can score, create and do plenty of damage to even the best defenses.
18 Samuel Eto'o Cameroon
Inter Milan and Cameroon striker Samuel Eto'o has embedded himself well into life in Italy after moving from Barcelona. A part for some spells on the sideline, Eto'o has notched up twelve goals in just under thirty games for Il Nerazzurri. Without doubt Cameroon's biggest player, Eto'o on his day is a striker to fear and will be amongst the scorers this summer in his home continent.
17 Landon Donovan USA
American talisman Landon Donovon spent a very successful three months in England with Everton this season, so well in fact that there are talks he could be returning next season for another spell in the Premier League. Over the past few years the LA Galaxy attacker has been the USA's best and most important player as they climb up the soccer ladder. A nation where football isn't even in its top three sports, Donovon has been a remarkable spokesperson for the game in the States and all eyes will be on his side this summer as football fever hits America.
16 Yoann Gourcuff France
The France and Bordeaux star is another rising young attacking midfielder with plenty of ability and craft to do some damage at the World Cup. At just 23, Gourcuff has plenty of experience under his belt at both club and international level, and has been repeatedly linked with a big move away from Ligue Un. With this man on form, he'll be just as important to Domenech's side as Ribery.
15 Gonzalo Higuain Argentina
Against all adds, and millions upon millions of euros, Argentinian striker Gonzalo Higuain still remains Real Madrid's most potent striker and an integral part of their squad. In such an unpredictable environment, it is unsure whether or not Higuain will be even called up by Maradona ahead of the likes of Carlos Tevez and Sergio Aguero, but there is no doubt he deserves a place on the plane. Gonzalo has scored a remarkable 25 La Liga goals in just 28 games this season, but his time with La Albiceleste has been limited, with only four caps and two goals. But if he plays, except a handful of goals from the unlikely Galactico.
14 Sergio Aguero Argentina
Aguero is the son-in-law of head coach Diego Maradona, and regarded as the hottest talent on the planet, Atletico Madrid's star striker is set for a big summer in South Africa. Aguero is a deadly striker with superb movement off the ball, scoring twenty goals this season in Spain. At just 21, Sergio has gained twenty-one international caps for Argentina. The future's bright for this man, will it explode this summer?
13 Kaka Brazil
What more could be said for the player Real Madrid spent over €50million last summer? Kaka is without doubt one of the best players on the planet. A dynamic magician who oozes guile and talent, Kaka is in line for another big summer with Brazil as they go on the prowl for an amazing sixth World Cup victory.
12 Andres Iniesta Spain
Yet another Spanish inclusion, but nobody can disregard the importance of El Ilusionista to Spain and Barcelona, be it from the start or off the bench. Iniesta has grown into one of the most talented players in the world, more then capable of holding his own in amongst the Barça superstars. A home grown talent, Iniesta is creative, extremely industrial and has an amazing knack of playing well anywhere on the field. Just as important a component to Pique at the back, Cassilas in goals or even Xavi alongside him in the centre.
11 Luis Fabiano Brazil
Some might be wondering why the Sevilla and Brazil striker is so high in our list, but with such an impressive international goal tally he might be a surprise top scorer in the competition. Fabiano was Brazil's number one striker at the Confederations Cup last year, as they went all the way. A similar set up this year could see Fabiano amongst the high scorers, but there is no certainty the big man will be given the chance.
10 Carlos Tevez Argentina
A player that is never short of controversy, it has been a huge season for Carlito at his new home in Manchester. Nobody could have predicted such a campaign for Tevez, who introduced himself to the world with a fine World Cup in Germany back in 2006, before making a shock switch to West Ham. Tevez has netted twenty-three times this season for the blue half of Manchester, and having broken free from the chains that held him back at Old Trafford, Carlos is showing exactly what he is capable. Expect a fine World Cup from this man.
9 David Villa Spain
Arguably Europe's most potent striker, Valencia and Spain's David Villa has enjoyed another superb domestic season, scoring an incredible 21 goals in 30 La Liga appearances. Usually deployed in a strike partnership with Fernando Torres for the national team, his intelligence off the ball and ruthlessness on it will make him a real contender for the Golden Boot in South Africa.
8 Ronaldinho Brazil
The AC Milan forward may have hit a drop in his dazzling career, but you just can't write off the man who was previously regarded as the best player on the planet. With his sublime trickery and skills, and ability to score amazing goals out of nothing, Ronaldinho will always be a player you just got to look out for wherever he is. Not guaranteed a spot in the starting eleven, but watch out for glimpses of the Ronnie of old this summer.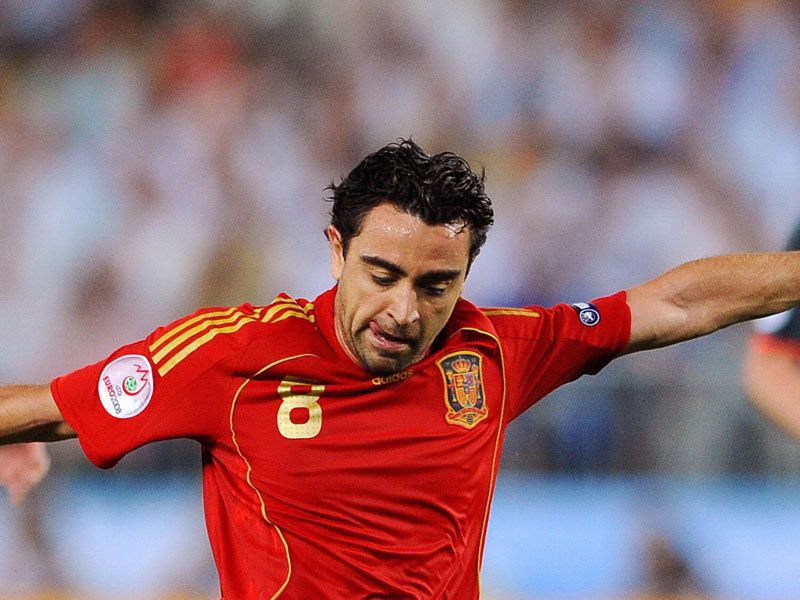 7 Xavi Spain
Barcelona's creative maestro, Xavi is one of the most consistently brilliant players in world football. With a passing ability second to none, the Spanish midfielder has sublime vision and ability on the ball, talents which allow the players around him to flourish and fulfill their potential. For Del Bosque the equation is simple, if Xavi plays well his team plays well. This could be the tournament which finally affords Xavi the deserved recognition as one of the greatest of all time.
6 Fernando Torres Spain
Like most at Liverpool, it was a season of under performance and disappointment for Torres who spent most of the season on the injury table. But that didn't stop him scoring a mighty fine twenty-two goals in just thirty-two games, showing how lethal a performer he can be even when not at full match fitness. Torres scored the winning goal for Spain in Euro 2008, and will be hoping to take them all the way again with another handful of goals.
5 Didier Drogba Ivory Coast
The Chelsea and Ivory Coast powerhouse has shown this season that he is one of the most clinical and most feared striker on the planet. Drogba is the captain of Ivory Coast, and will be fired up to take his nation as far as they can go, he's certainly good enough. The Africans are more then capable of going into the knockout stages, so expect the big forward to be amongst the goals and plaudits this summer after what has been a stunning season for Didier.
4 Cesc Fabregas Spain
Arsenal talisman Cesc Fabregas isn't even guaranteed a starting berth in the Spanish team, such is the depth of their midfield quality, but when he does Cesc usually stands out as an amazing performer, and on his day – one of the best in the world. He holds all the distributing attributes of Xavi, with a fierce attacking instinct that can lead to goals as well as assists. It is hard to believe Cesc is only 22-years-old, he's been around so long and has matured into one of the finest midfield players on the planet. It won't be his last World Cup, but in one where Spain are amongst the favourites to go all the way, he's their one to watch.
3 Cristiano Ronaldo Portugal
Number three on our list is the most expensive man ever to trade hands in the world of football, Cristiano Ronaldo. The £80million man is a super-athlete with trickery you cannot imagine, and a strike of a football that no-one can match. Portugal will not be expected to go all the way, but with this man on form don't rule them out just yet.
2 Wayne Rooney England

Many have regarded the World Cup of 2010 to be England's best chance to reclaim the trophy the last won in 1966. A team that all over the pitch contains world class quality, and a team on it's day could be magnificent. But what a bonus if this man could be on top form for the Three Lions, Wayne Rooney. His luck with international competitions has been absent, but after the season he just had if he could reproduce the goals and form then England will go a long way.
1 Lionel Messi Argentina

Our number one needs no explanation. The best player in the world, and arguably already one of the greatest of all time. Some people say all he needs now is a World Cup winners medal and he can be named in the same vain as his legendary coach at Argentina. With huge question marks over whether or not Argentina are stable enough to win the competition, Messi will be looked on as the man to take them all the way and cement his name in football history forever.