Rafael Moreno 'Pichichi' Aranzadi at Athletic Bilbao; Lev Yashin at Dynamo Moscow; Uwe Seeler at Hamburg; Billy McNeill at Celtic; Tony Adams at Arsenal; Giuseppe Bergomi at Internazionale; Paolo Maldini at Milan; Ryan Giggs at Manchester United; Francesco Totti at Roma; Jamie Carragher at Liverpool; Iker Casillas at Real Madrid; and Carles Puyol at Barcelona.
All of the above mentioned had/have a symbiotic relationship with their respective clubs as homegrown products who spent their entire youth and senior careers at the same club. Yet for Diego Maradona and Napoli, never had a foreigner touched so many locals, perfectly represented the South's socio-economic status with his humble origins, become a club figurehead and inspired ground-breaking title challenges in 1987 and 1989.
However, the details of his departure, from links with the Camorra mafia to cocaine abuse to a bitter contract wrangling, tarnished Napoli's already bruised image (from frequent fan violence since the 1950s) and the years since were a struggle: disappointing league finishes, an upheaval of mangers (an astonishing 26 since Maradona's departure, not counting co-managers as two different coaches, up to Walter Mazzari's arrival in 2009), the 1980 Totonero betting scandal and bankruptcy and relegation to Serie C in 2004. Saved by film producer Aurelio de Laurentiis' millions, which had remarkable parallels with Salvatore's return to Rome to renovate the theatre in Cinema Paradiso, the Partenopei have bounced back with three straight promotions since 2007, consistent qualification for Europe and are now among the favourites for the Serie A title.
In their sixty year history before Maradona's arrival, Napoli won just two Italian Cups – despite their fevered support making them one of the most fan-driven clubs in the world, the multi-million investment of Achille Lauro in the 1950s and 1960s and some stellar signings: Attila Sallusto (1925-37), Hasse Jeppson (1952-56), Luís Vinício  (1955-60), Omar Sívori (1965-69) José Altafani (1965-72), Dino Zoff (1967-72) and Ruud Krol (1980-1984). Maradona, however, was of a different class. He had scored 181 goals in 245 club games since his debut as a 15 year old for Argentinos Juniors; was Argentina's key player and dependent, despite his tender 22 year age, at the 1982 World Cup; had a unique hybrid of being quick, skilful (popularising the Rabona) and having a low centre of gravity, yet was strong in holding up the ball; and at just 24, had already established himself as one of the world's greatest footballers and but for crippling injuries, which he recovered remarkably well from and showcased his often underrated mental strength, affecting the amount of appearances he made and disputes with Barcelona's notorious president, the dictator-like Josep Lluís Núñez, Maradona would have become one of Catalonia's all-time great representatives.
Having already held the title of the world's most expensive signing, after signing for Barcelona for a cool £5 million from Boca Juniors in 1982, Maradona broke the record again: arriving at Napoli for £6.9 million. Napoli had finished just 11th, out of 16 teams, in the 1983/1984 Serie A but the Italian entrepreneur Corrardo Ferlaino, who had been president between 1969 and 1971, returned in 1983 to oversee mass rejuvenation of the squad. Aside from the promotion of the impeccable Ciro Ferrara, the likes of Simone Boldini, Salvatore Bagni, Walter de Vecchi, Domenico Penzo and Daniel Bertoni were all bought in Felaino's first two years as president between 1983 and 1984. Maradona, though, was the marquee signing that would put Napoli back on the map and with few clubs able to afford Maradona's wages, or in fear of Maradona's perceived injury-proneness, Napoli seemed the perfect club.
After all, Maradona sought a president who would not be authoritarian or over-interfere in team affairs and Ferlaino was certainly of that mould. Also, Maradona always had a deep love of passionate football fans, with Argentinos Juniors, Boca Juniors and Barcelona certainly providing the partisan following that Maradona had then become accustomed to – but, surely, even he did not expect the welcome he received at the San Paolo. With the help of local politician Vincezo Scoti, who used his connections with Italy's banks to get Napoli the loan for the record transfer fee, Napoli announced the signing of Maradona on 5 July, 1984 – some 43 days after negotiations were opened which led to a mixture of panic and euphoria spreading through the streets of Naples, anxious about whether and when their prophet, the man the North could not afford, would finally arrive. With 75,000 fans paying 1,000 lira each and 252 journalists and 78 photographers in attendance, Maradona's unveiling was unprecedented in size and set the tone for future superstars' big-money moves. The poverty-stricken and crime-ridden Naples, without some of the basic services that were taken for granted in the North, now had the world's most exciting and iconic footballer.
Napoli's first two seasons with Maradona, from 1984 to 1986, reflected the fact that he was still maturing and that the team were slowly progressing into title challengers. After their countless relegation battles in previous years, Napoli finished a respectable 8th in 1984/1985 and an impressive 3rd in 1985/1986 (beating Milan (2), Internazionale and Juventus, and qualifying for the UEFA Cup). The arrivals of Alessandro Renica and Bruno Giordano in 1985 certainly boosted the quality of the squad, but Ferlaino's appointment of club favourite Ottavio Bianchi in the summer of 1985 was the key turning point in Napoli's history. With Maradona scoring 31 goals in 60 games for Napoli between 1984 and 1986 and starring, outshining and inspiring an Argentina team that contained the might of Jorge Valdano and Jorge Burruchaga to the 1986 World Cup, it was clear that 1986/1987 was going to be the peak season for the world's best player.
In a complete contrast to his influence at Barcelona, inhibited and undervalued by Núñez, Ferlaino valued Maradona's input and this is certainly reflected in the summer signings of 1986. Working in tandem with Bianchi, the trio put together a shortlist of domestic-based players that could give Napoli that final touch of creativity and prolificacy that they had over-relied on Maradona for. After all, while Maradona did in some ways lead Argentina to that 1986 World Cup trophy, that was over the course of just seven games and he had the accompanying Burruchaga and Valdano to assist and finish for him. He lacked those figures up until 1986/1987 at Napoli so aside from the key signing of defender Tebaldo Bigliardi, the final third prowess of Fernando de Napoli, Francesco Romano and Andrea Carnevale also arrived. As newly-appointed club captain by Bianchi, Maradona's Midas touch was soon evident and Napoli won their first ever Scudetto, beating the Northern financial muscle and illustrious history of rivals Juventus and Milan home and away. Finishing with 17 goals in 41 games, Maradona was again Napoli's talisman in their groundreaking season – which also included a 4-0 Coppa Italia victory over Atalanta.
Remarkably, yet somewhat unsurprisingly, this was the first time a team from the South had won a Serie A title, let alone a double, in the league's 89 year history so the surge in Neapolitan babies being called Diego or the selling of 'Holy Diego' statues alongside those of the Virgin Mary may not seem as unbelievable as they first seemed. However, 1987/1988 did not prove to be as so brilliantly successful for Napoli as a whole, despite the signings of Giovanni Francini and Careca, and Maradona's brilliant 21 goals in 39 matches. A dramatic and uncharacteristic late season slump of just five points from the final seven league games, which has since been linked to a rumoured betting scam, allowed the steely Milan to claim the title by just three points. Napoli also went out in the first round of the European Cup, albeit to a strong Real Madrid outfit, but having qualified for the UEFA Cup for the 1988/1989 season, Napoli had a realistic chance of winning their first European trophy.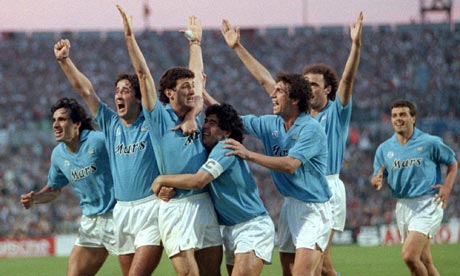 Defeating stellar Juventus, Stuttgart and Bayern Munich sides along the way to the 1989 UEFA Cup triumph, the frontline of Careca, Giordano and Maradona dazzled, were brilliantly in sync and were perfectly propped up by the tireless De Napoli and Alemão, With Internazionale winning the title by eleven points, over the second placed Napoli, Bianchi saw the European triumph as the perfect time to sign off. Up stepped the then up and coming 42 year old Alberto Bigon, who played for Napoli and coached Reggina and Cesena. However, behind the scenes things were not as straightforward. Maradona fell out with Ferlaino, after he was denied a move to the then mighty Marseille, and threatened to tear up his contract. Incredibly, Maradona cancelled 34 flights back to Naples from exile in Argentina in protest and from this, missed the opening four matches of the season. Even though Gianfranco Zola had emerged, having been spotted by the notorious Luciano Moggi, Maradona, at 29, still had a lot to give. However, his lifestyle, with frequent photos with members of the Camorra mafia who were synonymous for cocaine dealing, was reflecting his waning attitude: missing training sessions, complaining publicly about being dropped and putting on excess weight.
Remarkably, though, despite these distractions and inhibitions, Maradona had one of his best seasons at Napoli: scoring 18 goals in 36 games and cementing his status as one of the most influential and inspiring footballers of all-time with the club's second Serie A title in three years. Such was Maradona's status in Naples, that before Argentina's win over Italy in the 1990 World Cup semi final at the San Paolo stadium, he roused a sizable Southern support with the emotive:
 For 364 days a year the rest of Italy treats you like s***. Today, they want you to be Italians and support their team. No way. I am Napoli 365 days a year: I am one of you. Support Argentina!
From this, the Argentine anthem was the only one not to be wholeheartedly booed at the tournament and this episode epitomised what Napoli and Naples had continued to become under Maradona, with its own Neopolitan first, Italian second, identity and autonomy.
There was to be no dream European Cup swansong to Maradona's time at Napoli, with the Partenopei disappointingly going out in the second round to Spartak Moscow. Ironically, somewhat, Marseille went on to reach the final in the same 1990/1991 season and even though Maradona was clearly enjoying the support and attractions of Naples, it finally caught up with his football career: an illegitimate son, frequent club fines for 'stress leave' and a worldwide fifteen month ban in March, 1991 for testing positive for cocaine (with Napoli alleged to have protected Maradona from doping tests up to this point). It was a sad, yet somewhat predictable, end to Maradona's time at Napoli and the club finished a disappointing 8th that season. Without their inspiration, figurehead and talisman, Napoli were never the same. Despite potentially promising foundations with a 4th place finish under Claudio Ranieri in 1992, debt from bank loans led to the sale of key players like Ferrara, Zola, Careca and Daniel Fonseca by 1994. A fall in the league standings reflected this: 11th in 1993, 6th in 1994, 7th in 1995, 12th in 1996, 12th in 1997 and 18th (won just two league matches all season) in 1998.
Ferlaino and his frivolous spending had long since departed and the club instead reverted to the ineffective use of year-long and part-time honorary presidents, such as Vincenzo Schiano di Colell and Gian Marco Innocenti. After narrowly winning promotion back to Serie A in 2000, hopes were high that Napoli could stay in the league, armed with high earners like Edmundo, but the club went straight back down and worse was to come. Napoli endured back to back relegations between 2002/2003 and 2003/2004 and with unsustainable debts totalling an incredible €70 million, owing much to a non-existant wage structure for two decades, Napoli were declared bankrupt at the end of the 2003/2004 season. Aurelio De Laurentiis stepped in, as a lifelong Napoli fan, and founded Napoli Soccer, who had to begin league life in Serie C1.
Remarkably, in these lower league matches, Napoli maintained the third largest attendance in Italy, anything up to 51,000 per home game, and won promotion to Serie B in 2005/2006 and promotion back to Serie A in 2006/2007 (beating the 'big five' of Internazionale, Milan, Juventus, Fiorentina and Udinese in their return season). With the low-key signings of the then youngsters Ezequiel Lavezzi and Marek Hamšík and the long-term (in the five year Calcio sense) backing of manager Edoardo Reja, it was clear that a shift in Napoli's policy had taken place under the stable De Laurentiis. However, after Roberto Donadoni replaced Reja, who failed to steer Napoli into the European places (such was the remarkable shift in expectations), and fared worse, Walter Mazzarri was appointed in October, 2009.
Mazzarri, while eccentric and stubborn, was harshly treated by Sampdoria, who have since fallen dramatically. With his unique 3-4-1-2 formation, Mazzarri has provided perfect balance. Veteran goalkeeper Morgan De Sanctis has been rejuvenated by Mazzarri, after a fruitless spell at Sevilla, and few can match his shot stopping and agility in the league. The potent and tireless wing back threat of Juan Zuniga and Christian Maggio are covered by the formidable, such is Mazzarri's achievement with these 'average' (on paper) defenders, trio of Hugo Campagnaro, Salvatore Aronica and Paolo Cannavaro (Napoli's modern day Maradona, minus the volatility). The signing of Gökhan İnler from rivals Udinese was a coup at €13 million and the Swiss, alongside Walter Gargano, is the perfect foil for Hamsik's free roaming and influence.
Replacing the inconsistent, yet hometown hero, Fabio Quagliarella with the highly-priced Edinson Cavani was also a bold move by Mazzarri, but has paid off handsomely: Cavani's striking gaunt looks, lion's mane-like hair, work rate, brilliant skill and 29 goals in 39 games helping to make him the fans' biggest hero since Maradona. Mazzarri's conversion of Lavezzi (12 assists in 29 games last season) to an unselfish creator and use of Hamsik (6 assists in 36 games in 2010/2011) as the trequartista and creative focal point are just two of the reasons behind Cavani's incredible goalscoring consistency.
Having defied expectations in finishing 6th in 2009/2010 and 3rd in 2010/2011, Napoli already look well-placed to seriously rival the title favourites of Milan, Juventus and Internazionale. The 3-1 home win and the 3-0 away win over champions Milan and rivals Inter respectively reflects the progress the team have made, but the 1-0 defeat away to Chievo and the 2-1 home loss to Parma are reminders of Napoli's failure to carry out their big-team consistency against smaller and poorer clubs. Draws with Bayern Munich and Manchester City and a win over Villarreal also make a decent European run a distinct possibility, with an improvement on their best ever finish of the second round in the European Cup obtainable.
So, all in all, after over 20 years of worship of the past and a volatile paradox that finally gave Naples a voice but who let down the club with his off the field activities, Napoli have finally put together a well-drilled side capable of banishing the 'Maradona titles' of 1987 and 1990.