Six seasons without a trophy.
This is the stark reality facing Arsenal's most groundbreaking manager since the great Herbert Chapman. Chapman left a lasting mark on Arsenal's history and philosophy as he transformed Arsenal from relegation candidates to league winners, invented the WM formation and developed a very effective counter-attacking style. Wenger has left a similar impact.
After all, Wenger spearheaded the revolution of Arsenal's youth scouting network, brought in his own dietary and fitness regimes – which prolonged the careers of veterans like Tony Adams, Martin Keown, Nigel Winterburn and Lee Dixon – and achieved brilliant success with a modest transfer outlay. However, while Wenger's refusal to match rivals' enormous spending has led to Arsenal being lauded as one of UEFA's model clubs for the Financial Fair Play Rules from 2014, without serious spending, they are in danger of dropping out of the top four – for the first time in Wenger's reign.
Wenger's time at Arsenal can be divided into two distinct eras: 1996-2004 and 2004-2011. From 1996-2004, the Gunners won three Premier League titles and four FA Cups. Their 1997/1998 double, Arsenal's first double for twenty six years, was won by a predominantly experienced group with Nicolas Anelka (19), Patrick Vieira (21), Ray Parlour (25), and Marc Overmars (25) the only regulars under the age of 26 at the time. In Arsenal's next Premier League victory in 2001/2002, experience continued to dominate the squad with Sol Campbell (28), Robert Pirès (29) and Dennis Bergkamp (33), but the origins of Wenger's use of younger players were evident in the promotion of Ashley Cole (22) into the first team, and the signings of Freddie Ljungberg (24) and Thierry Henry (24).
Arsenal's last title win in 2003/2004, when they finished the season unbeaten, saw the Gunners cruise to the title with predominantly experienced players such as Gilberto Silva (28) and Jens Lehmann (35). Again, only a handful of players like Cole (24), Kolo Touré (23) and José Antonio Reyes (21) were under the age of 26. Previous Premier League winners Blackburn Rovers, Manchester United, Chelsea and ironically Arsenal have shown that only a handful of squad regulars can be under the age of 26. While much was made of 'Fergie's Fledglings' in 1995/1996, United still had the likes of Steve Bruce (36), Peter Schmeichel (33), Dennis Irwin (31), Gary Pallister (31) and Eric Cantona (30) to balance the introduction of Ryan Giggs (23), Paul Scholes (22), Gary Neville (21), Nicky Butt (21), David Beckham (21) and Phil Neville (19) into the first-team squad. Arsenal, since 2006, have failed to achieve this balance.
With the Roman Abramovich era in full-swing, following Chelsea's title victory in 2004/2005, and with higher club revenues from TV deals and Premier League prize money, increased spending from title challengers was paramount. Manchester United bought Wayne Rooney for £30 million in 2004, Michael Carrick for £18 million in 2006, Anderson and Nani for a reported combined fee of £30 million in 2008, Dimitar Berbatov for £31 million in 2008 and Antonio Valencia for £20 million in 2010. Even Liverpool, in maintaining their challenge for the top places, have spent big with the acquisitions of Fernando Torres for £20 million in 2007, Glen Johnson for £17.5 million in 2009 and Jordan Henderson for £20 million in 2011. Obviously, spending big does not result in guaranteed success but the financial ambition shown by the likes of Tottenham, Manchester City, Liverpool, Chelsea and Manchester United has eclipsed Arsenal's since 2006.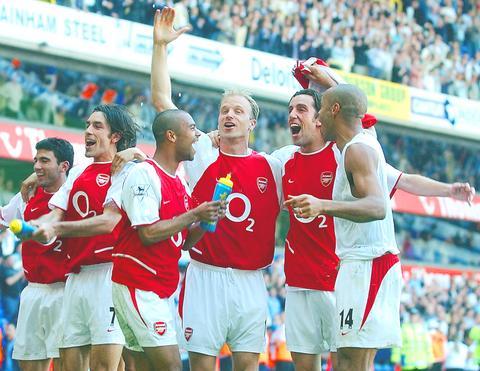 From 2006, coincidentally when the Gunners moved into the Emirates, Arsenal have lost a host of experienced squad members and have not replaced them with players who, in the short-term, can provide similar quality. Having just reached their first ever Champions League Final, and having convinced Henry to stay, the summer of 2006 was important in maintaining Arsenal's progress. However, Arsenal sold and released a host of key players including Campbell, Lauren, Pires, Cole and Reyes. While most of that group looked like they were coming to the end of their careers, or in Reyes' and Coles' case, that they had burnt their bridges, they were not adequately replaced. The arrivals of William Gallas (prospered at Marseille and Chelsea as a right-back, regardless of his preference to play at centre-half), Tomas Rosicky (unfortunate run of injuries) and Júlio Baptista (inconsistency) failed to fill the voids of Campbell, Pires and Bergkamp (who left in 2005) respectively. Arsenal finished a dismal 4th.
The summer of 2007 followed a similar pattern with talisman Henry departing for Barcelona and Ljungberg moving to West Ham United. The starting XI had a distinctly youthful feel with the average age, at the time, of Manuel Almunia, Bacary Sagna, Touré, Gallas, Gaël Clichy, Eboué, Mathieu Flamini, Cesc Fàbregas, Alexander Hleb, Emmanuel Adebayor and Eduardo da Silva being just 25 years and 6 months. Only Gallas, Touré and Clichy had previously won the Premier League, while Eduardo was the only member of the starting XI who had a won a title elsewhere (Dinamo Zagreb in 2006 and 2007). This lack of experience and a winning mentality showed as Arsenal drew a whooping 11 matches in the Premier League – which dashed their league aspirations after losing just 3 league matches all season. The horrific broken left fibula and dislocated ankle suffered by Eduardo, in the 2-2 draw against Birmingham City at St. Andrews in February, sadly epitomised Arsenal's non-exsistant ruthless streak that champions needed. Arsenal were understandably shell-shocked from the injury on eight minutes but failed to dispatch an ordinary Birmingham side in a key game, which saw captain William Gallas sit down and sulk inside the Arsenal penalty box after the final whistle. The Gunners finished the season 3rd; trophyless.
The 2008 close season saw Arsenal lose key players without replacing them but rather than the players citing a lack of ambition or their time at Arsenal coming to an end, they blamed Arsenal's incredibly tight wage structure. Flamini, who had filled in brilliantly for Patrick Vieira since establishing himself in 2006, left the club to join Milan on a Bosman; the only reason he left was because Arsenal did not want to reward him with a pay rise. A similar situation occurred with Hleb, who departed for Barcelona. The youngster Denílson failed to impress in Flamini's absence while Andrei Arshavin's 31 January  arrival proved too late for Arsenal's title push. Arsenal finished 4th – a massive eighteen points off league winners Manchester United.
While teams go through cycles of players every six to ten years, the cycles at Arsenal have been even smaller. By 2009, Clichy and Fabregas were the only members of the squad who had been at the club for more than five years. This lack of player stability left Arsenal constantly taking a gamble and hoping 'Player X' would finally deliver. While a huge profit was made by selling the boisterous Adebayor to Manchester City for £25 million, the loss of Touré was needless. It forced Wenger to re-sign Sol Campbell, 34 at the time, in January and even though Thomas Vermaelen flourished in his debut season, and Fabregas had his most fruitful season at Arsenal, the Gunners finished empty-handed for the fifth consecutive season.
2010/2011 saw, for the first time since his arrival at the club, Wenger's transfer policy and management being seriously questioned. The Arsenal board always claimed there were significant funds available if  Wenger wanted to make purchases but he spent just £12 million in the summer, when he bought defenders Laurent Koscielny and Sébastien Squillaci. The average age of the squad and first XI had dropped dramatically – even in the space of two seasons. 23 years and 7 months was the average age of Wojciech Szczęsny, Sagna, Johan Djourou, Koscielny, Clichy, Alex Song, Jack Wilshere, Samir Nasri, Fabregas, Walcott and Robin van Persie. Despite some progress being made from last season, a now 'traditional' disastrous dip in form, from the end of February to March, saw Arsenal knocked out of three competitions and they also lost ground in the league. Youngsters Szczęsny and Wilshere were two positives in an otherwise disappointing campaign.
Szczęsny, at 21, has impressed in comparison to his elder predecessors (Almunia and Łukasz Fabiański) but his tender age showed in a lack of communication with his defence – as seen in the collision with Koscielny which allowed Obafemi Martins to win Birmingham the Carling Cup. Obviously, there is great potential in him but Arsenal really could not afford to blood a keeper mid-season, when they had title aspirations, so being number one from the start of next season will be of great benefit to the Pole. Incredibly, four different goalkeepers lined out for Arsenal last season, with Lehmann bizarrely re-signing at 41 years of age, so Wenger backing Szczęsny will be crucial.
Jack Wilshere is also evidence of Wenger's trust in youth paying off. Considering Chelsea did not regularly use young talents like Daniel Sturridge (21), Gaël Kakuta (19) and Josh McEachran (18), Wenger's bold use of Wilshere in 49 games this season was groundbreaking. Even at just 19 years of age, Wilshere has had a huge influence through his dictation of both Arsenal's and England's tempo and his flawless passing. The Champions League first leg against Barcelona in February epitomised these attributes as Wilshere completed an impressive 93.5% of his passes overall and 91% of his passes in the final third of the pitch. He did not look anyway out of place against Xavi and Andrés Iniesta.
We have to strengthen the squad where it needs it and make the right decision. It's always in my mind, everyday.
Backed by 30% shareholder Alexander Usmanov, Wenger has finally admitted that spending is needed. The summer of 2011/2012 could be the busiest in Arsenal's recent history. However, while it is likely Wenger will produce a positive net spend for the first time in six seasons, there are younger players who can fill positions. With left-back Clichy on the move, possibly to Liverpool, it seems likely that Wenger will stick to his guns and continue with his use of younger players like Kieran Gibbs to replace some departures. Clichy's form over the past two seasons has been inconsistent and his defensive lapses have been frequent, and costly. However, while Gibbs is highly rated by Wenger, injuries have curtailed his development and he has struggled for form since returning from two metatarsal breaks in fifteen months.
Centre-half is an area that Arsenal need strengthening in with Squillaci proving to be a liability. Even with Koscielny and Vermaelen starting the 2011/2012 season fit, Arsenal will need at least one addition as their rivals have a host of options: Chelsea have John Terry, David Luiz, Alex and Branislav Ivanovic; Manchester United have Rio Ferdinand, Nemanja Vidic, Chris Smalling and Jonny Evans; and Manchester City have Vincent Kompany, Joleon Lescott, Jérôme Boateng and Kolo Touré. Gary Cahill of Bolton and Christopher Samba of Blackburn Rovers are names that have been linked with Arsenal over the past twelve months and would certainly provide the height, high ball comfort and defence/threat from set pieces that Wenger requires.
Regardless of whether Wenger can hold onto Fabregas and Nasri, Arsenal will definitely need a Busquets-like player infront of their defence in the centre of the park – something they have lacked since Gilberto Silva left in 2008. Abou Diaby's unfortunate luck with injuries, along with his questionable temperament, has meant this crucial position has been a weakness for Arsenal for three seasons. Alex Song's temperament has not faired much better and while Wilshere and Fabregas are comfortable collecting the ball from the halfway line, neither relishes nor thrives in the tackle. Rennes' Yann M'Villa, who has starred as France's anchorman under Laurent Blanc, would be an option if Wenger wanted to spend big. Another could be West Ham's Scott Parker and although Wenger has shyed away from signing English players since he was stung by Francis Jeffers in 2001, Parker would not command a huge fee due to West Ham's relegation and his 30 year age. He has already proved that he can play at the highest level with England and has the leadership that Arsenal have lacked in recent seasons.
With Arshavin likely to leave and the jury still being out on Walcott's consistency, Wenger may look at the right-wing position to strengthen. While being noted for playing mainly through the middle and on the left, Lille's two-footed attacker Eden Hazard is highly rated by Wenger. Hazard has shown that he is comfortable playing anywhere in attack, including the right-hand side, when he switches flanks. Possessing pace, consistency, trickery, vision and great finishing, Hazard could be the perfect answer for Wenger. Again, like with M'Villa, the Belgian would command a high fee but is one of Europe's hottest young properties, having starred in Lille's Ligue 1 and French cup double.
Robin van Persie had an impressive season, scoring 22 goals and providing 7 assists, despite missing patches of the season through injury. Arsenal are increasingly reliant on the Dutchman but it is now accepted that he will miss parts of the season due to injury. Therefore, Arsenal need to purchase a back-up who can provide a similar goalscoring threat. Without van Persie, Nicklas Bendtner and Marouane Chamakh never possessed the same threat and it is likely that both will leave this summer. While being noted for playing mainly on the right-wing rather than up front, Lille's Gervinho looks likely to join and could, like Henry was in 1999, be converted from a winger to a consistent goalscorer by Wenger. Even though Gervinho is not as tall as Bendtner or Chamakh, he offers much better quality, technique and pace and at just 24 years of age, Gervinho could play a big role in Arsenal's future.
There is no doubting that this is one of the biggest summers of Wenger's fifteen year reign at Arsenal. With the money seemingly there to be spent and with four key areas to strengthen, Wenger must finally do what Kenny Dalglish, Roberto Mancini and Sir Alex Ferguson have done and will do – spend.