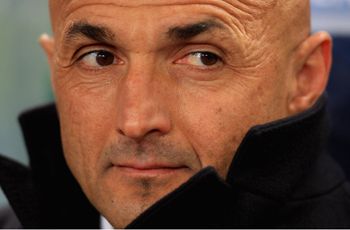 Luciano Spalletti's Zenit go 10 points clear after overcoming stern resilience from the defending champions Rubin Kazan. As is customary when top teams go head-to-head, the affair was scrappy, scruffy, and foul-drenched.
The tone was set early on; Lasha Salukvadze's ambitious carry met by Hubočan's poised bicep. The Georgian failed to recover from the incident, and Yevgeni Balyaikin was subbed on mere seconds after the referee's first peep.
This proved handy for Zenit, who tormented the Russian U21 international. His penchant for trying to cut or take the ball as soon as possible wasn't working, allowing Danny and Kerzhakov to seize control.
As the game ambled by, revenge for the fallen Georgian and tactical fouls at the fore, Zenit continued to target him. The other stretch of the pitch was a graveyard; Ansaldi – subdued but steely – bolted the lacklustre Bystrov, and Kasaev did his work infield.
The home side were growing frustrated by the determined and commanding Rubin backline, although several frustration hoofs – often brought by their most enterprising defender Meira as Rubin pressed/sat in a 4-4-2 – had Ryzhikov zooming to clear.
Mainly, Zenit were frustrated by the fact Rubin were more fluid and hasty in the final-third. Although Karadeniz was well-tracked by Lombaerts, Sergei Semak pulled the strings.
With Zenit's formation a jumble of 4-1-4-1 and 4-3-2-1, Semak ran riot in the gap, aided by the particularly poor game Igor Denisov was enduring. Denisov was easily spun, plodding in possession, and fouling more than most.
Although the St. Petersburg side had Rubin's DMs in a mousetrap, the visitors targeted Zenit's left-side. With Hubočan timid and Danny often late to track, Semak, Bystrov and Balyaikin engineered clever triangles.
Yet for all this canniness, Malafeev didn't have a save to make. Some were skied, others blocked – ultimately, Rubin had the better of 1st half play, and failed to take advantage.
Vladimir Bystrov's ineffectuality was brought to an end in the 33rd minute as Alessandro Rosina entered. The Italian offered way more penetration on the right, and the hosts took the lead not long after.
Alan Kasaev had started to veer more towards the right; collecting passes, standing as Balyaikin launched a dummy overlap, before dropping a shoulder and jinxing inside.
In first-half injury time, Denisov at last did something effective, wave-breaking superbly. The long-diagonal was swift, Danny trapped, then delivered his favourite method of pass – a scoop with the right foot's little toe – for Zyrianov.
The left-footed volley was bulletted prior to scrambled closing; Ryzhikov parried, only for Kerzhakov to return-steer it into the net with the confidence of Rafael Nadal.
Part two of the Russian Premier League's joint weekend highlight – Spartak face CSKA later today – was a bit more open, although set-pieces were still coming to nothing.
Zenit in particular had a plethora of corners, but all short tries were guarded, and the resultant outswung ball was cleared by the first line of defence in a swamped box. Free-kicks were directed at the wall.
So it was little surprise when the second goal came from another Zenit counter, and a hopeful ball across the box. Hubočan crossed aimlessly, Ansaldi obviously expected his erratic goalkeeper – who'd spent the game flapping at every set-piece – to come and collect the ball. He didn't, it trickled harmlessly across no-man's-land, so Kerzhakov crept in and placed his header in the corner.
The celebration was just as ostentatious as the first; less for himself and the fans, more to let watching and waiting Aleksandr Bukharov – recently purchased from Rubin – know that the feisty livewire isn't going down without a fight.
Obafemi Martins soon arrived to make his debut, instigating positional changes for others. Sergei Semak went over to the left, Andrei Gorbanets to the right, and Turkish international Karadeniz played off the Nigerian.
Although Martins was isolated, abandoned and anonymous, Karadeniz thrived in this new role. His jinxes and dribbles were mesmerising; alas the thick-walls piled on the box-edge nullified the shots he cleverly dropped shoulders to make.
But as they frantically searched for something, anything, Rubin's limitations were plain for all to see. Zenit, led by the infectiously confidence-ridden Rosina, exploited the fresh space without ever troubling the 'keeper.
The former Torino man is a great weapon at Spalletti's disposal, and pivotal to his side's cause. Cesare Prandelli – are you watching?
Russian coach Dick Advocaat certainly was afforded red carpet treatment by his former employers. Kerzhakov got his point across bluntly enough, as did his team, who surely can't squander their grip on the Championship trophy.