Who has made Back Page Football's team of the season? With an on-loan goalkeeper, some rock solid defenders, greatly improved wide men, goal scoring centre midfielders and an all too predictable striker partnership, this is who we think stood out over the 2009/10 season.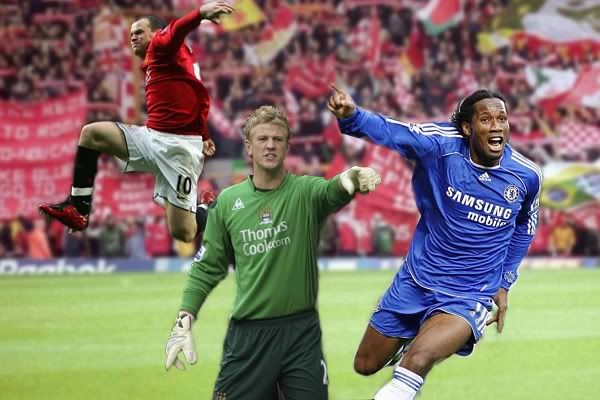 Joe Hart
Both Joe Hart and Pepe Reina played major roles in their club's seasons, and together they amassed ten and sixteen clean sheets respectively. But for me, England's U21 stopper – and no doubt future senior number one – just edged it. Hart was a revelation for Birmingham, one of the main factors which had them competing in the top seven of the league for so long, before finishing a very respectable ninth in their first season back from the Championship. With amazing save after amazing save, Hart was the iron door behind the even stronger concrete wall that was his defensive backline. If a team managed to find a crack in the wall, they still had to knock down the door which proved a mountainous task, just ask Chelsea.
Branislav Ivanovic
Both Man Utd and Chelsea were without their first choice full backs this year, while the likes of Bacary Sagna, Micah Richards and Vedran Corluka failed to set the league alight. Glen Johnson emerged as one of the signings of the summer as he stormed into the Liverpool right back position notching a few goals and a couple of assists in his first few games, but a lengthy injury put him out of action for much of the Winter and early 2010 period. Carlos Cuellar was also an admirable improvement at the back for Aston Villa, but I've given my right back slot to Chelsea's Branislav Ivanovic. The underrated defender is potent aerially, strong in the tackle and comfortable defensively, Ivanovic has been a huge performer for Carlo Ancelotti as they battle for the Premier League title.
Michael Dawson
A number of centre halves have stood out this season, Thomas Vermaelen and Richard Dunne are two transfers which improved their clubs immensely. But it is the superb Michael Dawson of Tottenham who gets the nod as my first choice centre back. Dawson has been in and out of the Spurs team over the years, but this season has emerged as one of England's best defenders after his compatriots Ledley King and Jonathon Woodgate both missed chunks of the season through injury. With the captain's armband at the Lane, Dawson could be a not so surprising inclusion in Fabio Capello's World Cup squad after his masterful displays over the past season.

Nothing gets past him.
Roger Johnson
Similarly to Joe Hart, Roger Johnson has been a defensive revelation for Birmingham this season, who have placed their season's successes on the defensive battle-fort that has been created with the man who was signed from Cardiff for a mere £5million. Time and time again Johnson has put his body on the line and has been one of the most committed, determined and generally outstanding defenders for some time. A seat on the plane to South Africa may just be beyond the ex-Cardiff and Wycombe man, but after a phenomenal first season in the Premier League he'll certainly be on Capello's mind.
Ashley Cole
This past season Ashley Cole has stepped out of the shadows and has put down a marker as one of the best left backs in the game today. The speedy defender has shone but defensively for Chelsea this season as well as in attack, notching three goals and countless assists as one of the major components of Ancelotti's Chelsea line-up. Cole's impressive displays have kept £18million Yuri Zhirkov off the pitch, but a fractured ankle has kept him out for the last three months putting a speed bump to his colossal season. However Cole returned last weekend against Stoke, and is in line for a huge summer with England.
James Milner
The fifth Englishman and my right midfielder in the team of the season is Aston Villa talisman James Milner, who's astronomical improvement this season has him regarded as one of England's most talented young players and a dead cert for a place at this year's World Cup. After coming onto the scene in the early noughties at Leeds, Milner was never really regarded as anything more then a good young player, but after one of the finest seasons a player could wish for Milner is now the man on every-one's lips as a future star of English football. With seven Premier League goals and a huge number of assists, Villa's dependable and versatile key player is our right midfielder.
Cesc Fabregas
Arsenal's Spanish talisman has again put in a fine season's work which has been haltered with a leg injury just at the end. One of my most memorable moments looking back on the season came at the Emirates when Cesc skipped past a number of Spurs players directly after a Tottenham kick-off, before slotting the ball into the back of the net. A man with the weight of expectation on his shoulders, Arsenal have had to call upon Cesc on more then one occasion this season, even at the expense of an injury. Will he still be at Arsenal next season? England's loss would be La Liga's gain.
Frank Lampard
The Chelsea midfielder hasn't been exactly out of this world, but yet again managed to amass twenty league goals continuing his impeccable goalscoring record from midfield. A consistent performer throughout the season, his penalty conversions and goal after goal have probably been the important factors in Chelsea's and Carlo Ancelotti's first season in the job.
Florent Malouda
The flying French winger has never stood out more before this season. In his third season at Stamford Bridge since his £13million from Ligue Un, Malouda has been a very good performer for the Blues. But this season Florent has finally showed why so much money, and so much interest from clubs like Liverpool, were invested in him. Be it at left back during Ashley Cole's spell on the sidelines, or in his more familiar role at left midfield, Malouda has caused havoc in every game and has been a constant goal threat, notching a very respectable sixteen goals thus far.
Wayne Rooney
No surprises in the striker partnership I have chosen, Chelsea powerhouse Didier Drogba and Manchester Utd dazzler Wayne Rooney. Both have somewhat come of age this season, especially the man Sir Alex spent over £25million on from Everton. With the departure of Cristiano Ronaldo, Rooney stepped out of his shadow this season and showed exactly how good he is. The league's best player by a country mile, Rooney scored twenty-six league goals, and is the primary reason why United are so close to their nineteenth Premier League title.

Who made Back Page Football's team of the season?!
Didier Drogba
But the man currently stopping Rooney and United from championship glory is Chelsea big man Didier Drogba. The Ivorian forward has scored twenty-five Premier League goals, two of which came in the 2-0 win over Arsenal, and has pitched in with a further thirteen assists including two in the 2-0 win over Liverpool, proving how important he has been to the club.
Hart
Ivanovic       Dawson          R. Johnson           Cole
Milner           Fabregas        Lampard       Malouda
Drogba                Rooney
On the bench:
Pepe Reina – like a fifth defender, Reina has been a consistent performer for Liverpool.
Patrice Evra – another solid, consistent season for the Frenchman.
Richard Dunne – the Irishman was a bargain for Villa, heroic defender.
Antonio Valencia – classic wide man, every team needs one.
Tom Huddlestone – pulls the strings in midfield, can become a great player.
Darren Bent – potent finisher when given the chance.
Carlos Tevez – not only a work horse, but a lethal goalscorer.