1. Wish you were here…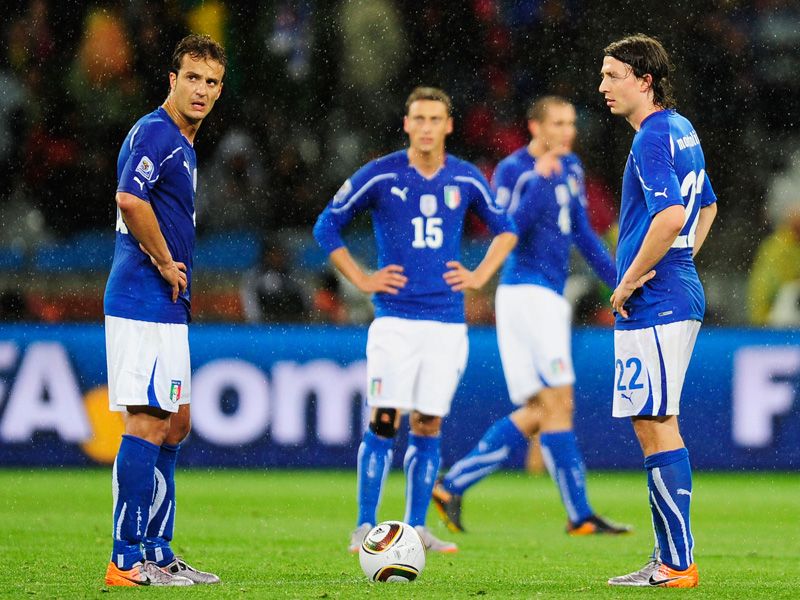 How bad do Italy miss Francesco Totti? Not just Totti, but how bad do they miss Alessandro Del Piero and Robert Baggio? The age of the trequartista seems to be over in Italy with the former two approaching retirement, and with the only other real candidate in Antonio Cassano being as mentally stable as Lindsay Lohan, Italy have suffered as a result. Marcello Lippi has been forced to switch to the now universally-favoured 4-3-3 ahead of the traditional 4-4-2 (or 4-3-1-2, with the '1' being the trequartista) and it just does not suit the current crop of players. They struggled to score in a weak qualifying group when compared to the other power nations at the World Cup – 18 goals compared England's 34, Spain's 28 or Germany's 26. Holland also only scored 18, but they played 2 games fewer than the Italians, and boasted the best defensive record of any European team. It was this lack of creativity that screamed at us through our television screens tonight – even now as the game has just finished, you would struggle to recall a clinical chance that fell their way. A paltry 10 attempts at goal sums up a thoroughly uninspiring performance, especially when compared to Argentina, England, Holland and France who all had their respective struggles this week. Argentina managed 20 shots on target against Nigeria – double Italy's tally – while the former three managed 18 attempts each in their own respective games.
2. Untraditional, Unfamiliar, Uninspiring
Italy just don't do 4-3-3 formations. It's a traditionally quick formation, for fast players and requires a lot of width from your two outside forwards. Iaquinta, the quintessential targetman, gets put out on the left and while he shows a Dirk Kuyt like persistance to make it work, it's just not a position he's suited to. You want him up top where Gilardino is, but then you're leaving out the more clinical striker of the two. One of them must be sacrificed for Italy's next game, and it should really be Iaquinta. Still, Italy's squad lacks the two suitable players you would want there. Ideally, you want an Nani, an Arjen Robben or a Theo Walcott out there. The best Lippi's side can offer is Di Natale and Pepe, both good players in there own rights, but still not entirely appropriate. Given this, if you don't supply the front men then it doesn't matter who you play there, and this was Italy's main downfall tonight. De Rossi played his holding role correctly without being outstanding, and popped up with a crucial goal. But Marchisio and Montolivio offered very little to Gilardino and co. up front. Montolivio is more of a traditional 'regista' type Italian midfielder, while Marchisio is a lot more emphatic in his tackling. It would have made more sense to have Montolivio as the furthest forward midfielder, but this is a role Marchisio found himself occupying and he looked uncomfortable. He is at his best bang in the middle of the park, where you get the best out of both his defensive capabilities and his great array of passing. Montolivio lacks the bite of his Juventus counterpart, so he would have been more suited in Marchisio's role. This was indeed shown when Camoranesi came on for Marchisio, and Italy looked more threatening than we had seen all night. With the 4-3-3, you also need a lot of forward runs from your full-backs, something we've seen Zambrotta do over the years on either side. The more defensive minded Domenico Criscito was reluctant to do this however, and Italy might be better served moving Zambrotta to left back and starting Napoli's Christian Maggio next time out.
3. As Expected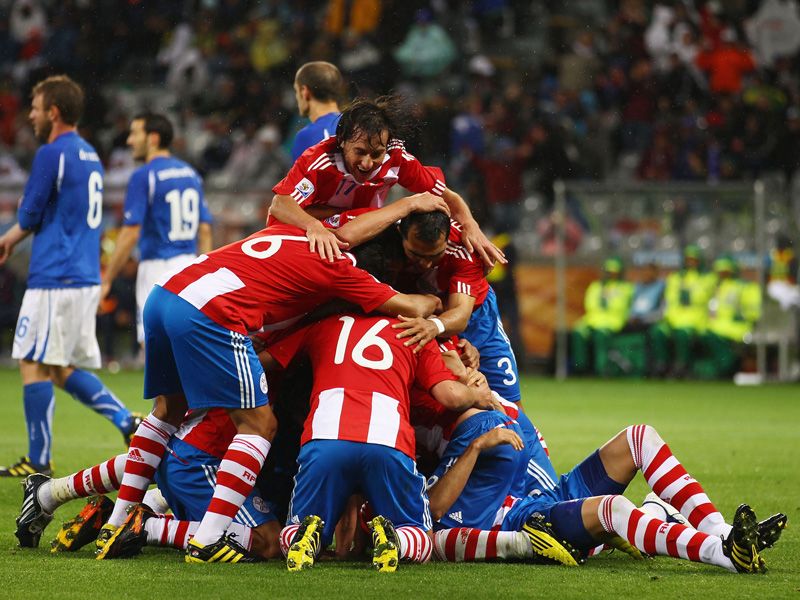 Paraguay have always been referred to as the most workman-like side to represent South America at this summer's finals, and they conformed to type again tonight. But let's be honest, Gerardo Martino was always going to set out his stall in the hope of containing the Italians and earning what would be an inevitably frustrating solitary point. They've achieved as much, albeit with a goal they never looked like scoring from their only attempt on target all night. That goal did however come about from their refusal to allow the Italian's to dwell comfortably on the ball. For the first 70 odd minutes, they were like a team of Carlos Tevez and Darren Fletchers, hassling the Italians at every opportunity. Martino's main concern will be the alarming rate at which fatigue set in come the midway point of the second half, but credit where it's due, Paraguay battled hard tonight and opinion will be split on whether they deserved their point or not. As if they care!