1. Cometh the Hour…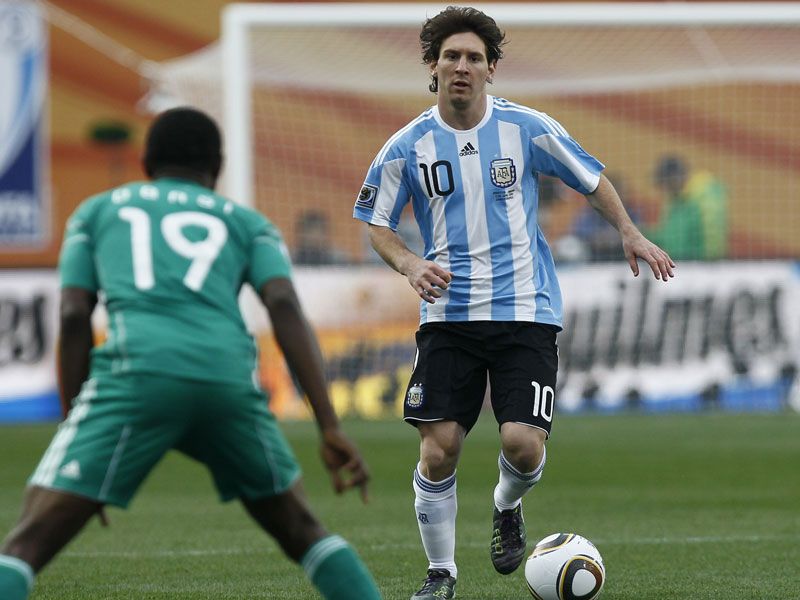 Cometh the man. The world was watching as Lionel Messi took the pitch in Johannesburg today, and the little wonder did not disappoint. Messi was at the centre of almost everything Argentina did going forward, and his personal duel with Nigeria 'keeper Vincent Enyeama was a delight to watch. Granted, Messi did not replicate the meteoric high performances we're used to fawning over at Barcelona, but he was Argentina's best player today and a variety of delicious dribbling and sizzling attempts at goal were a pleasure to watch. It's common knowledge that if Argentina are to go far this summer, Maradona will have to get the best out of the World Player of the Year. So far, so good.
2. In-Vince-ible
Arsenal were reported to have pulled out of a deal for Nigerian goalkeeper Vincent Enyeama, apparently unimpressed by his £2 million price tag. After witnessing him come out on top against Messi and co today (everywhere except the scoreline that is), Arsene Wenger must be kicking himself. Enyeama was in scintillating form. It takes the very best saves for a goalkeeper to capture the viewer's imagination, but today Enyeama made three world class stops, and looked assured on almost every occasion. £2 million? An absolute bargain, but you can be sure the 'keeper's stock will have risen dramatically after this display. With that, so has his price tag.
3. No Gut = Glory?
I don't like picking on a player after one match, but Jonás Gutiérrez looked uncomfortably poor at right back before he came off today despite the relatively poor opposition. It's understandable – not many left sided winger's are capable of putting in a shift at right back. What's baffling is that Maradona has a dependable Nicolás Burdisso and a highly-rated Nicolás Otamendi – both natural to the position – on the bench. Nigeria's only real threat came down the left in the first half. Coincidence? Not really, Gutiérrez was caught out several times leading to Nigerian chances. Surely Maradona will make a change for their next match against a highly organised South Korea.
4. All Eyes On Me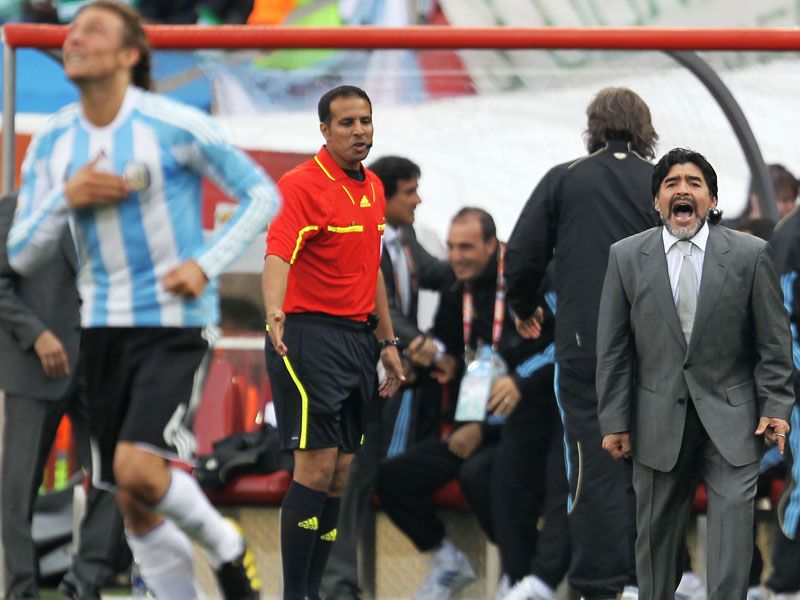 All eyes may have been on Leo Messi today, but all cameras were on Diego Maradona. With José Mourinho on holiday for the summer now that his future has been sorted, the media need a new controversial managerial figure to focus on, and it's in this role that Maradona thrives. Looking incredibly dapper in a designer suit, Maradona was flashed on our screens countless times during the match today. Despite a more or less comfortable victory, the fiery Argentina was seen barking at the fourth official on numerous occasions. A highly competitive South Korea await, and with tougher fixtures ahead in Argentina's inevitable forray into the knock-out stages, Maradona's temper will be tested. As a result, a sneaky trip to the bookies on Diego to see red and be sent to the stands may be in order.
5. Fallen Angel
Just a quick word on Angel Di Maria, who has been predicted by many – myself included – to steal the show this summer. It wasn't the best of World Cup births. Di Maria was anonymous for the majority of his 85 minutes on the field. Rather than the youthful exuberance of the Benfica winger, it was the masterful veteran touch of Juan Veron that dictated Argentina's approach. With Seba pulling the strings in the middle of the pitch and Javier Mascherano patrolling behind, Messi, Tevez and Higuain were allowed to flaunt their stuff up front. Despite the solitary goal, Argentina's attacking options will pose a lot more problems for teams later on in the tournament than they did against Nigeria today.
6. No Need For Stereotype
One thing you can be sure of, or so we're told, is the energetic and relentless athleticism from the African nations this summer. With that cliché, I raise you another: there are no sure things in football. Nigeria looked tired, if not lazy against an Argentine side who were content to stroke the ball around the pitch and make the Super Eagles work for possession – a task that was, for the most point, beyond them. Keeping up with our watch on how teams get around the pains of the Jubilani football, Argentina kept their passes short and – more importantly – relatively low. It worked, with Maradona's side controlling 58% of the possession today and rarely surrendering possession poorly.
7.  Threat as a Threat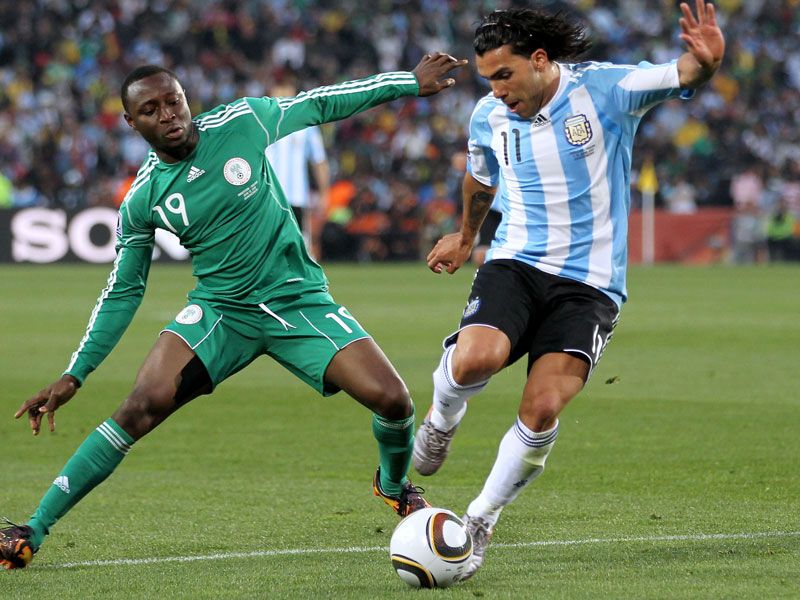 One thing we noticed about Argentina today was their main weapon. Not Lionel Messi, but their potential. With a relatively straight forward 4-3-3 formation, Maradona relaxed any defensive responsibilities to his front three. Lukman Haruna rarely got forward as a result – the threat of Messi, Tevez and Higuain's capabilities on any potential counter attack firmly outweighine the assistance Haruna could offer those ahead of him. This mentality hampered a lot of Nigeria's attacks today, with their forwards being vastly outnumbered on the break, but it worked a treat for Argentina. It may also come off against South Korea and Greece, but with potential knock out clashes ahead where they may be underdogs against the likes of England and Spain, sticking with this approach for the whole tournament may be ill advised.