Liverpool have undergone a regeneration this summer. After last season's debacle on and off the field, things couldn't have gone worse for Liverpool fans, but after the summer that has past – positivity is back in the eyes of many fans, and the gloomy 09/10 season has already become a distant memory.
Whether or not Roy Hodgson can weave his magic in bringing the glory days back to the club remains to be seen, but he is certainly reviving various traditions that have been lost along the road. A refreshing honesty in his words, lovely interaction with the media and on the field – the recreation of some beautiful football. It's what some might call the honeymoon period, something that will be forgotten come Christmas time, but if there ever was a man to rekindle faith in the club and in the players, and revive the dynasty that created it – it's Roy Hodgson.
In previous previews I've delved into last season and the club's forays, however I'm certain Liverpool fans reading will prefer if I stay well clear of any mention of last season's seventh placed finish. Rafa Benitez is now steering Inter, in their bid to reclaim domestic and European honours, and Roy – fresh after his own European antics – is leading, and stabling, the Liverpool ship. On the field, in the brief few glimpses we've seen between friendlies and Europa League qualifiers, things are looking quite healthy. Roy has found himself in a position where he was infinite resources in attack, while the youth players at the club continue to prosper.
The news that Fernando Torres and Steven Gerrard have decided to stick around can only be good, while the arrivals have added a bountiful of quality and options for Roy to tinker with. With the immanent arrival of some more signings (Christian Poulsen and Brad Jones), Liverpool are looking strong for the season ahead, and an improvement on last year. But, to he honest – nothing could end up as bad as last season.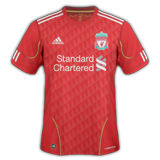 Last Season: 7th
Odds: 13/1
Manager: Roy Hodgson
Ins: Jonjo Shelvey (£1.7million from Charlton), Milan Jovanovic (free from Standard Liege), Joe Cole (free from Chelsea), Fabio Aurelio (free agent), Danny Wilson (undisc. from Rangers)
Outs: David Martin (free to MK Dons), Fabio Aurelio, Christopher Oldfield, Robbie Threlfall (released), Yossi Benayoun (undisclosed to Chelsea), Albert Riera (£3.3million to Olympiakos).
WHAT'S CHANGED?
Liverpool have had a relatively busy summer in the transfer market. Despite their financial problems, it hasn't stopped them from being linked to a wide range of players, from the quite expensive (Loic Remy), to the cheap and random (Luke Young).
The biggest name undoubtedly is Joe Cole. The English international joins on a free transfer from Chelsea, while Yossi Benayoun goes the other way for around £5million. Some people have suggested that it's a straight swap, but for me Liverpool have got the better end of the stick on this one. Sure, Cole is more prone to injury and has higher wages, but in my opinion Chelsea let him go because he was an expensive backup player, Benayoun will be less so but provide similar versatility and impact from the bench.
If Cole can stay fit all season, he'll play every game. If he can stay 100% fit – and this will be helped by the sport science staff the club have signed up to rid the club of it's injuries – Cole will light up Anfield weekly. Gerrard has mentioned that Cole is as good as Messi – he is obviously a level behind in almost all factors, but Cole is insanely creative and would match Messi in a "street skill" contest any day of the week. It's also necessary to get the best out of Cole by playing him behind Torres, but we'll get on to that later.
Also arriving in at the club is another freebie, Milan Jovanovic. After his World Cup antics with Serbia, Jovanovic joins from Standard Liege after a deal was reached long before Rafa Benitez left the club. However the Serbian will not be overlooked by Roy, and looks like he will Liverpool's starting left midfielder for the season, depending. Jovanovic has impressed in pre-season, and could be the option down the left Liverpool have been agonizing over for some time.
In terms of players leaving, Yossi Benayoun and Albert Riera are the only players that will have any effect on the first team – however Riera has been as good as gone five months ago. Javier Mascherano is of the threat of leaving too, but Inter don't seem to be too keen to follow it up despite early signs. With Torres and Gerrard staying, and new investment on the horizon, Mascherano might have a change of heart.
Tactics: It has been mostly 4-2-3-1 for Liverpool over the last few seasons, while Roy has always been an advocate of 4-4-2 and most recently, 4-4-1-1. I'd be very surprised to see Roy switch to a two man strike unit, so a mash-up of Rafa's old foundations and his much favoured 4-4-1-1 will be expected. After that, it's the question of which personnel will fit into it. The debate has lingered as to where Gerrard and Cole will play, and early signs point to Cole behind the striker, and Gerrard reverting back to centre midfield to partner Lucas (or perhaps Mascherano). Cole is very, very creative – and unlike Gerrard, is very mobile and indirect with his movement and passing. Against Rabotnicki the other week, Cole performed one of the best games of any player to have played behind the striker at Liverpool, creating no fewer than eight scoring chances, and bringing everyon (not just David Ngog) into the game sharply and dangerously. This leaves the option open to have Jovanovic on the left, and Dirk Kuyt on the right if Roy is as much of a fan as Rafa was. Personally, I'd like to see Ryan Babel given the chance, or perhaps Dani Pacheco, however that may nullify the impact Glen Johnson can have rampaging up the right hand side.
Key Player: Well, Steven Gerrard is the obvious one here but over the last twelve months the onus has been put on Liverpool's goalkeeper more than anyone else. When the team were down and out, Pepe Reina has always been on top form to keep losses to a minimum, and morale to a maximum with his jolly character.
Fixtures: Liverpool kick-off the campaign on Sunday in a tough encounter with Arsenal, at home. Arsenal are without a number of key players, while Liverpool's recent form against the Gunners has been far from impressive. An early win might just set the tone for the season. A week later Liverpool visit Manchester City in another tough game, before a friendlier home tie against West Brom. It's then a visit to Birmingham, before probably the biggest game in English football – Manchester Utd.
First five fixtures: Arsenal (H), Manchester City (A), West Brom (H), Birmingham (A), Manchester Utd (A)
Where will they finish? As mentioned above, could it really be worse than last season? A new manager, and hopefully more luck with injuries and Liverpool will be challenging for a top four spot again. But, having kept as unbiased as I can and placed all that on Arsenal, I'll say 6th. I think I'll be a bit closer than last season's first placed prediction.