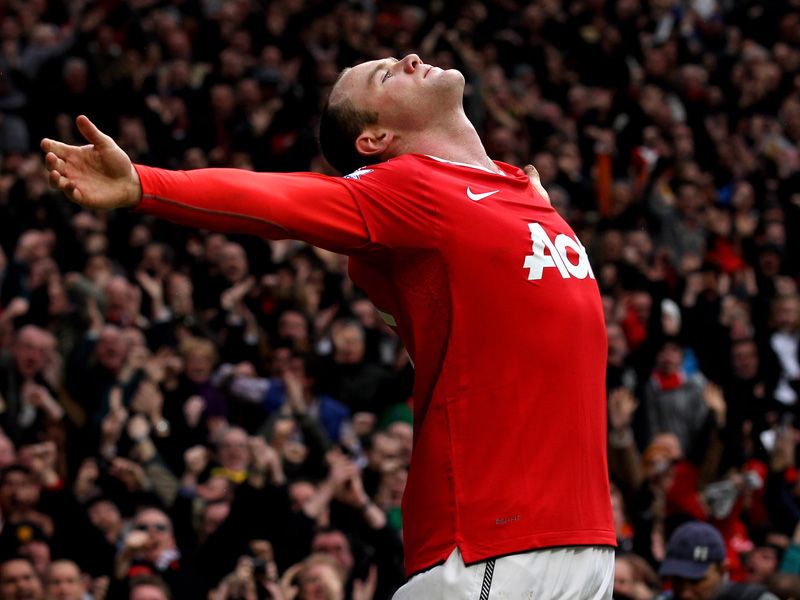 Wayne Rooney ended Manchester City's slim title hopes at Old Trafford today as Manchester United won 2-1 to move within touching distance of the Premier League trophy. The England striker scored an amazing overhead kick that must be considered one of the greatest goals of the season, or of any other season for that matter, as United gained the result their ambitious play deserved.
Luis Nani opened the scoring just before half time with a cool finish after Ryan Giggs' found the Portuguese in space as Pablo Zabaleta was caught ball watching. Edin Dzeko's fortunate deflected goal restored parity but the game will be remembered for the wonderstike from Wayne Rooney which won the game.
The ex-Everton player almost left the Red Devils for City earlier this season after a contract dispute and how Roberto Mancini must wish for what might have been.
The result all but ends the Citizens chances of winning the title. United have now increased their lead at the summit from their "noisy neighbours" by 8pts and have a game in hand into the bargain.
Before the game Manchester City's Assistant manager, and ex-Assistant Manager at United, Brian Kidd said that "this could be a defining weekend in the Premier League." With that in mind one may have expected Roberto Mancini to take the shackles off his team. However, as ever in a big match the Italian resorted to type and went with a defensive set-up in the hope of leaving Old Trafford with at least a point.
The main problem with that kind of football philosophy is that when you look for a draw it is rare that you get more than that.
As United forced the early impetus it was City who almost drew first blood. Their most effective player on the day, David Silva, played a tight one-two with ex-United forward Carlos Tevez and really should have put his team ahead as he found himself with plenty of space and time.
His toe-poke miss from a couple of yards had the look about it as a player who realised the pressure of the occasion. The little Spaniard was starting to dictate the tempo of the game from his free role as City probed the flanks only for Nemanja Vidic to cut out a number of crosses.
Silva was ably helped in his battle with United's midfield triumvirate by the man mountain that is Yaya Toure. The sheer size of the Ivorian central midfielder meant that United could not risk high or long balls to central midfield.
Having found a solution to the quagmire in central midfield United began to use the pace and penetration they possessed out wide but once again City seemed equal to the task. However, a flash of brilliance from 37-year-old Ryan Giggs and a slide rule finish by Luis Nani meant that City went in a goal down at halftime despite being slightly the better side.
A more ambitious Manchester City team re-appeared after the break with a couple of quick fire substitutions as Mancini looked to bring his team back into the game. City's problem was that while they looked comfortable they offered very little in terms of danger to Nemanja Vidic and the impressive Chris Smalling.
Within minutes, Edin Dzeko deflected a shot off the back of David Silva as City drew level. It was a fortunate goal but was all their early second half play deserved.
In response, Sir Alex Ferguson threw Dimitar Berbatov into action but he was largely overshadowed by the superb Vincent Kompany who put in a truly expert performance.
As the game moved towards its end and despite the skill and space now on show neither side really created anything of substance until Luis Nani's cross into the box on 78.
The purely speculative cross went behind Rooney as the striker waited in the striker's instinctive zone on the penalty area. While most other strikers would have left the cross, Rooney amazingly swivelled and turned in mid air to shape into an overhead kick that flew straight into the top corner leaving Joe Hart as little more than a hapless spectator.
It was a truly mesmerizing goal and was worthy of winning any game never mind a Manchester Derby.
There are a number of things to take from this game and result.
United are now almost certain to win the league. As everyone knows, United won their first league trophy under Sir Alex Ferguson in 1993. Since then they have won the league every single year following a World Cup bar in 1995 when they lost the title on the last day of the season to Blackburn Rovers.
For them to lose from here they will have to lose at least three games while Arsenal win every single one of their remaining 12.
This season Luis Nani has also emerged as a real Premier League force. There were always question marks against the miniature winger, his final ball and finishing were below title winning quality but he has really moved his game onto another level this season and has contributed, in terms of assists or scoring, to 19 of United's last 20 goals. His importance in United circa 2011 cannot be underestimated.
The direct contrast to this is Dimitar Berbatov.
While the Bulgarian may be enjoying his best ever season in a United shirt and has scored 19 goals thus far. However, he has yet to perform in a truly big match and he has a nasty habit of finding himself on the bench for decisive games, think Arsenal and today. He has also failed to score in the Champions League for almost two and a half years and it seems as if Ferguson does not trust him for the big occasion.
As far as Manchester City is concerned they will not win anything until Roberto Mancini becomes more ambitious. United were there for the taking today, especially as Rio Ferdinand was out injured but he chose to only play one up front and strangle midfield.
This approach has cost his team this year just as it cost his team last year when he sent his team out for a draw in a game that his team could not afford to lose against Spurs. The end result was City losing out on the Champions League.
For the moment, Manchester United are still the kings of the Premier League, and with Wayne Rooney scoring goals like the winner today it will take a little more than a defensive outlook to usurp them from their Premiership throne.