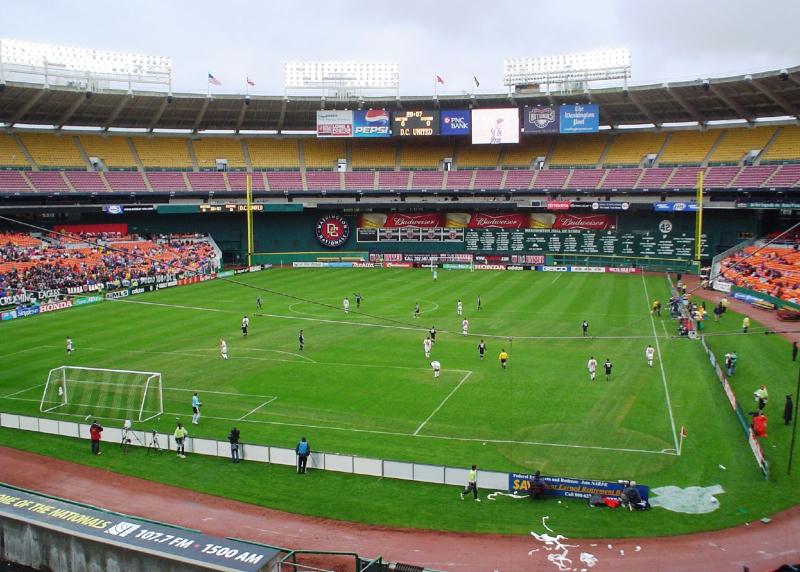 Age does curious things to our childhood. Standing on 29 and looking at the black abyss that is 30, I constantly find myself doing employee reviews of myself in my mind and all of the decisions that I have made.
This self-evaluation of my youth, complete with episodic memories pasted in a slide show that would bring Microsoft Powerpoint to shame, has made me re-think how I feel about things I have done or said or experiences that I have had.
Things that I thought were cool or funny (see: my college years) suddenly make me feel like an asshole. Then again there are also things that I thought were emotionally crippling, I have actually come to realize were really important to who I am. Perspective is an interesting thing.
It was along these lines this week that I started thinking about MLS and the never-ending quest to develop the soccer-specific stadium. It began while listening to WAMU Radio's Kojo Nnamdi show where DC United Executive Jason Levien was on to discuss the latest movement in developing a soccer-specific stadium. United have been engaged in a long protracted battle with the D.C. City Council to develop a soccer-specific stadium. Countless proposals, board meetings, and vague threats to move have been made over the year yet nothing has happened.
As the program continued on and Mr. Levien began to talk about their current abode, RFK Stadium, I began to think my own childhood and experiences at the stadium. Having been to enough MLS matches and rock concerts at Robert F. Kennedy Memorial Stadium, I have pretty much seen everything that one could see in that stadium. The four F's were certainly in effect during most of these events, sometimes all at the same time. It was the place where I watched my first professional soccer match, drank my first beer, made out with my first girl, and saw my first-ever barrel roll out of a moving car.
The thought of tearing down the old girl has at times pissed me off and at others felt like someone was killing my childhood. Sure, much like anyone who was watched there, I have seen concrete fall from the sky, raccoons and feral cats, broken stands, and had a Z-Rated hot dog. During a World Cup warm-up match last June between Honduras and Turkey, I sat in a worried press box where journalists thought that the seating above them would collapse due to the ravenous Honduran supporters.
But the memories of watching the likes of Jaime Moreno, John Harkes, Marco Etcheverry, and Bruce Arena live dominate MLS almost always seemed to overpower any ill-feelings. It has served as the home for so many U.S. Men's National Team matches, the Washington Diplomats (whose roster included Johan Cruyff, Gus Hiddink, Ross Jenkins, and Bobby Stokes), and five matches at the 1994 World Cup, including the epic 1-1 draw between Mexico and Italy.
But much like other things in my life, it feels like it is time to let RFK go. Perhaps it is now because I am an uncle and I think about taking my nephew to football games, but many of the things that I found comfortable with heading to a match there make me want to watch the match at home. RFK Stadium, while it has served its purpose, has outlived its purpose here in the United States.
Where the likes of Sporting Park in Kansas City and Rio Tinto in Salt Lake City feature state of the art seating and quality food. The new San Jose Earthquakes stadium has wireless connections. RFK Stadium has running water and King Kong beers.
Heck, the Columbus Crew are thinking about getting a new state of the art soccer-specific stadium to replace their current soccer-specific stadium.
Stadiums cannot obviously be built on love and the joy of the beautiful game. This isn't FIFA selling a stadium and the D.C. Government is not exactly rolling in money. But soccer has a very important place here in the Nation's Capital. The game has long had a strong foothold due to the array of immigrants and foreign diplomats and to play on a professional field that is in worse condition than some Sunday pitches on the Mall is ludicrous.
RFK has served its purpose.
The stadium is now over 53 years old and sits in one of the last parts of the District of Columbia that has yet to be gentrified. For football fans of both varieties it served as the home of so many great memories and some not-so good ones. But that is football; you enjoy the positive moments and shrug off the bad ones.
Hopefully the next stadium that is built in Washington DC can serve the same purpose for younger children looking to get into the game that RFK Stadium did for me.