With two points separating the top three and another four teams doggedly battling for fourth place it is easy to understand how each of the remaining weeks in this year's Premier League can be classified as important, but with two of the classic big four squaring up and ten sides playing twice, this week may just be one of the more significant ones.
Despite the sheer plethora of games on offer this week, there can only be one way to kick off this preview as old enemies Manchester United and Liverpool prepare for a lunchtime showdown on Sunday. This fixture is one of the league's showpiece encounters  and the two most successful clubs in English football history rarely fail to serve up a healthy dose of action. Last season's corresponding fixture saw United humiliated as they fell to a 4-0 defeat to their most  bitter of rivals however Alex Ferguson's side had the last laugh as they marched on to claim the League title and move level with their Northwest neighbours in terms of domestic league successes.
Unfortunately for Liverpool fans, the potential to add to their eighteen titles is well beyond them this season but the chance to deny United the opportunity to do just that becomes a priority by default. This year Pool fans have watched in abhorrence at some of their team's displays and it seems only a mixture of a watertight contract and boardroom turmoil that manager Rafael Benitez still has a job. Despite their often miserable form, Liverpool are still firmly in the hunt for the last Champions League place, which along with the Europa Cup offers the only saving grace to a disappointing season. Victory at United this weekend would be a massive boost for a side who desperately need to pick up points to avoid a potentially catastrophic slip outside of the league's elite.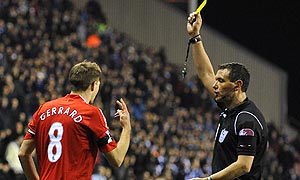 Fergie's mind games have been clear for all to see this week as he lashed out at the FA disciplinary commitee for failing to sanction Steven Gerrard depite the Red's skipper going on a one-man warpath against the idea of common decency, first flicking a V-sign at a referee ((pictured, right) and then elbowing a fellow professional in the back of the head for having the gaul to run in front of him. The United boss is seething that Gerrard is available to face his team, despite Rio Ferdinand being retrospectively banned for striking Craig Fagan just a few months earlier.
There is absolutely no love lost between these teams, red cards are almost as frequent as goals and the fixture seldom sees shortages of full-blooded tackles and scuffles. Fierce as the rivalry on the pitch undoubtedly is, it has been often overshadowed by that held between the bosses of the two clubs in recent years. Neither Benitez or Ferguson  have made much effort to disguise their contempt of each other in the past and Feguson's claims that he "feels sorry" for Benitez this week must be taken with a pinch of salt as nothing would give the Scotsman more pleasure to inflict further despair on his opposite number this weekend, especially since he has come out second best in the last three meetings of the sides.
In team news, Ryan Giggs is fit again after missing the last seven games with a broken arm picked up against Aston Villa. Wes Brown, Rafael da Silva, Anderson, John O'Shea and Michael Owen are all injured while despite his return to reserve action in midweek, Owen Hargreaves remains far from fitness and will not feature for another few weeks. Rio Ferdinand and Nemanja Vidic will continue at the back for United but whether the Serb will see out the full encounter is questionable having been dismissed in each of the last three ties between the sides.
For Livepool, Fabio Aurelio and Alberto Aquilani are major doubts while Martin Skrtel and Albert Riera, suspended from the club by Benitez following his outburst are both certain to miss out. Fernando Torres will start up front, eager to continue his proliferance against the Red Devils.
While those two powerhouses slug it out, Chelsea and Arsenal will be hoping to capitalize as they face far easier ties this week. The Blues sit just two points off United and will get a chance to move to outright top spot this week as they fulfil their game in hand with two away fixtures against Blackburn and bottom side Portsmouth. Carlo Ancelotti has been made painfully aware of the expectations held for his side as talk of the uncertain nature of his future was rife following a crushing defeat to Inter Milan in midweek. His side remain firmly in the hunt for a league and cup double however, no mean feat for any manager in their first season at a club. Chelsea do not look the ruthless machine they once were in the past but nonetheless anything but six points in their two fixtures this week will be seen as a shock, despite the fact that Blackburn have lost just twice at Ewood Park all season. Both sides will be without their number one goalkeeper as Petr Cech continues his recovery from a hamstring injury and Paul Robinson sits out due to a torn calf muscle.
Arsenal face fellow Londoners West Ham in Saturday's evening kick-off and will be eager to avoid the necessity for late drama seen in last weekend's snatch and grab victory against Hull City where Nicklas Bendtner's 93rd minute goal gave the Gunners all the points and saved their blushes.
Arsene Wenger's men have won their last five games and look unquestionably more comfortable at home than on their travels. If West Ham can take anything away from the Emirates this weekend it will be a huge bonus, not only for them but also Arsenal's title rivals.
The Hammers sit just three points above the drop zone and Gianfranco Zola will not be willing to let any opportunity to pick up points slip away easily despite the measure of the task on hand  in this one. Good news for Arsenal come in the news that inspirational captain Cesc Fabregas (pictured, left) is fit to come back into contention following a hamstring injury.
The race for fourth hots up even further this week as both Manchester City and Aston Villa, both with two games in hand on Liverpool face two games in quick successon this week. On Sunday City take on the conquerors of Juventus as they take on Fulham at Craven Cottage and then welcome Everton to Eastlands in midweek. These are anything but easy ties for roberto Mancini's side but if they are to have any hope of making fourth spot theirs, an absolute minimum of three points is a must. Villa battle local rivals Wolves in the early kickoff on Saturday and then face resurgent Sunderland in midweek. Meanwhile, current residents of the much coveted fourth spot, Tottenham must travel to the Britania Stadium and seek to overcome Stoke City in order to consolidat their position.
Finally, we move toward the dregs of the League and take a look on what is going on down there. New Hull City boss Iain Dowie faces an immediate "must-win" clash this week with his side travelling to bottom club Portsmouth. Three points are an absolute necessity as the Tigers sit three points away from safety despite having played one game more that their nearest rivals in the race for safety – West Ham and Wolves. Dowie's appointment was an odd one, especially given his past record of management in the top flight. Rumour has it that he stands to pocket £500,000 if he guides Hull to safety so if that doesn't inspire his to get his game together nothing will. Interestingly, both Wolves and West ham play each other in midweek so if Dowie can somehow begin to arrest Hull's horrific form there may be some light at the end of the tunnel for the club, and for Dowies bank manager.
Elsewhere in the battle of the bottom, Wigan face Burnley. A win for the Latics will be another huge step towards safety while a defeat for Burnley will be all but  another crushing nail into their coffin it seems.
Frankly there are just too many games on this week for me to cover in a fashion that gives each the attention it deserves, so my advice is to copy my lead: sit back, take the phone off the hook and don't even consider doing anything else but watching as much as it as possible.
This week's fixture list in full:
Saturday 20th March
12:45 Aston Villa vs Wolves
15:00 Everton vs Bolton
15:00 Portsmouth vs Hull
15:00 Stoke vs Tottenham
15:00 Sunderland vs Birmingham
15:00 Wigan vs Burnley
17:30 Arsenal vs West Ham
Sunday 21st March
13:30 Man Utd vs Liverpool
15:00 Fulham vs Man City
16:00 Blackburn vs Chelsea
Tuesday 23rd March
20:00 West Ham vs Wolves
Wednesday 24th March
19:45 Aston Villa vs Sunderland
19:45 Man City vs Everton
19:45 Portsmouth vs Chelsea
20:00 Blackburn vs Birmingham