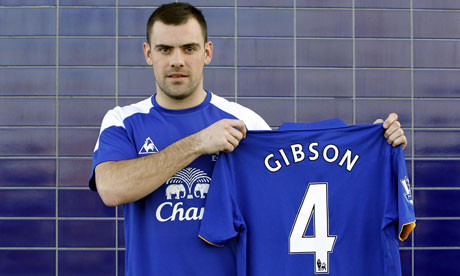 First off, a very Happy New Year to everyone.
Secondly, thank God Everton have signed someone. For the first time since June 2010, a player has arrived at the club for money. Admittedly, in footballing terms, it doesn't add up to much, but it's something Everton fans have been craving for a very long time. So welcome £500k man Darron Gibson.
Gibson was a big part of the Man United Reserves team in 2005/06, and won the Jimmy Murphy Award, recognising him as the best youth player during the season. Much was expected from the Irishman, but 31 appearances with United later, and he's been allowed to leave for greener pastures.
The major problem for Gibson was Paul Scholes. The pair very rarely played together – Gibson usually filling Scholes' spot in the centre of midfield when injured or rested – and therefore the comparisons from fans were natural. And to be frank, Gibson just never stood out as a contender to be part of the United starting XI week in, week out. A fringe player that didn't get the recognition he deserved as a player.
In the very few opportunities he was given to prove his worth, poor games were lamented by fans both on the pitch and off. I always remember being at Old Trafford and his first touch was booed by certain sections of the crowd. Uncalled for, but an insight into how the fans viewed him.
If he had been given the chances, I'm almost certain Gibson would have beaten his gremlins and proved that he is a very naturally gifted player with great vision – crucial for a centre midfielder. Although comparisons with Scholes, Carrick and Fletcher left him as fourth choice in midfield, and constantly dropping with the emergence of Anderson's form and Tom Cleverley, he was still committed to the cause.
So what can he add to Everton's squad? Firstly, he's a very determined young man. He's still only 24, and after all the ridicule he has suffered at Old Trafford, you can guarantee Gibson will be firing all cylinders at Everton purely to prove a point. He's also got great presence on the pitch, which will aid Everton greatly. Although Fellaini, Osman and Jack Rodwell have been playing well and consistent football has been produced, a killer ball has been lacking, and it could be Gibson that is able to provide that.
The names just mentioned also show there's stiff competition for midfield places. Everton's now-traditional 4-4-1-1 system, with Cahill slotting in behind the striker, leaves two central midfielders that have to link up with the correct men in order to produce the correct results. Another midfielder added to the squad will just make everyone else hungry and even more determined to make the team on a Saturday afternoon.
Everton have gained themselves a player who can, and will, make a difference to the side. He was never given the chance to do so at United, and now will prove all those who doubted his abilities wrong. Interesting times lie ahead for Everton off the pitch, but you know full well that on the pitch, every player will be playing their hearts out. And Gibbo will do just that.
Agree? Disagree?! Contact me on Twitter – I'm @Adam9309, or use the official site account – @bpfootball!