This week's plane disaster involving Brazilian side Chapecoense brought out some of the best in the football community, with an outpouring of support from right across the globe.
Atletico Nacional, who were due to play Chapecoense in the Copa Sudamericana Final, have requested that this year's title be awarded to their opponents.
Meanwhile, a number of Brazilian clubs want Chapecoense to be exempt from relegation for the next three seasons of domestic competition, while also offering to loan players to the club at no cost as they try to rebuild.
There were emotional scenes at Anfield as Liverpool, who included Brazilian Lucas Leiva in their side, and Leeds United paused for a moment of silence before their EFL Cup game.
A number of rumours also surfaced, with Portuguese superstar Cristiano Ronaldo apparently ready to donate €3 million of his own money to the families of those impacted by the tragedy.
Within hours, this story had spread like wildfire as account after account on social media put it out there as a statement of fact, no doubt lapping up the subsequent retweets and shares.
The problem is that Ronaldo has said nothing of the sort and there are no legitimate sources for what would be an amazing gesture.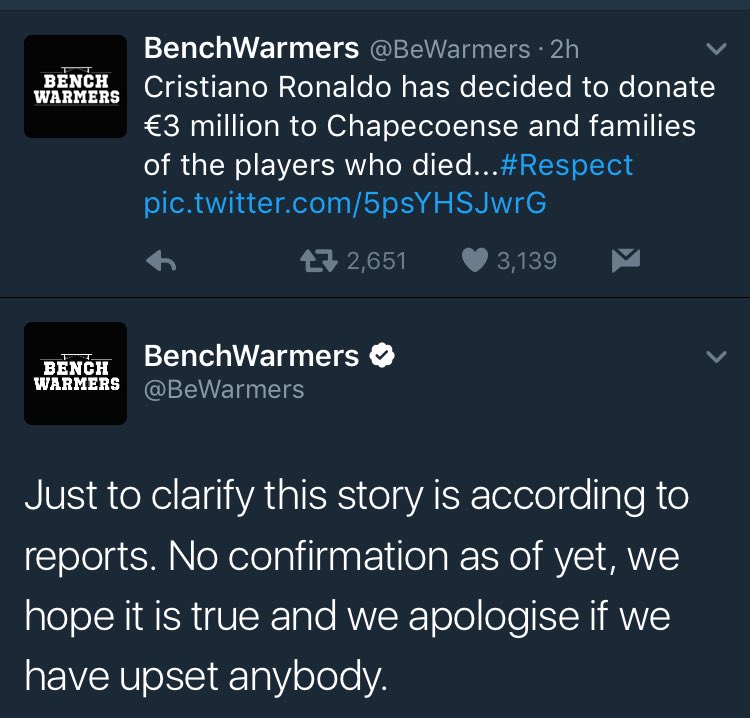 According to Irish site Benchwarmers, the story emanated from 'reports', none of which were linked to or provided upon request from other Twitter users. How convenient.
The Benchwarmers tweets about Ronaldo have now been deleted.
Benchwarmers come from the same stable of low brow banter as The LAD Bible and their offspring, as well as other banter accounts that endorse and plug each other to build up followings.
By their own admission, Benchwarmers aim to get content out there as soon as possible to an audience of more than 1.8 million people on their Facebook page.
BenchWarmers was started as a hobby which turned into a passion and now is a full-time business. BenchWarmers offers a fresh, honest and funny opinion on all things sport. If something BIG happens in the world of Sport, BenchWarmers will have it up on your smartphone in less then a Minute.
An interview from March this year, which you can view at the bottom of this article, featured Rowan Meegan of Benchwarmers who discussed the company, its humble beginnings, and the plans for the future.
When asked about the site's ethos, Meegan, in stark contrast to the uncorroborated Benchwarmers tweets about Ronaldo, stated that:
We've just copped on, basically. We're doing a lot better because we're thinking before we post, before it was a lot of gut reactions. Now we do genuinely sit back, take a moment, and look at what we're saying and doing. We're trying not to offend people ultimately.
Meegan's reaction to being challenged over content stealing ("Can you really say you've gone legit if still posting copyrighted material?") and his attempt to justify the practice are worth listening to as well, if only for their comedic value.
Of course, the irony of this article highlighting such media accounts is not lost, but the unethical practices of these profit making companies need to be highlighted.
It's ridiculous that a professional institution like Paris Saint Germain should be put in a position to deny rumours that they are donating €40 million to Chapecoense because some 15-year-old in his bedroom in Bolton wanted to troll the internet.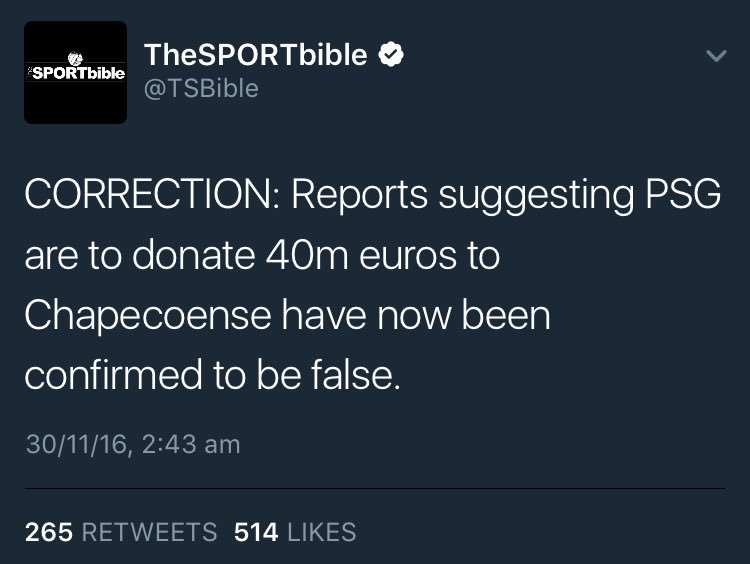 A quick Twitter search shows just how far and wide these mistruths can spread.
If The SPORT bible is here to stay, and unfortunately that appears to be the case (for the foreseeable future at least), then they need to be held accountable for their content, especially if the likes of Twitter are going to verify their accounts, an implication that they are trustworthy publications.
We all have our role to play in this – these media companies use their stats for retweets, likes and followers to attract advertisers and generate revenue; that those figures have in part come from fake news makes no difference.
Do people really care that they are sharing information that isn't true? It appears that thousands don't, and the likes of Benchwarmers and The LAD Bible will continue to thrive until that changes.