Chester City are no more after the club was officially wound up today following a court hearing, ending their 126 year existence.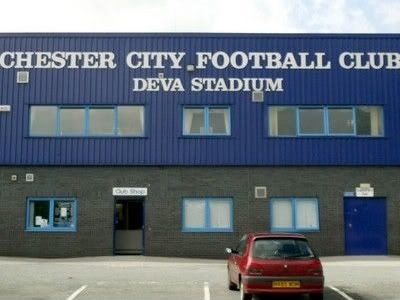 In January the club was given six weeks to sort out its financial affairs, including the amount of £26,125 owed HM Revenue & Customs in unpaid taxes, but they were unable to comply with the court order.
They were booted out of the Blue Square Conference in February, and recently made an application to join the Welsh Premier League in the hope of saving the club.
Supporters' group Chester Fans United now looks likely to form an independent club in the mould of AFC Wimbledon and AFC Telford.
"We understand it was a last-ditch effort by our former owner Stephen Vaughan to keep hold of the club," CFU spokesman Jeff Banks told BBC Sport.
"But we would have had to start at the very bottom.
"And it would have been rejected out of hand in any case by our local council, who say we are an English club and should be playing in an English league."
The club was initially placed into administration last summer with debts totalling £7 million, and they started the 2009/10 season with a 25 point deduction.
Chester had previously been in financial difficulty in the late 1990s and early 2000s, and attendances had fallen dramatically over the past two years, reaching rock bottom on January 19th this year when just 425 fans turned up for the home game against Salisbury
The trouble really took hold last month when Chester failed to fulfill a fixture at Forest Green Rovers after players refused to board a bus to the game in protest over wages owed to them.
The Football Conference decided to suspend Chester from the league for seven days as a result in the hope that they would use to time to sort out their finances.
A meeting of the league's clubs was called at Rushden & Diamonds' Nene Park on February 26th and the decision was taken to expell Chester City from the league and expunge their results to that date.
Former managing director Rob Gray, who has remained at the club in an unpaid capacity for the last two months, told the BBC that it is a sad and emotional day for the club.
"We're in the hands of the receivers now," he said.
"And my only hope right now is that a deal can be done quickly so that the staff here can keep their jobs. Then I hope that someone can come in and resurrect the club and allow us to carry on playing football.
"But, whatever level we end up at, it has to be a level the club is comfortable at financially. Anything beyond that is a bonus."