In a new series this off-season, Ben McAleer looks at some of the clubs that are about to embark on a hugely important summer. Today he discusses Napoli, who had an encouraging first season back in the Champions League but failed to qualify for next year's competition and may face a tough summer holding onto their big names.
Fresh from their Coppa Italia win over Juventus, and in the process denying the Old Lady a domestic double, Napoli returned to Naples and commenced their open bus celebrations at 4am Monday morning, with tens of thousands of football fans lining the streets to welcome back their returning heroes.
Goals from Edinson Cavani and Marek Hamsik, two players I will get to later in the post, along with Ezequiel Lavezzi, proved to be the difference as the Serie A outfit ended their 22-year hunt for a trophy. Having grasped the attention of Europe following their debut campaign in the Champions League, much like Tottenham Hotspur in the 2010/11 season, many expected the Serie A outfit to follow their success in the elite competition with a second spell next season.
Alas, a fifth place finish wasn't enough to see them into next year's competition and a place in the Europa League beckons. Sunday evenings success would have gone a long way to plastering over, to some, a disappointing league campaign, but like many of Europe's top players, they want to be performing on the grandest stage, which at this points in time, is the Champions League.
As mentioned, the scalpel sharp trident of Cavani, Lavezzi and Hamsik have been pivotal to their recent success, whilst the likes of Gokhan Inler, Christian Maggio, Walter Gargano and captain Paolo Cannavaro have also played starring roles for Napoli. However, it is the main attacking three that are likely to be linked with a move away from the Stadio San Paolo this summer, with at least one expected to depart.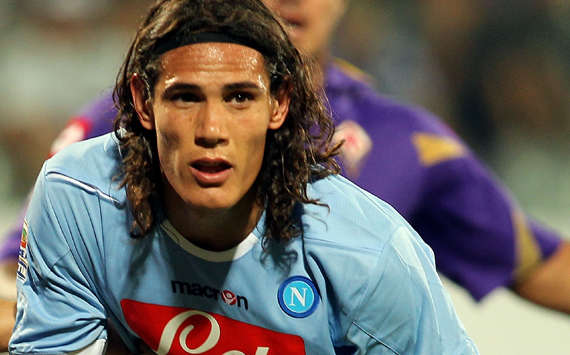 But which one?
The trio have contributed a remarkable 41 of Napoli's 66 goals this term, leading to heightened speculation surrounding the three players. Each brings with them their own slice of quality to the playing field; Hamsik the creative influence from the middle, Lavezzi the wing wizard and Cavani the goalscorer, with 23 of those 41 coming from El Matador.
With that said, it is the Uruguayan international Cavani that a majority of speculation has surrounded. The 25-year-old arrived in 2010, following a successful World Cup with his home nation, and has enjoyed two prolific seasons with the Serie A club. It is hardly surprising that a number of Europe's heavyweights are keen on the front-man, with Chelsea and Manchester City taking particular notice of his exploits, both domestically and continentally.
If assists is what your team needs, than Hamsik and/or Lavezzi is the player that a number of teams will be casting a watchful eye over. Both assisted a combined 21 goals in all competitions for Napoli this season and played key role in their Coppa Italia victory on Sunday. Club president Aurelio De Laurentiis has already accepted that Argentina international Lavezzi could leave this summer and if that is the case, it is highly possible that Cavani and Hamsik remain with the club unless a 'silly' money bid is put on the table.
This is a good thing
The success of the trio has taken a lot of the spotlight off their team-mates. The likes of Gargano, Maggio, Inler and the rest are unlikely to be linked away from the club as a result. Granted, while losing one, or even two, of the three isn't exactly ideal, much of the backbone of the team is unlikely to be broken up as a result.
Furthermore, with the focus on Hamsik, Lavezzi and Cavani, head coach Walter Mazzarri is another that is unlikely to be linked with a move away from the club. The Italian has worked wonders at the club since his 2009 arrival, guiding the club to three successive top six finishes which isn't too bad a feat considering the club were only restored to Serie A in 2007.
Should Napoli be able to keep hold of Mazzarri and most, if not all, of the so called 'lesser players' then they will be able to rebuild with or without the trio. The club have plenty in reserve to cover the loss of any of their attacking trident, with Eduardo Vargas, Goran Pandev and Cristiano Lucarelli, should they keep hold of the latter two following their loan spells from Inter Milan and Parma, respectively.
What needs to happen?
De Laurentiis needs to convince the big name players to stay for at least one more season and fire them back to the Champions League. Unfortunately, with the UEFA coefficient league ranking Italy out of the top three, and by some distance behind Germany, Spain and England, the places available to Serie A have dropped from four to three.
Despite finishing just three points behind third placed Lazio, it is still harder to qualify for the competition and until the teams entered into the Champions League and Europa League begin to return with silverware, it is highly likely that this won't change for some time. Success in the Europe's 'lesser' tournament may be enough to convince the big guns to remain with the club for the foreseeable future, much like the Coppa Italia, but like any headline grabbing player, they want to play in the Champions League.
It is a much similar scenario to Spurs, with both gearing up to play in the Europa League next season while possessing a number of world class players in the squad. The big clubs are likely to come sniffing around the top players meaning De Laurentiis will have a fight on his hands if he is to keep hold of his star performers.
If the Napoli president can indeed keep hold of Hamsik, Lavezzi and Cavani, it will prove a major victory on his behalf and showcase the ambition that the club need to push on to bigger and better things. However, with his latest statement, claiming Lavezzi has a release clause inserted into his contract, the Argentine may be the first to leave the club should the right offer come along.
If this were to happen, it would hamper Napoli's preparations for the new season, whilst showing a lack of ambition on their behalf which could see certain members of the squad contemplate their respective, immediate futures with the club. What is set in stone, however, is that if Napoli can keep their star players and add to the squad over the summer, they will a stronger prospect next season. However, they need to make it through the summer unscathed first, something that is proving near-on impossible with each passing year.
Previous: Tottenham