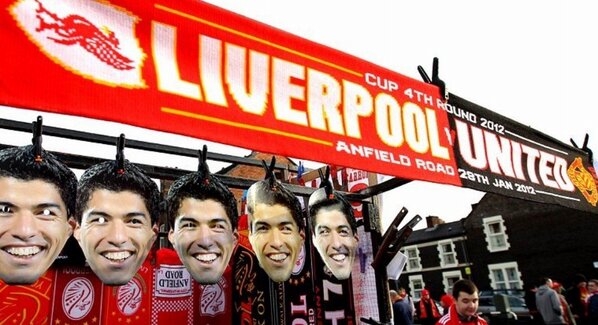 Are you against modern football? How much? Afraid that you are not against modern football enough? Worried that you once smiled at a match and need to validate your credentials? Want to lord it over other fans who perhaps still quite like football? Fear not, the official 'Against Modern Football Quiz' is here! Simply answer the questions below and find out just how much you hate the game you still watch and talk about all the time.
Q1) – You support a team that has enjoyed sustained success for around the last twenty years. Much of this success has been built on using vast amounts of money to poach players from rival teams or to snap up any players you deem good enough to improve said rivals (subsequently leaving them to rot in the reserves and effectively ruining their careers). Recently, new owners have taken over your club. Do you…
a)      Carry on watching your team. The long term dangers are worrying but, ultimately, they're your team and you want to watch them play football?
b)      Come up with a gimmicky protest while still going the match. If possible, make the protest something that might actually look like official club merchandise to ensure maximum confusion?
c)      Immediately start up a new club, declare it much better than modern day football and spend as much time as you possibly can telling people how they won't 'get it' until they too return to the 'grass roots' of the game?
Q2) – You arrive to watch your team and notice, some distance from the stand you sit in, that a stall is selling scarves which are split in two colours; half representing your team and half representing the opposition. Do you…
a)      Catch a glimpse of the scarves out of the corner of your eye, walk past and carry on to the ground/pub to get on with your day as if all you have seen is someone selling a scarf you do not need to buy?
b)      Say something loudly, and sarcastically as you pass the stall and possibly (if surrounded by friends) make a big scene when you see someone wearing one later?
c)      Set up a twitter account, taking photographs anonymously of these (admittedly rubbish) scarves round peoples necks for everyone to laugh at. Even though the 'joke' is the same each time, nobody wrapped it round your neck, and you didn't actually dare say anything to the person in question, at the time?
Q3) – Congratulations, you have purchased a ticket for your team's upcoming away match. Do you…
a)      Act as you normally would – go to the match and sit and watch the football unfold in front of you?
b)      Act a little more boisterously and set off a flare at some point, like all the cool European sides do, after all flares are a huge throwback to the halcyon days of around the early 2000s?
c)      Stand up. All the time. Then act like you've been asked to facilitate a strip search at your own funeral when a steward/policeman asks you to sit down because some of the people behind you can't stand up for ninety minutes even if they wanted to. Before promptly reeling off a 140 limit rant about how the whole day has been ruined by police and you have been treated like vermin?
Q4) – Your seemingly wealthy foreign owners have stopped spending vast amounts of money this season, perhaps due to the poor performances of players and manager alike. With no European football on the horizon do you…
a)      Hope that the (highly paid) players and manager turn it round in the near future and meet something close to their full potential?
b)      Organise a range of utterly pointless publicity stunts ranging from; walking to the match in a big crowd, spray painting vague messages onto bed sheets and setting up an unintentionally hilarious protest video on YouTube, asking crankpot celebrities to spout borderline offensive nonsense comparisons between your situation and that of somebody watching a family member being sexually assaulted. (Yes, YOU Ian McCulloch)?
c)      Demand that the current financially irresponsible foreign owners immediately be replaced by some new foreign owners, willing to spend millions of pound on your already failing, overpaid team?
Q5) – You agree to accompany a group of friends to a nearby lower division ground in the middle of winter. Do you notice that…
a)      The toilets resemble a scene from 'Trainspotting' that was rejected for being too filthy, the food on offer comes with a bonus used plaster and the South Stand seems to have Quantum Leaped into the face of a glacier?
b)      While the facilities are not great, there is something uniquely different and enjoyable about this level of football and that you could well be persuaded into making the trip again?
c)      This truly is the home of football before telling everyone about how they have no real understanding of 'the game,' until they have unleashed themselves from the shackles of the 'big business' of the Premier League like you (for one game)?
Q6) – You and your friends are discussing your favourite international tournament of all time. Do you..
a)      Choose your favourite World Cup?
b)      Complain about the standard of International tournaments?
c)      Choose a World Cup or European Championships from before you were born and wax lyrical about how much more stylish and real the players used to be?
Q7) – Do you find modern football stadiums…
a)      A safe place to watch football, especially in light of the obvious dangers of terraced stadiums?
b)      Generally good, although the more recently built stadiums lack anything unique?
c)      Soulless. Devoid of atmosphere, boring and sorely lacking the ambition and sore legs of all the European grounds you have never set foot in?
The Results
If you answered:
Mostly 'a' – Whoa there, it seems you quite like football! You've got a lot of catching up to do to understand how rubbish modern football is. Start by checking the numerous websites, or searching the hash tag '#amf' to find out how much better football was when there was no internet, or twitter.
Mostly 'b' – Not bad! You seem to quite like football but not too much. It would help if you stood up a little more and spent a year talking about German Football.
Mostly 'c' – congratulations you are so against modern football it nearly hurts. Collect your badge from the website and upload your score to the forum to redeem your code for a free trip to see Vauxhall Motors.