1. Nil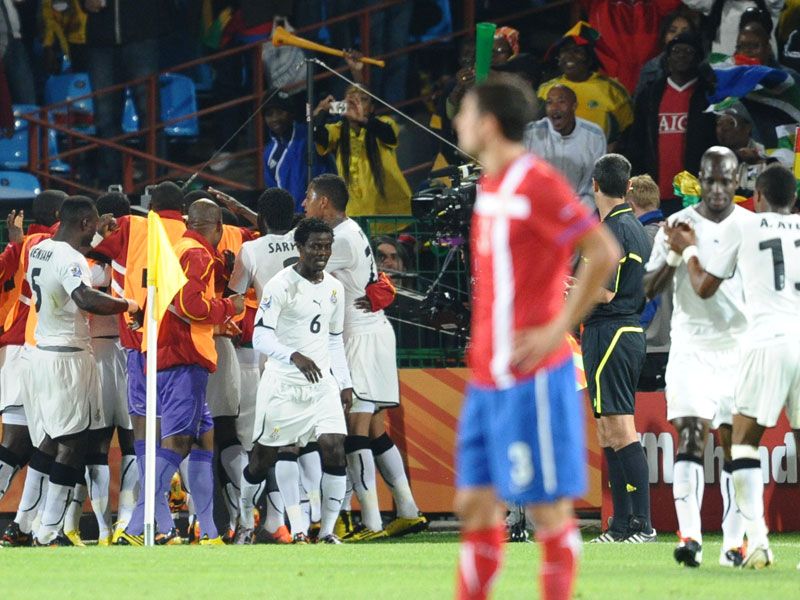 A lot of people were predicting this game to be the first goal-fest of the 2010 World Cup, but look at Ghana's recent competitive record, and you'll find this result popping up a lot. In the 17 matches they have played in both qualifying and the 2010 African Cup of Nations, seven of those games ended in a 1-0 scoreline – with four of those going in favour of the Black Stars. Added to what appears to be an added emphasis on not conceding rather than scoring this summer, and this game was always going to be a close fought battle. Gyan's penalty was well taken considering the problems we've seen from dead-ball situations with the Jubilani, and Ghana were worth their victory in the end. The only striker to score at the World Cup so far was unlucky not to double his tally with a sublime shot soon after.
2. Travel Sickness
It's been well documented leading up to this summer's festivities that a European nation has never won the World Cup outside of their own continent, and nothing we have seen so far suggests that trend will come to a halt in South Africa. Out of the 5 European teams to have taken to the pitch so far, only Slovenia have (barely) taken 3 points. Serbia – who were fancied to do well this summer, France, England and Greece have all disappointed thus far. The rest of the cartel of European power nations – Germany, Holland, Italy, Portugal and Spain – will have the expectations of a continent on their shoulders as the first round of fixtures continues.
3. Happy Familiarity
While both teams failed to look completely assured on the ball, Ghana looked more assured in possession, despite what the statistics indicate. The communication in the Ghanaian camp is good – this is a young team, many of whom are FIFA Under-20 World Champions (8 of the squad are still under 21, and only 2 are over 29) andthey have played together for a long time. Compare that to an unfamiliar Serbian squad, none of whom play together at club level – they come from 23 different clubs – and you get a clear picture of why Ghana were the superior side today.
4. Celebration Time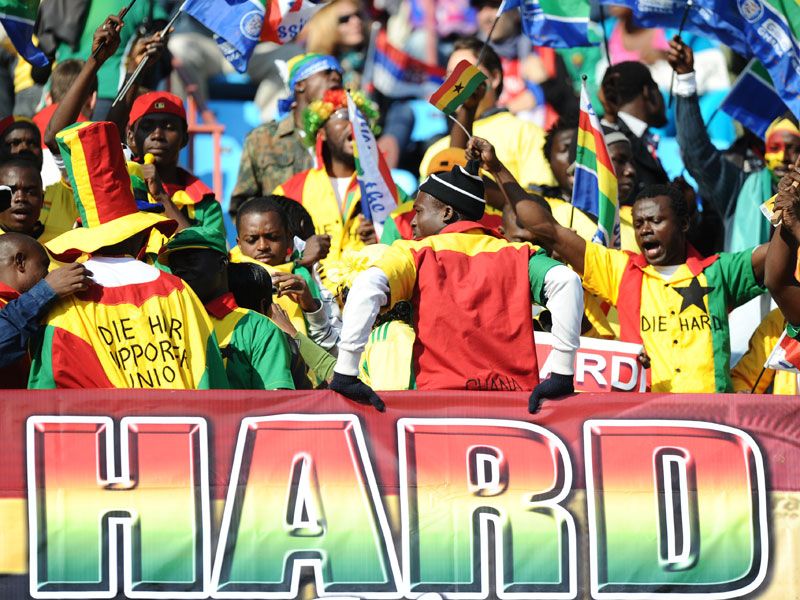 Those Ghanaian folk sure do love to celebrate, don't they? The crowd were electric, and the tempo in the stands often mirrored that on the pitch. Gyan's celebrations after his goal seemed to last an eternity, as did the post-match festivities – complete with laps of honour. A bit over the top for an opening fixture, no? Ghana aren't exactly underdogs – they progressed from the group stage in 2006 after all. I wonder how Premier League champion Michael Essien or Champions League medal holder Sulley Muntari would have reacted at the full time whistle had they been on the pitch? Maybe they just really love to party, so I won't begrudge them a good time!
5. A few statistics…
There has only been 9 goals in the opening 7 games this summer. That's 1.28 goals per game. The lowest scoring World Cup was back in Italy in 1990, with 2.21 goals per game. Granted, it's early on and a lot of the big guns have yet to take to the field (Brazil, Spain, Holland), but there has also been a relatively low number of shots on target (56 out of 175 attempts). Hopefully things will improve as the tournament progresses and the vast array of stars on show find their feet.